Features
JUST ADD WATER: Bottle arrives with only minerals. Fill to the top with tap water.
REDUCES: Up to 93% of pet dander, dust mites and cockroach allergens*
100% MINERALS: No plant, enzyme, petroleum, essential oils or harsh chemicals. Hypoallergenic. No fragrances or scents.
HOW TO USE: Spray in the air and on most surfaces. Pet bedding, walls, air filters, couch, pillows, floors, personal bedding, etc.
Product Images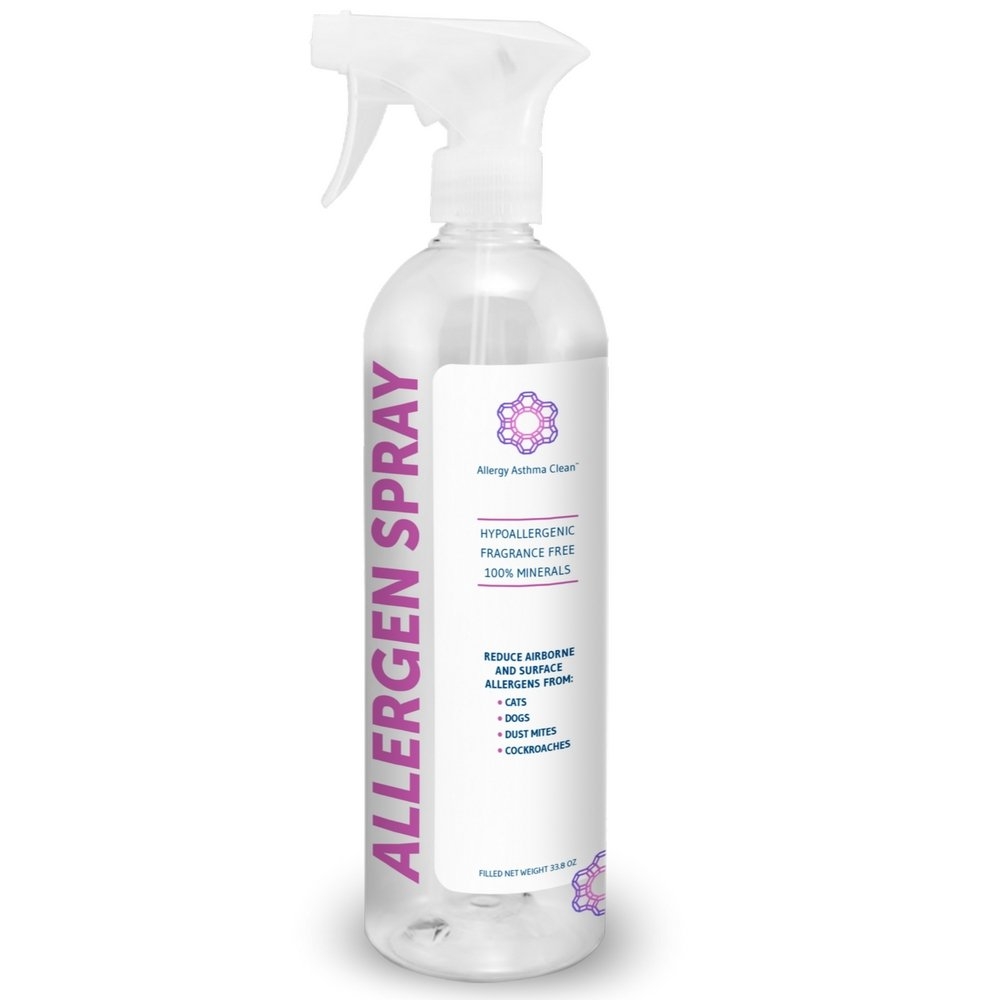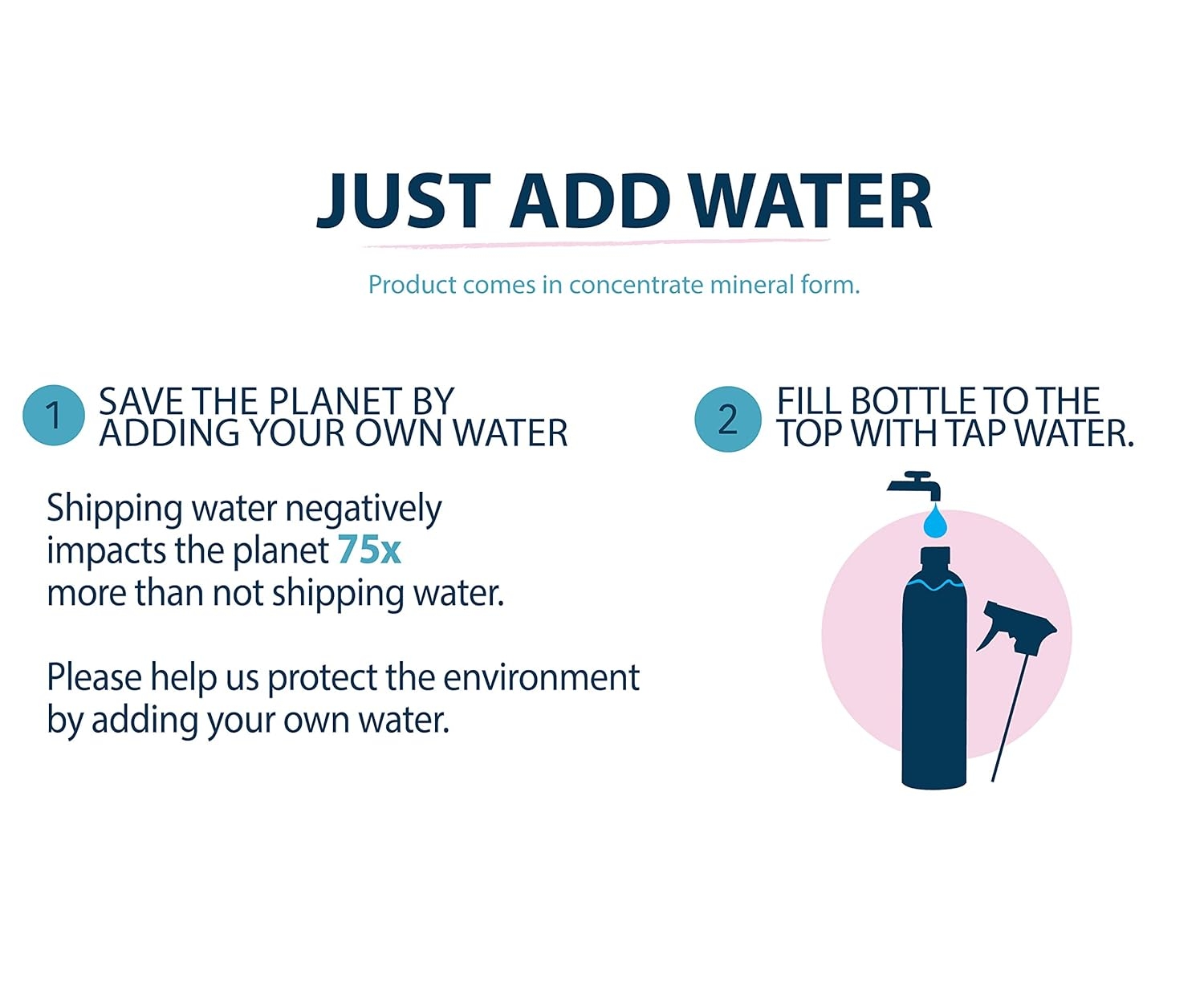 Product description
This product isn't just an ordinary Allergen Spray. It changed my life. I have had severe allergies and asthma since I was three. When I was five, I almost died from an allergy-induced asthma attack. After I got out of the hospital, my father and a team of dedicated chemists formulated this product. I would never be able to live with dogs or cats without this product. I had trouble traveling before this product. This Allergen Spray changed my life, and I am so thankful that I can bring this product to you. Just because you have an invisible disease, does not make you invisible.
Be well,
Savanna
Co-founder of Allergy Asthma Clean
P.S. We are a small family-owned business who cares about your health
How to use
Add water

Arrives in a 33.8oz bottle with mineral concentrate in the container. Once the bottle arrives, fill it to the top with tap water, give it a good shake, and you are ready to go!

Spray in the air

Use it like an air freshener! Spray it anywhere in the home, RV, boat, office, or hotel room. Take it with you when you visit family or friends!

Soft & hard surfaces

The Allergen Spray can be used on most soft and hard surfaces. Pet bedding, pillows, air filters, couches, furniture, drapes, walls and more. Avoid unfinished wood, silks, fine fabrics and leather.*

Always test the product on an inconspicuous area first.
Only minerals
We are proud only to use 100% mineral-based ingredients. No plant, enzyme, petroleum, and harsh chemicals. Our ingredients do not contain heavy metals. ZERO fragrances or scents.
Our ingredients: A BLEND OF 100% MINERAL CONCENTRATES INCLUDING CARBONATES, BAKING SODA AND ZEOLITE.
Lab verified
Allergen Spray is formulated to reduce up to 93% of pet dander, dust mites, and cockroach allergens.* Our product is independent lab verified by one of the best allergen testing labs in the United States, Indoor Biotechnologies. And our removal of inorganic and organic compounds was performed by Applied Consumer Services, Inc. We have spent 10+ years in research and development, field testing and 3rd party verification and we are proud of the performance and safety of our products.
*depending on conditions
How it works
Our unique mixture activates with water, and when atomized in a spray, attracts and attaches to allergen molecules and proteins in the air and on surfaces where they bring them down, encapsulate, neutralize them- all with minerals.
A special blend of carbonates are used to encapsulate and dehydrate allergenic particles and pull them to the ground so they don't cause allergic reactions that can trigger asthma attacks. Spray the product as often as needed. Don't forget to spray the product in the air, step out of the room and let it settle.

Baking soda eliminates odors without the use of harmful volatile organic compounds (VOCs) that only mask odors rather than eliminate them.

A non-crystalline form of zeolite naturally traps compounds and allergens, protecting those with asthma and allergies from their harmful effects; zeolite-based systems are even used to create medical-grade oxygen for hospitals. Our form of zeolite does not contain heavy metals.
We understand
We have spent the last 25+ years dealing with allergies and asthma. We understand what you are going through and know how hard it can be. Need help? Tips on dealing with indoor allergens? We are always here to help you.
---