Features
100% WHEY PROTEIN SOURCE: Classic AllWhey has no inferior non-whey protein sources like soy or beef. It has zero non-protein Aminos and no fillers. Every gram of protein claimed is a true protein! AllWhey delivers a premium whey protein concentrate to help rebuild your muscles after intense training. Research shows that higher protein levels post-workout help muscles recover faster.
30 Grams of Protein Per Saving: Classic AllWhey is a low sugar, high protein powder that provides a 3-stage protein delivery. Classic AllWhey is a premium Whey Protein Concentrate blended with Whey Protein Isolate delivering 30 grams of pure whey protein per serving! ALLWHEY Classic is formulated for results with higher levels of absorption and ultimately helps you better utilize the protein you consume.
ALLWHEY Classic NOW FEATURES SCOOP-LOCK TECHNOLOGY!: Gone are the days of digging through your protein to get your scoop. Scoop-Lock is ergonomically designed to lock your scoop into place the first time and every time! And it's right there at the top of your Classic Allwhey when you open it! Scoop-Lock is available on all Isoflex, Gold Allwhey, Classic Allwhey and Hexapro products and it's only from Allmax.
Directions For Use: Combine 1 scoop of Classic AllWhey protein powder with ~250ml or 8oz of water or low-fat milk depending on desired taste and consistency at any time during the day that you need a protein boost and most importantly, within 30 minutes of working out. Classic AllWhey mixes well in a shaker cup, but can also be combined with other ingredients in a blender as a nutritious smoothie.
The ALLMAX Difference: AllMax Classic AllWhey is produced in a cGMP registered facility, it's tested and certified Gluten-Free and certified Kosher protein powder. Additionally, AllWhey is certified as an approved Informed-Choice tested for banned substances protein as indicated by the seal of approval on every container.
Product Images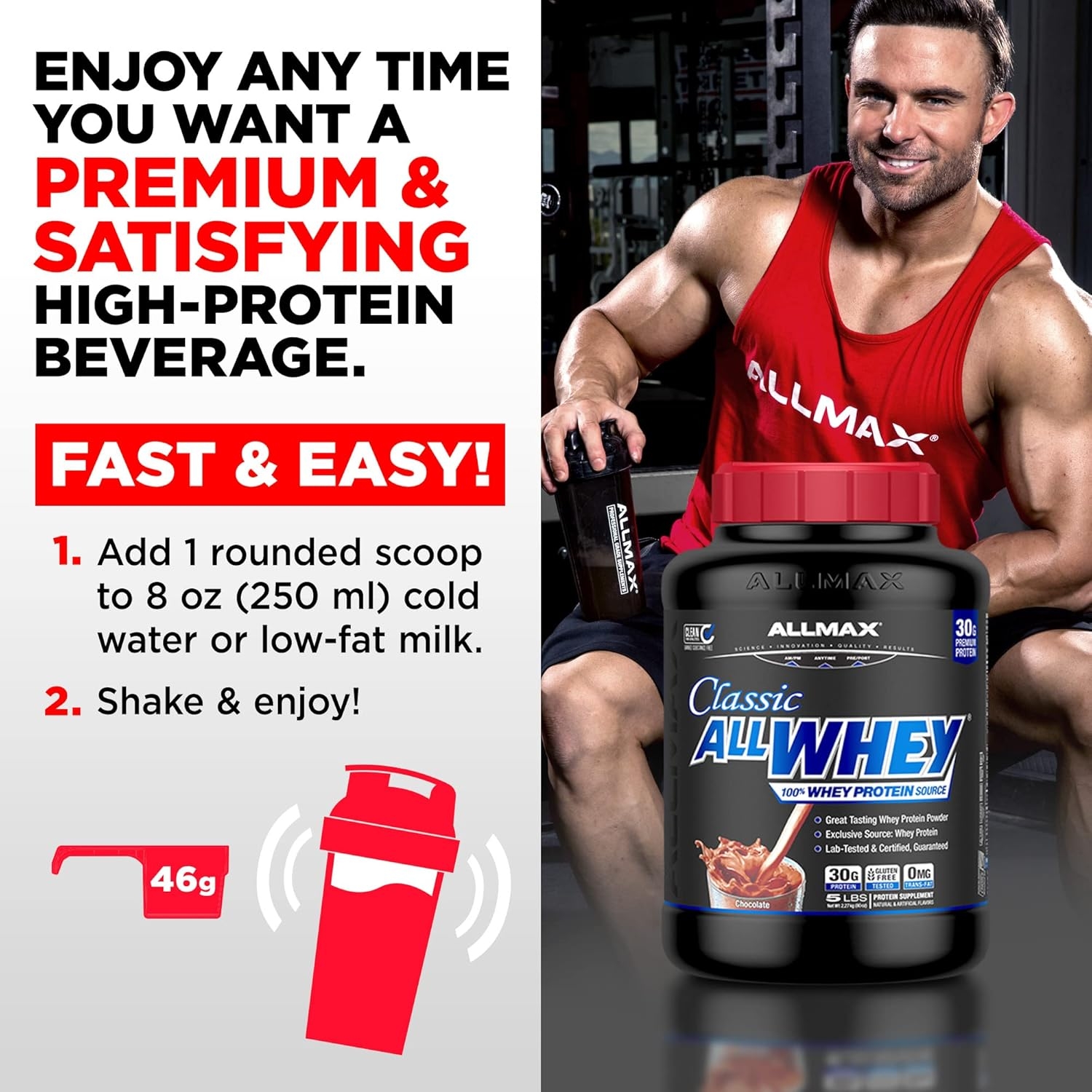 ---