Features
Sold as "Always Radiant Pads, Size 2, Heavy Flow Absorbency, Light Clean Scent, 26 Count (Pack of 3)" i.e. Total: 78 Count
Up to 100% leak & odor-free protection so you can wear what you want
Designs and patterns inspired by the latest trends because pads don't have to be boring
Zero Feel protection is possible for ultimate comfort throughout the day
FlexFoam core is soft and flexible like memory foam
Always Feminine Products are now HSA-/FSA-Eligible in the US
Product Images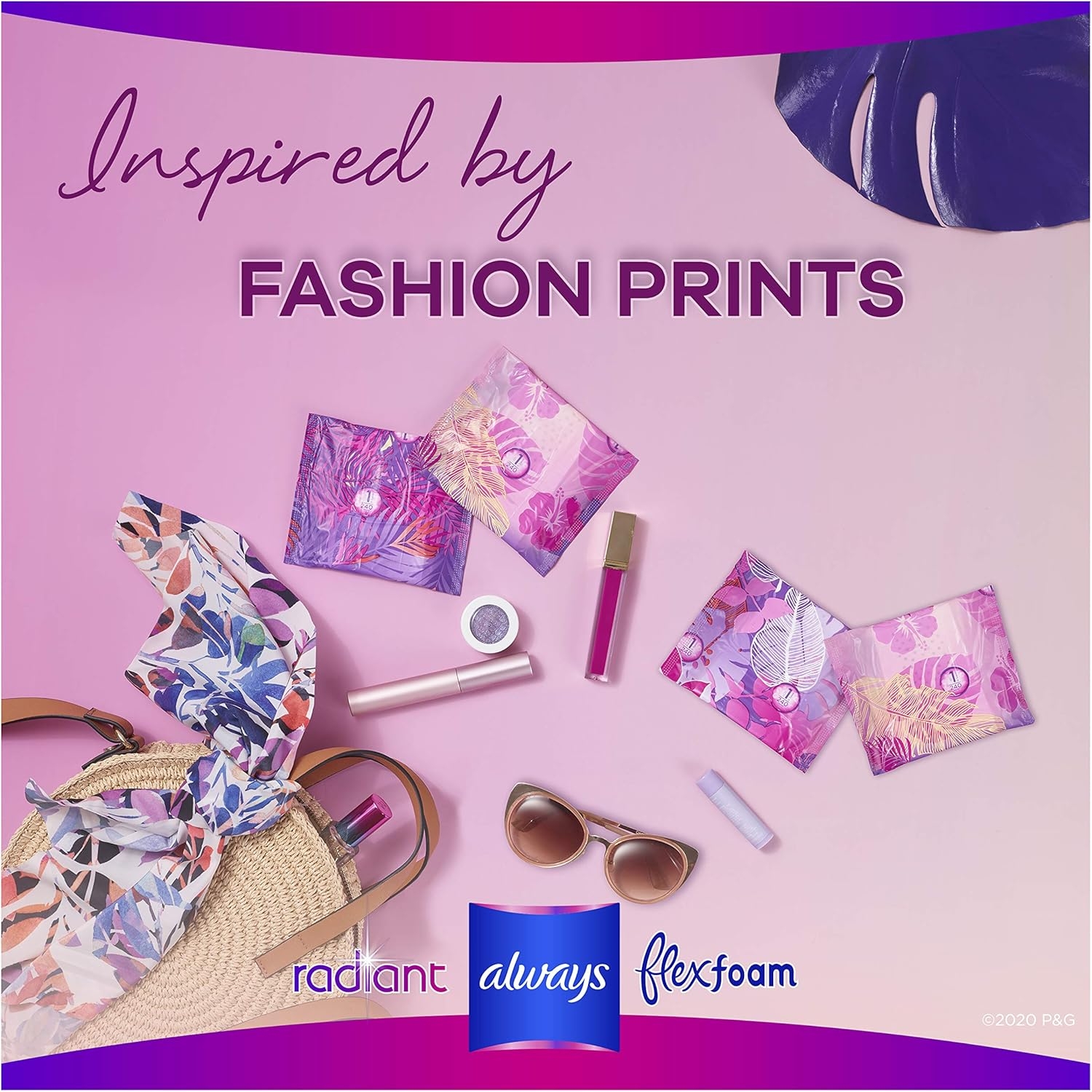 From the manufacturer
Fashionable Protection That Works
Fashionable Protection That Works

Always Radiant is made with FlexFoam, for a thin and flexible pad that moves with you.

Inspired by the Latest Trends

Features designs and patterns with warm tropical prints and cool neon vibes.

Periods Shouldn't Be Boring

Each package comes with an easy-open feature and surprise design inside of the pack.
Day & Night Protection
For daytime protection, check out Always Radiant pads in Sizes 1-3, while Sizes 4-5 have a larger back* which means you'll be better protected at night.
*vs. Always Radiant regular flow
Find your Perfect Fit
The Always MyFit chart uses both your panty size and your absorbency needs to find a pad with the perfect fit.
For Teens
Designed with teens, for teens. One Radiant Teen pad lasts up to eight hours – that's an average school day. With Always Radiant Teen, your daughter can wear what she wants and do what she wants any day of the month.
Day & Night Protection
Find your Perfect Fit
For Teens
---