Features
Make sure this fitsby entering your model number.
NOBODY OFFERS YOU THIS MANY RACEWAYS & COUPLERS IN ONE KIT FOR THIS LOW PRICE, SAVES YOU MONEY! 12- 16.7" Raceways w/Tape, 22 Couplers, 28 Screws/Anchors, 12 Cable Clips, 6 Anti-Slump Strips. PLUS you can order separate Couplers- no need to buy another full Kit just to finish your project.
NO MEASURING/NO DRILLING EASY LAYOUT AND INSTALL. Patent Pending design! Just draw a center line- the Raceways and Couplers have built-in locator notches showing you where to cut and place your Raceways.
EXCLUSIVE FEATURES GUARANTEE YOUR PROJECT SUCCESS. The other guys don't tell you that closing their Raceways takes 4 hands, and your vertical runs will slump from gravity. Ours comes with Clips to hold cables in place, and a solution to prevent slump.
PRE-CUT EXTRA STRENGTH TAPE AND/OR SCREWS- YOU CHOOSE. PAINTABLE. EASILY CUT TO-LENGTH SECTIONS. Newly upgraded Double-Sided Tape comes in Pre-Cut Strips. Screws and Drywall Anchors. Paintable (no priming), though no need to paint if white matches your walls. Easy to follow step-by-step Installation Instructions.
PERFECT SIZE, FITS ALL YOUR CABLES. Most other cable management raceways are either too small to fit all your cables or look ridiculously HUGE on your wall. This is the perfect size. Pack it full of cables then use the Clips to hold them in place and easily close the covers.
Product Images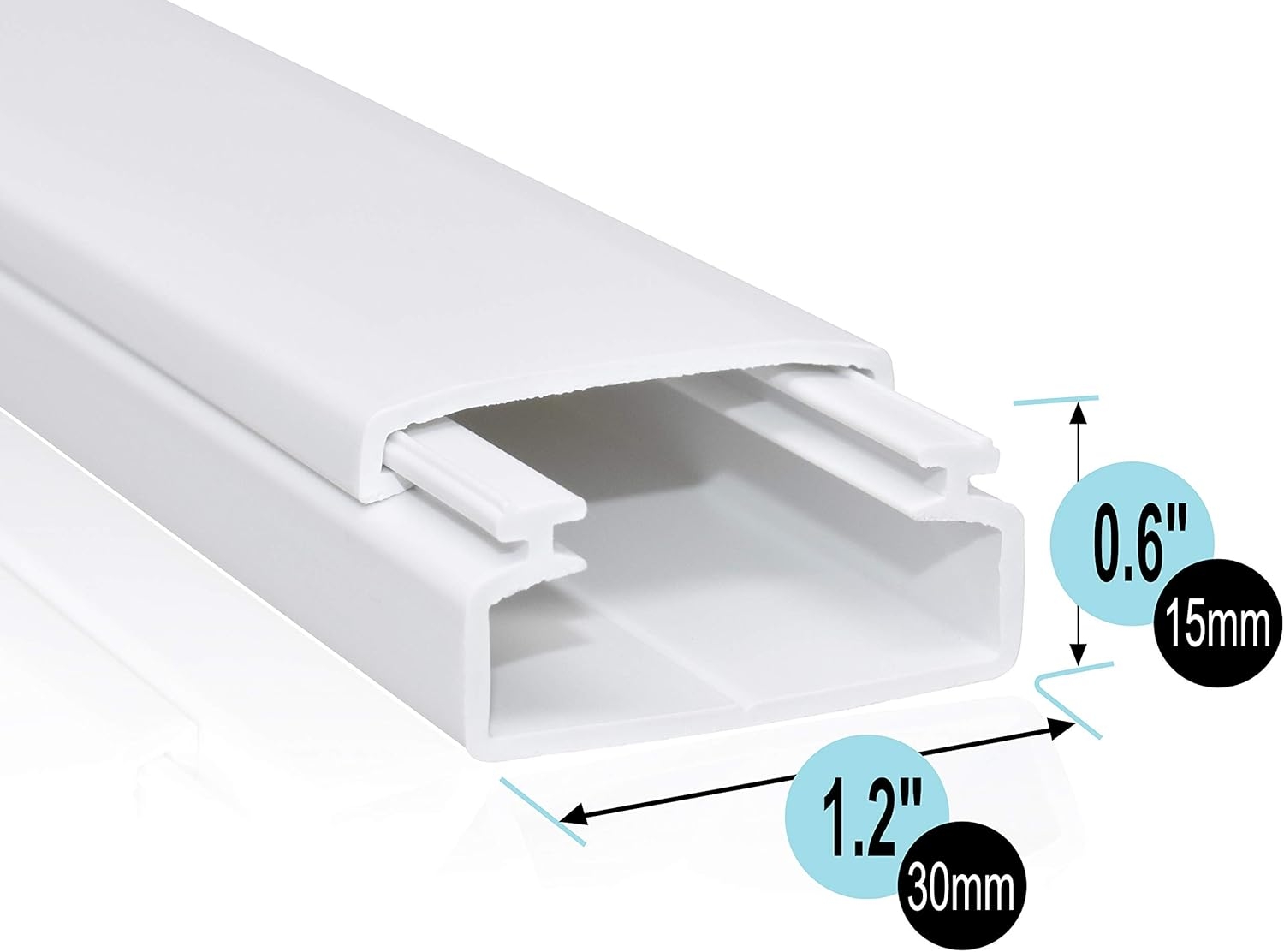 Product description
Our entertainment centers & offices are places of relaxation & focus… no place for a mess. But cable cover kits are often flimsy, hard to snap into place, & not easy to install for the average person. Quality Clever Cable Cover Kit has 9 patent pending features designed for anyone to install easily with no measuring or pre-drilling. Based on hundreds of installs of other cable covers, we've solved the biggest pain points & made an easy to understand process (PDF installation guide included). Clear cable clutter the fast & easy way with Quality Clever Cable Covers today.
LONG LENGTH AT PREMIUM QUALITY
12 x Raceway Sections (C-Channel with Cover) 16.7 long

12 x Double Sided Tape Strips, 16" long

12 x Straight Couplers

4 x Flat Elbow Couplers

2 x Inside Elbow Coupler

2 x Outside Elbow Coupler

2 x 3-Way Tee Coupler

28 x Screws (M3.5 x 1")

28 x Drywall Anchors, Fiberglass-Reinforced Nylon

12 x Cable Clips (3 x 3.5" sticks, must be cut to ⅞")
SINGLE PERSON NO MEASURE INSTALLATION
With 9 Patent Pending features, the Quality Clever Cable Cover Kit can be installed easily with just 1 person & no measuring or pre drilling needed. Center & Raceway Edge Locator Notches: Just draw a centerline, after that the locator notches tell you exactly where to cut & place your raceways & couplers.
Cable Clips: Innovative clips hold cables in place while inserting, eliminating the need for a 2nd set of hands. Install with Screws or Double Sided Tape: We include both. Screws are stronger, while double sided tape keeps the wall free of holes. Raceway Center Groove: Guides screws without pre drilling & precisely align raceways with only 1 centerline marking. PDF Included with step-by-step instructions & tips for dealing with easily closing overstuffed Raceways, Eliminating "Cover Slump" on vertical sections, swing joints, installing over uneven surfaces & more. For help, support is available 7 days a week by email or phone.
PAINT TO MATCH | NO PRIMER NEEDED
Quality Clever Cable Covers use a special texture that "receives" paint without the need for primer. Install first, then add a coat of paint to make it blend in perfectly with your wall for an even more invisible cable system. It already blends perfectly with white walls, & many people find the white covers accent their current paint/ baseboard color scheme.
SIZED FOR TV & ENTERTAINMENT CABLES
Sized large enough to accommodate all cables for an entertainment system, but not too large that it creates an eyesore and gets in the way. At 1.2" wide & 0.6" tall, it provides space for TV power cable, HDMI, ether-net, & gaming console cables. All cleanly concealed into the Quality Clever Raceway. Need to switch out a cable? Easily remove the cover by squeezing the sides & prying one side with your finger.
---