Features
ABSORBENT DEEP DRY CLEANING: Wet cleaners add moisture to your carpets, rugs, upholstery, furniture, sofa, and couch. With Capture Powder Cleaner, the spots do not reappear, it acts like heavy-duty sponges to absorb dirt and spills.
BEST CARPET CLEANING SOLUTION: Safe for all types of carpets including Wool and Code S fabric, silk, surfaces, and material. Take care and prolong the life of floor carpet fabrics and appearance by deodorizing and cleaning it using the power of Capture Carpet Cleaner.
STAIN REMOVER & DEODORIZER: Excellent bad smells neutralizer. It eliminates the toughest stains and odors without steam or shampoo. Can be used in the car or home, on animal, dog or cat pet stains. Plus, the 8lb pail can clean up to 800 square feet.
EASY APPLICATION: Spray the soiled area with Capture Pre-Mist (sold separately) and sprinkle the powder evenly, brush gently, and vacuum thoroughly for a clean, fresh scent in minutes. No need to hire a pricey professional service you can do it yourself quickly.
CONVENIENT, SAFE, EFFECTIVE & TOTAL CARE: If you want your carpet to look great and last longer, clean regularly with Capture! You can get the freshness that you want with our premium cleaning products. Contains no bleach, solvents, or harsh chemicals. Proudly made in the USA.
Product Images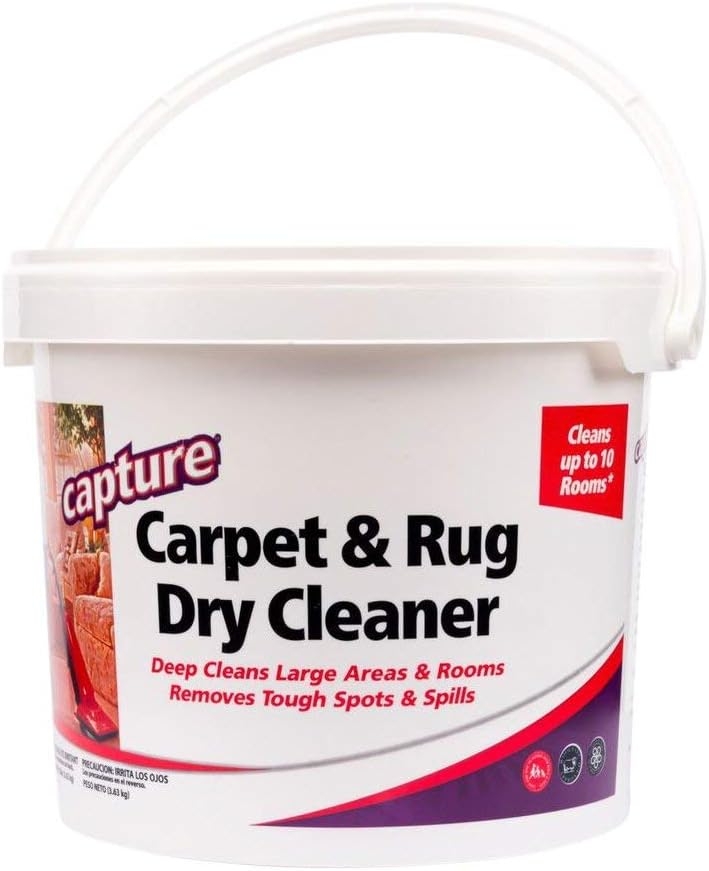 Product description
All you need is your vacuum!
Remastered with thousands of tiny particles that act like super sponges, absorbing dirt and spills from your carpet, instantly! Treat yourself to a professional quality carpet cleaning without all the cost and headache, without any extra effort!
Take Care of Your Carpet! FAQs
Is it possible to clean my carpet too often?

Not at all, with a dry carpet cleaner, the more often a carpet is cleaned with Capture Carpet & Rug Dry Cleaner, the longer it will maintain its original appearance. It's an excellent idea to clean high traffic areas and areas of heavy soiling regularly and to clean entire rooms several times a year.

Should I wait until my carpet shows soiling before I have it cleaned?

No. Regular maintenance with Capture can help maintain the new look of your carpet. Allowing: dry soils to build up in the carpet pile scars the fibers, taking on a dull, dirty hue. This permanent fiber damage will give the impression of soiling even after carpet cleaning.

Can I use Capture on my sofa, chairs or upholstery?

Capture is powerfully formulated to clean flat or woven fabrics. Before cleaning your sofa or chairs, check its cleaning code on the tag. The code may be "W" (apply Capture PreMist and Powder), "S" (use only the Capture Powder – no PreMist), or "X" (don't use Capture).

Will dry carpet cleaning destroy my soil-resist or stain-resist treatment?

No. It's not necessary to reapply stain-resistant treatments after every carpet cleaning. However, foot traffic can destroy some soil resisting treatments. Soil and stain resisting treatments should be reapplied after every two to three carpet cleanings if the carpet is cleaned regularly. Carpet that is not professionally cleaned every 12 to 18 months may require a stain-resistant treatment after each carpet cleaning.
Spot Eliminator
Spot & Stain Remover
Pet Stain & Odor Neutralizer
Hardwood Floor Cleaner
Vinyl Floor Cleaner
Professional Steam Clean Detergent

Description

Ideal for grease and oil-based stains, our Spot Eliminator cleans the toughest spots, spills and stains.

Convenient for everyday clean up. Water based and safe around kids and pets.

Works great on tough pet stains and odors, as well as other common household odors. Safe around kids and pets.

Non-streaking formula that is safe on all sealed hardwood, laminate and ceramic flooring.

Non-streak formula leaves no residue, resulting in a shiny vinyl after cleaning.

Great value – makes up to 64 gallons. Works with any machine.

Uses

Tough Oil Based Stains – Specifically formulated for ink, oil, grease, cosmetics, shoe polish and other difficult stains. Cleans Car / Truck carpets and upholstery, even cleans Furniture, Clothes and Laundry stains.

Safe for use on Stain: Resistant carpet and rugs, car upholstery. couches including wool. Can be used on water-safe fabrics including furniture, clothing, automobile carpet and upholstery

32 oz Spray Removes Tough Organic Based Pet Stains – Urine, Vomit, Feces, Blood, Drool and more, all while Neutralizing Smell and Odor

Ceramic: Safe for use on all ceramic floors with sealed grout lines. Formulated for linoleum, stone, terrazzo, vinyl, sealed porous marble, laminate, LVT, wood and no-wax sealed tile (Ceramic, Mexican Saltillo, Quarry)

Neutralizes contaminates, removes old wax buildup, breaks down enzymes and strips away residue from other floor cleaners

Compatible with Any Brand Machine, steam cleaners and Rental Equipment

Available Sizes

16 oz aerosol

32 oz spray

32 oz spray and 1 gallon jug

32 oz spray

32 oz spray

1 gal jug
---