Features
Make sure this fitsby entering your model number.
COMPLETE FLASHLIGHT KIT: Includes Bright Professional Grade LED Tactical Flashlight + 2 Rechargeable Batteries + Rapid Battery Charger
ULTRA BRIGHT – Excellent light spread to easily illuminate an entire room or use the zoom feature to focus in on objects up to 1000 feet away. Delivers ultra-bright light that is up to 22 times brighter than old incandescent flashlights. Powered by 3 AAA batteries or one 18650 rechargeable battery.
KEY FEATURES – Offering 5 different preset light modes (High, Medium, Low, Strobe, SOS). A useful zoom function delivers a wide-to-narrow light beam to focus the light beam on a targeted area or to see an object from a far distance. Compact design makes it easy to fit in your pocket, backpack or purse for easy storage and quick access.
RUGGED DESIGN – Constructed of durable aircraft-grade aluminum with a hardened anodized finish. Offering a professional grade construction that is lightweight, durable and withstands the harsh outdoor elements such as rain and snow.
MULTIPLE USES – Feature rich options make it the perfect flashlight for everyday home use, dog walking, camping, travel, security, outdoor sports and emergency use – Great Fathers Day Gift, Christmas Gift, Gift for Men, Perfect Gift for Dad
Product Images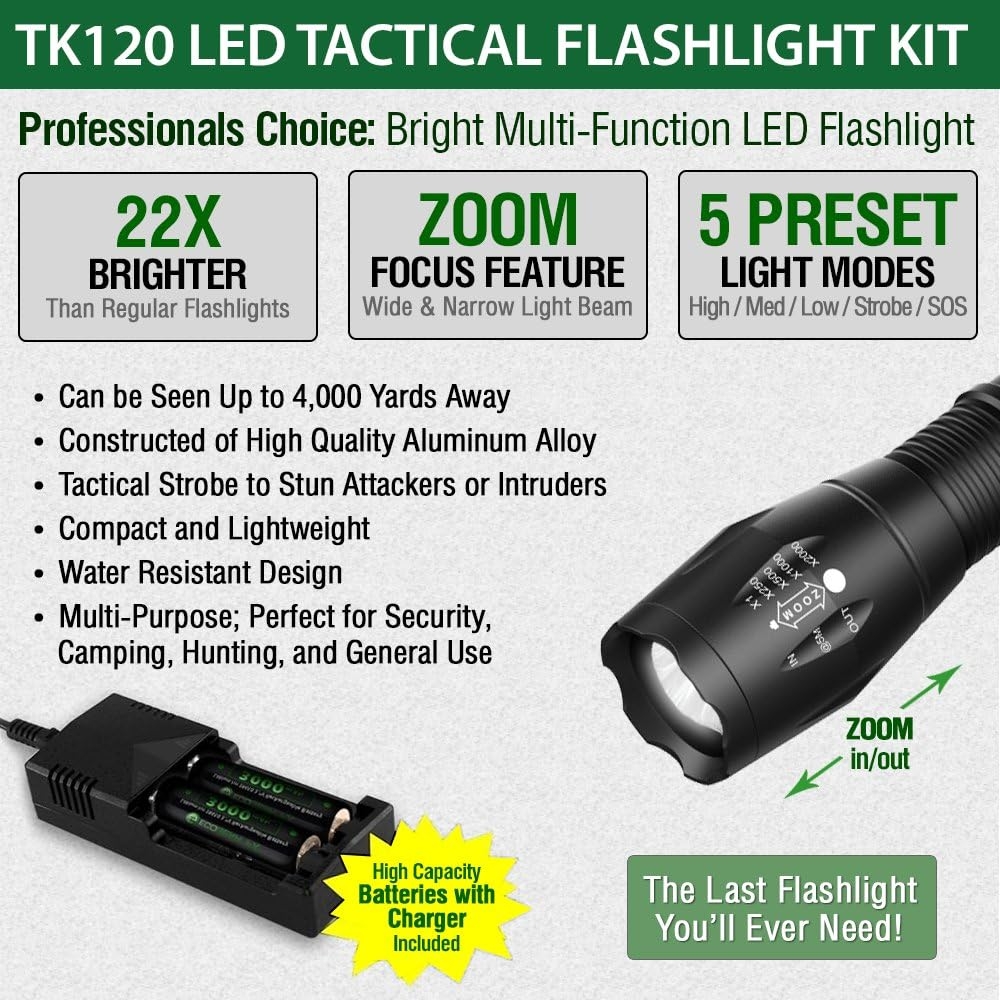 Product description
About the TK120 LED Flashlight
The TK120 Flashlight is a versatile and heavy duty tactical LED flashlight which is perfect for security but easy-to-use for general home users. Not just another bright flashlight with high lumens, the TK120 is a small compact multi-function flashlight with 5 different preset light modes, an adjustable zoom focus feature, and is powered by 3 AAA batteries or one 18650 rechargeable battery.
The multiple light modes are designed to accommodate you in nearly any situation with excellent light spread and strong high-quality military grade construction. The bright high powered light beam offers optimum visibility, making it ideal for personal security, mechanics, hunting, tactical gear, a work or home tool kit, earthquake survival kit, prepper supplies, firefighter, hiking essentials, travel, aviation and fishing. When using the flashlights for kids be sure they do not look directly at the light beam.
The TK120 Flashlight is also useful as an everyday carry (EDC) pocket flash light (torch light) and and excellent tool to own if you enjoy the great outdoors. With a durable military-grade aluminum body, the TK120 Flashlight is ideal for extreme conditions indoors or outdoors. It is a reliable flash that is perfect during a storm, flood, power outage, earthquake, hurricane and other natural disasters.
The Professionals Choice
Used by professionals in many industries including food service & hospitality, information technology, energy workers & inspectors, financial services, government agencies, doctors, HC manufacturing and more.
Complete TK120 LED Flashlight Kit Includes:
1 x TK120 LED Tactical Flashlight
1 x Attached Wrist Lanyard (removable)
1 x AAA Battery Holder (when using AAA batteries, AAA batteries not included)
1 x 18650 Plastic Battery Sleeve (optional when using 18650 rechargeable battery)
1 x Dual Channel Battery Charger
2 x Rechargeable Lithium-ion Batteries (18650 3.7V 3000mAh)
1 x Battery Storage Case
1 x User Manual
TK120 LED TACTICAL FLASHLIGHT KIT: Perfect for Tactical Situations • Outdoor Activities • General Home Use
An important feature of the TK120 Flashlight is the zoom lens, which allows the user to focus the beam in order to enhance and the light on a targeted area. This is useful when a narrower beam is needed in order to see something specific in the distance.
Another key feature is the 5 light modes, particularly the popular Strobe Light option. The strobing light is perfect when faced with a potential security issue. When a tactical strobe light is shined into the eyes it does not allow the photoreceptors to reset, which shocks an individual's vision. Strobing bright light forces the brains to complete partial images created by the momentary exposure of the strobe. These after images compound with each strobe exposure, which increases perceptual disparity. These few moments can help a person escape a situation or gain an upper hand.
Key Product Features:
High quality LED chip; Output 1000LM when using a fully charged 18650 battery

Special reflector design; enhances light output intensity and distance

Constant current / voltage circuit design; protects LED emitter from damage

Aluminum alloy construction; helps to avoid scratches or damage when dropped

Soft touch on/off button; turn flashlight on/off or switch to a different light mode

It can stand upwards on a flat surface to resemble a candle

Zoom: x1 x250 x500 x1000 x2000

Battery Type: 1 x 18650 Battery (two included) OR 3 x AAA Batteries (not included)

Body Material: Constructed of a solid high quality aluminum alloy

Flashlight Dimensions: 5.5″(L) x 1.5″ (Head Dia.) x 1.1″ (Body Dia.) (6.20″ Full extension length (zoom function))

5 Light Modes: High / Med / Low / Fast Strobe / SOS Signal
PRODUCT FEATURES: TK120 LED TACTICAL FLASHLIGHT
The TK120 lights-up a targeted area from a distance. To use the zoom function, simply extend the head of the flashlight to the desired position and direct the light beam on the targeted area.
The TK120 works in the rain or even when subjected to extreme weather conditions making it perfect for your emergency car kit. Be prepared an emergency, keep one TK120 Flashlight in your home and another in your glove box.
With excellent light spread, the TK120 Flashlight can focus in on objects up to 1000 feet away and delivers ultra-bright light that is up to 22 times brighter than old incandescent mag light flashlights.
5 Different Light Mode Options
To use the five preset light modes, partially press the tail cap button and quickly release to switch between light modes.
OPERATING INSTRUCTIONS
Focus the Light Beam with the Adjustable Zoom Feature
To use the zoom function, hold the barrel of the flashlight while pulling the head (back and forth) to operate the zoom. The light beam then produces a narrow beam of light when extended and a wide beam of light when retracted. This allows you to focus the light beam and enhance the light on a targeted area. This makes a perfect feature allowing you to zero-in on an object from a far distance.
---