Features
Make sure this fitsby entering your model number.
Dress Up Your Home and Office; Delamu Cable cover conceal and organize unsightly cords in home and office; It is the easiest way to organize your messy cords and provide more place for activities
10 Cable Management Channels; Including 10 pvc channels; each channel L15.7in x W0.95in X H0.55in; 19pcs different connectors; 20pcs screws and 20pcs anchors; 1x self-adhesive; total Length 157 inches
Simple and Easy Installation; Each package contains screws and anchors; or you can opt to use self-adhesive tape; Both methods are simple; you can choose the one you want; can't be used on textured walls
Prevent Your Child and Pets from Danger; Your Family's safety is our top priority; Hiding the cables or cords near the floor; protect your children and pets keep away to play the cables
Cuttable and Paintable; Customize it to whatever length and color you like; We've made the wire channels slim and sleek so as to perfectly blend into your home decor; You can paint the raceway to whatever color you need to match your wall and cut it to any desired length easily
Product Images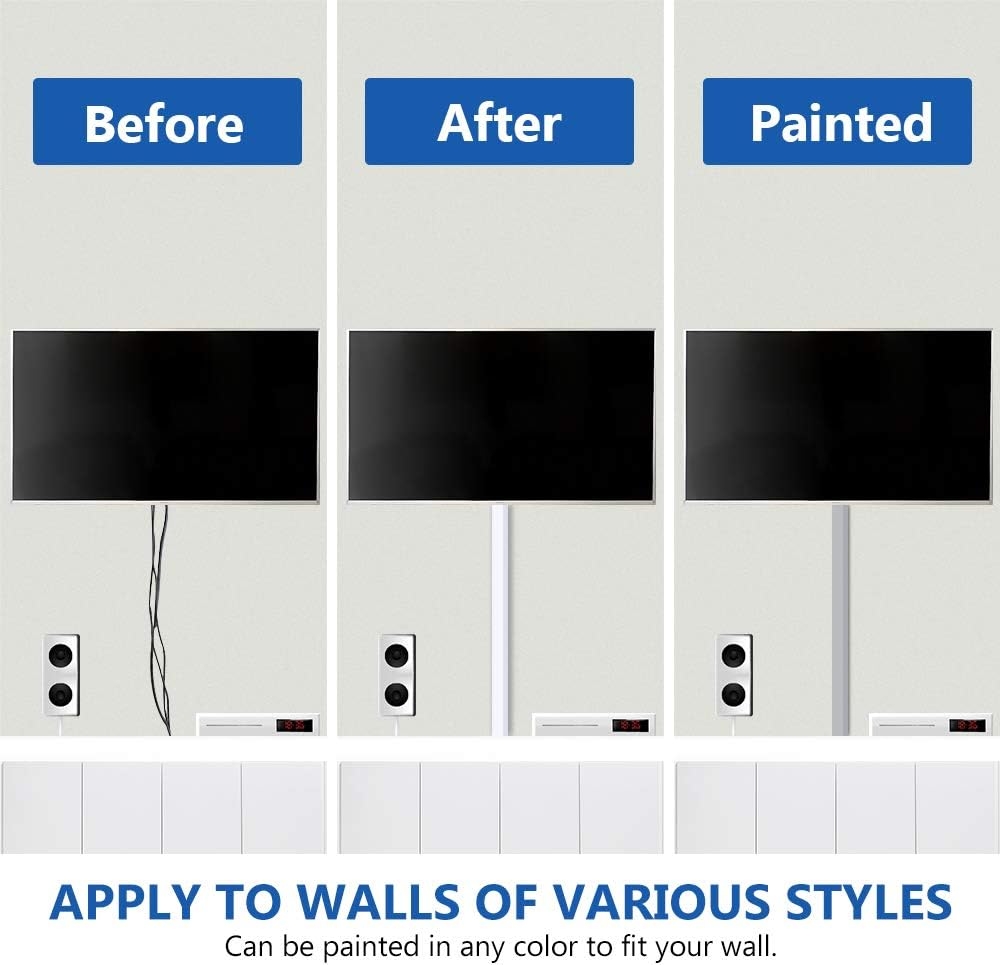 Product description
Hiding your ugly cables for any room
Easily to hide 2-3 cables
Home entertainment systems

Speaker Cables

TV Cables

Home & Office wiring

Computer Cords

Ethernet Cables
Pay Attention:
The tape could not be used on textured walls.

Our tape is very strong, you'd better plan the route before installation. However, If you have to remove the tape, pls warm up the tape with a blow dryer or heat gun before removing it. then it will be easily peeled off.
What you will get with our cable management kit?

10 cable channels ( easy to snap together)

9 couplings

6 flat elbows

2 T-connectors

1 Inside elbow

1 outside elbow

1 Strong tape & Installation Guide

20 Screws & 20 Anchors
Hide the cables out of sight

Improve the look of your home. After being painted, they just disappear into the background, in other words, they are not a huge eyesore.

Keep Your Family Safe

Keep floor lamp cables and other electrical cords out of sight, and out of children's reach with this cable management system.

Easily slip the cover closed

You will get various connectors with our kit, you can use them when you need, and hide the cables in then slip the cover closed easily.

Two Installation Methods

Use our stronger self-adhesive tape to firmly settle your cable cover without damaging your walls. Or choosing screws and anchors to keep your cable in place.
CC01-10pcs
CC01-15pcs
CC03-15pcs
CC02-15pcs
CC05
CC02

Total Length

157in (13ft)

254in (21.2ft)

254in (21.2ft)

254in (21.2ft)

142in (11.8ft)

94.5in (7.8ft)

Size

W0.95in, H0.55in

W0.95in, H0.55in

W0.59in H0.40in

W1.18in, H0.6in

W0.48in, H0.32in

W1.18in, H0.6in

Capacity ( For reference)

2-3 Cables

2-3 Cables

1-2 Small Cords

3-4 Cables

1 cord

3-4 Cables

Material

PVC

PVC

PVC

PVC

PVC

PVC

Colors Available

White/Black/Beige/Brown/Grey

White

White

White

White/Beige/Grey/Brown

White/Black

Paintable

✓

✓

✓

✓

✓

✓

Ahesive Tape

✓

✓

✓

✓

✓

✓

Screws & Anchors

✓

✓

X

✓

X

✓

Elbows

✓

✓

✓

✓

X

✓
---