Features
Make sure this fitsby entering your model number.
Compared with a 4-quart round basket or even smaller one, COSORI air fryer's 5.8- Quart Square Nonstick Basket can fit a 5 lbs-6 lbs whole chicken, while small round basket can't. Buy this XL 5. 8-Quart size, serves your family with at least 3-5 people.
Perfect healthy gift for food-loving dads, mothers, family and friends. Slimmer footprint fit on your countertop and save your space. It has 85% less fat than traditional deep frying methods, but deliver the same deliciously crunchy taste of fried food with little to no oil.
11 functions in 1-Steak, Poultry, Seafood, Shrimp, Bacon, Frozen Foods, French fries, Vegetables, Root Vegetables, Bread, Desserts, Preheat. Just tap and go! Selection at a touch rather than keep circling to make the choice. Super easy to use!
Removable nonstick coated basket are dishwasher safe, PFOA-free & BPA-free. Product Dimension: 11. 8*11. 8*12. 6 in; Basket Dimension: 9*9*3. 75 in. Buy our original air fryer accessory (search for: C158-6AC) to create more!
Comes with 100 original, delicious & easy recipes for every meals. Find out how our numerous influencers cook their food with COSORI air fryer in social medias, also constant recipes and videos tutorials from our community!
Cooking time is faster than conventional oven, but with crispier and tastier results. It also has shake reminder function. Preheat the unit before adding your ingredients to achieve the best results. ETL Listed/FDA Compliant, 170°F-400°F, 120V, 1700W. Please note that this voltage only applies to USA and Canada.
Up to 2 Years Warranty: 90-day money-back, comes with 1 year warranty and you can extend to 2 years warranty for free. Just contact Cosori customer service if any issues happened. 100% satisfaction guaranteed.
Product Images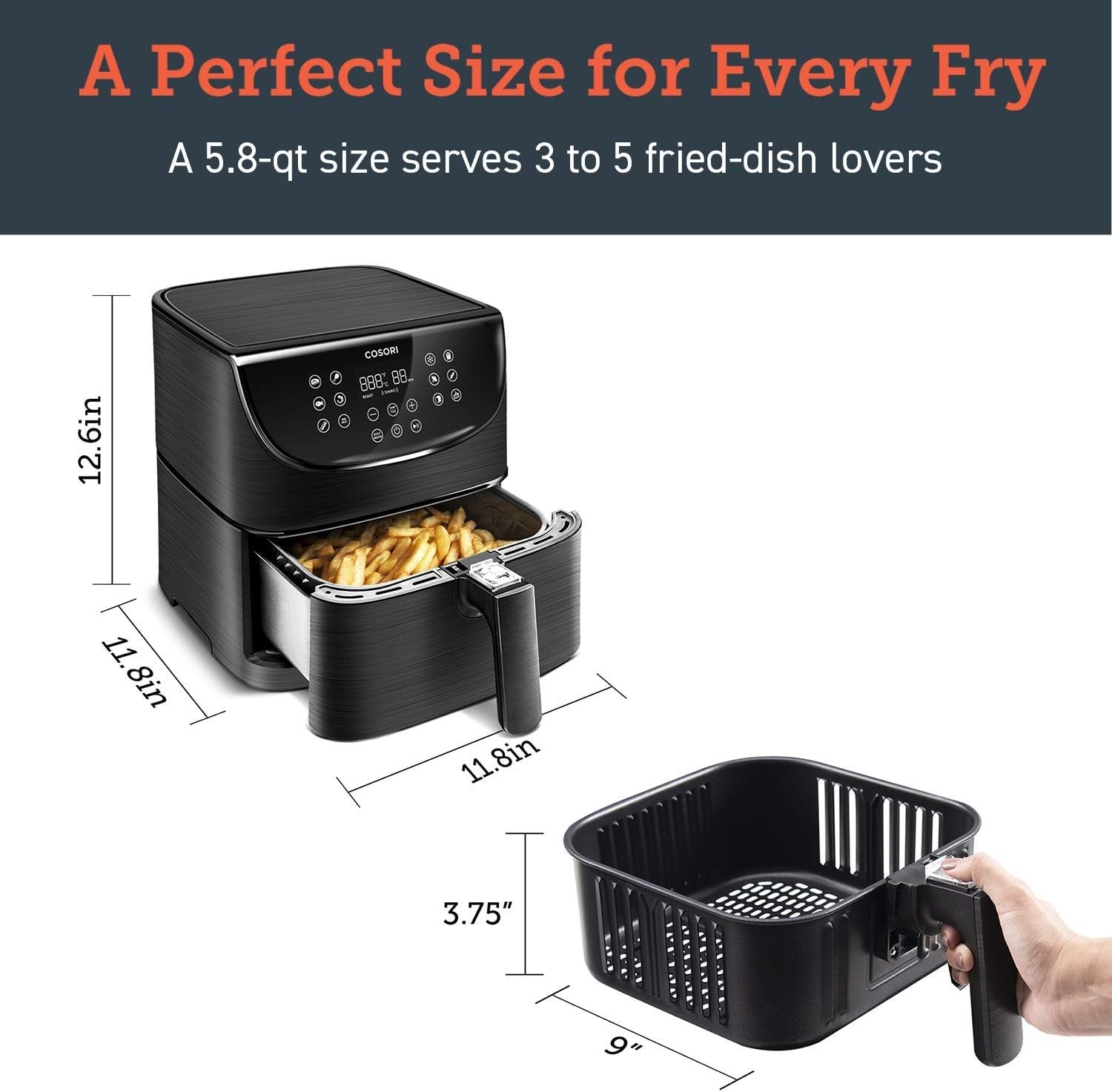 From the manufacturer
11 Original Presets

A Cosori Air Fryer means so much more than fries. Serve up egg bakes, impressive sides, desserts, roasted veggies, and just about any protein, expertly cooked.

One-Touch LED Panel

You make the selection, and the machine takes care of the calculations. The LED panel helps you make excellent choices—no matter what food you decide to make.

The Benefit of Preheating

You won't find a preheating option in many other air fryers. Preheating visibly improves food texture and takes 2 to 5 minutes! That certainly beats the time-consuming preheating of traditional ovens.

Shake & Keep Warm Functions

Unique to the Cosori Air Fryer: a helpful Shake reminder, letting you know when to shake the contents for an even fry. Try the Keep Warm function if you need your food well kept for awhile.
Dishwasher Safe

Frying foods doesn't have to mean making a mess. Remove the baskets and separate them, then let your dishwasher take care of cleaning them up!

Detachable Basket

A removable inner basket means it's easy to separate and clean the part that gets up close and personal with your food. You can also bring it to where you're preparing food for extra convenience.

Nonstick Basket

Foods are as easy to take out as they were to put in. The nonstick surface of the basket results in less residue left behind. In turn, cleanup won't be so rough.

Holiday Gift Choice

Provide Healthier Fried Food – Produce food with 85% less fat than a deep fryer, the air fryer is a great choice as a holiday gift for your family or friends. The luxury gift box with handle makes the whole thing gift-ready.
Cosori Air Fryer Black 3.7QT
Cosori Air Fryer Red 3.7QT
Cosori Original Air Fryer Black 3.4QT
Cosori Smart WiFi Air Fryer 5.8QT
Cosori Original Air Fryer 5.8QT
Cosori Stainless Steel Air Fryer 5.8QT

Included

100 Recipes

Rack & 4 Skewers, 100 Recipes

30 Recipes & Quick Reference Guide

100 Recipes

30 Recipes & 8 Recipes Guide

Rack & 5 Skewers, 100 Recipes

Presets

11

11

–

11

–

9

Capacity

3.7QT

3.7QT

3.4QT

5.8QT

5.8QT

5.8QT

Shake Remind

✓

✓

–

✓

–

–

Preheat

✓

✓

✓

✓

–

✓

Power

1500W

1500W

1500W

1700W

1700W

1700W

Voltage

AC 120V

AC 120V

AC 120V

AC 120V

AC 120V

AC 120V

WiFi

–

–

–

✓

–

–
Product description
Voltage: AC 120V, 60HzPower: 1700Wcapacity: 5. 8 quarts/ 5. 5 liters (serves 3-5)
---