Features
REGAIN CONTROL OF YOUR DOG – Petrainer's Dog Training Collars offer 3 types of safe humane corrective stimulation modes including shock, vibration and beep for dog disobedience. Remote Trainer E-Collars can be used to help correct your overwhelming dogs' behavior problems
ULTIMATE TRAINING & BEHAVIOR AIDS – Dog Training Collar with Remote provides 0-100 levels of intensity for Vibration & Shock Stimulation, plus a standard Beep Mode. Either an expert trainer or first-time pet owner, with these 3 types of stimulation, we guarantee you will find a safe corrective stimulation that works best for your dog
ADJUSTABLE FOR ALL SIZE DOGS – Adjustable Training Collar ranging from 14-25 inches. We guarantee that it will fit your small, medium, or large size dogs. Petrainer's E-Collar Nylon strap helps protect your dog's sensitive skin
TRAVEL WITH YOUR PET – Don't hesitate about training in the rain, both our transmitter and waterproof collars are rechargeable. Fast charging and can be done simultaneously with both devices. Remote range up to 330 yards, so you can easily train your pet wherever you are!
CUSTOMER SATISFACTION GUARANTEE – Click "Buy it NOW" then register your device to RECEIVE FREE EXTENDED 3 YEAR WARRANTY! Contact our US based Customer Service Team (Phone/Email) 5 Days a Week! Reach us at (1-866-877-7949/service@ipets-mall.com) for all trouble shooting issues
Product Images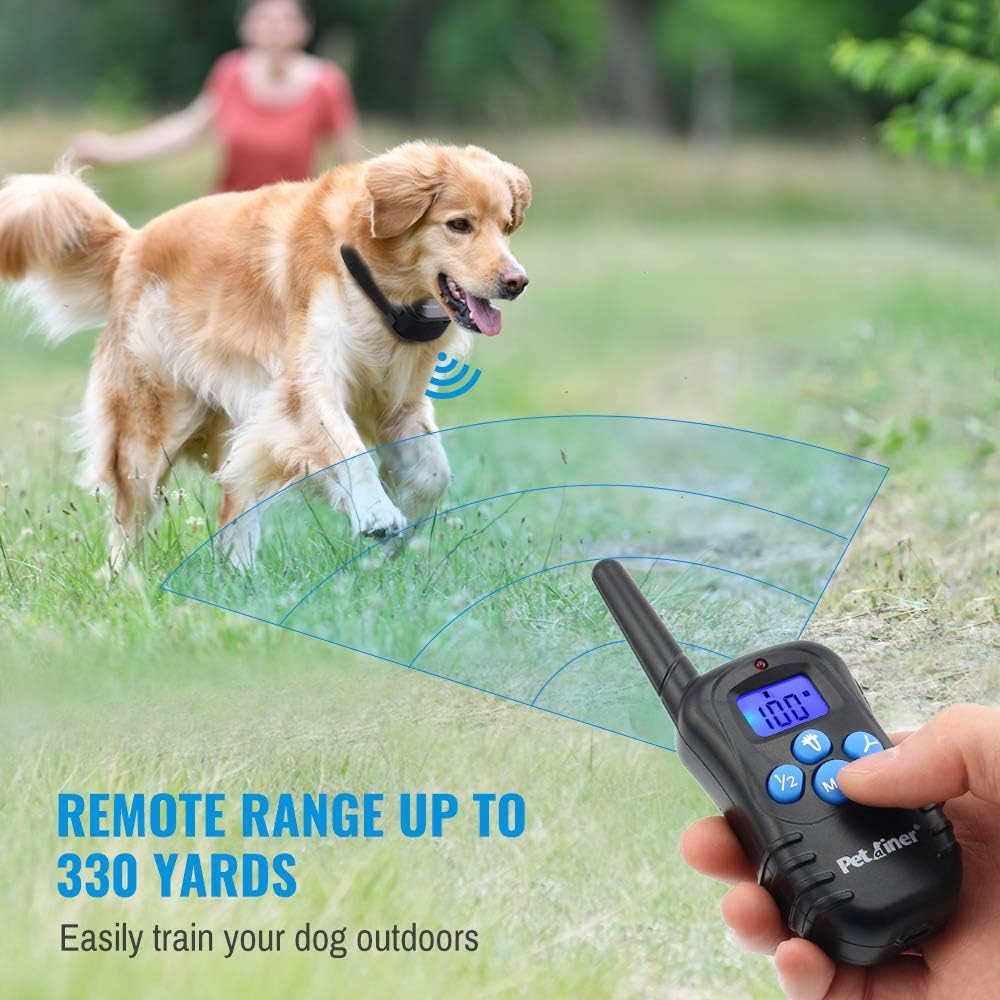 Product description
Petrainer has been engaged in research & development, manufacturing and distribution of pet products for years. With a passion for innovation, we are constantly improving upon our products and delivering the best experience to our valued customers.

Package Contents:

1 x Transmitter

1 x Receiver

1 x Nylon Belt

1 x Charger

3 Sets of Contact Points

1 x Test Bulb
Petrainer Training Collar with Remote
With 330yd range, this device was designed with the common household dog in mind, as it easily accommodates a stroll to your nearby park, or training in the backyard. We've incorporated every function that's needed for a beginner which are shock, vibrate and tone that allow the trainer to receive the best possible results. Don't worry about finding a stimulation level that will correct your dog without overstimulating, as it has 100 levels to ensure a level is found that's perfect for your dog.

Remote Range: 300m/ 330yd/ 1000ft

Rechargeable Lithium Batteries for Collar Receiver and Remote Transmitter

Rainproof Collar Receiver and Remote Transmitter

Light Mode to assist seeing dog in low light conditions and if you drop your keys

Quick and straightforward pairing process

Power saving design with Automatic Standby and Memory Function

Adjustable Collar Size from 14 to 25 inches, able to fit all size dogs 8lbs or larger

Uses: basic dog obedience, barking, hunting, digging, aggression, jumping up, bolting and so on
Extensive Range Control

Designed with RF434Mhz technology to provide a range up to 330 yards, tackle any outdoor environment with confidence that you'll be able to control your dog.

Zero Skin Irritation

Soft silicone covers for contact points better protect your pet's skin, to ensure a safe and humane training experience

Rainproof Receiver

Rain-resistant receiver allow your dog to enjoy the aquatic adventures in their life; Train your dog during any weather conditions

3 Training Mode

0-100 levels of customization forStatic Shock & Vibration and astandard Tone Mode, ensures you will find a stimulation that trains your dog like a professional would.
Why People Choose Petrainer Brand?
One of Leading Pet Training Brand

Millions of users of our product across many countries in the world, more and more people trust Petrainer products.

Your Voice Based Design

We are always listening to customer's suggestions to help design our products, and ensure our products are continually improved.

Friendly After-sales Service

A hassle-free support experienced team would love to hear from you and won't rest until your issue is resolved.
Bark Collar PET856
Remote Training Collar PET998DBB
Remote Training Collar PET619

Automatic Training

✓

Expandable System

Supports training up to 2 dogs

Supports training up to 2 dogs

Collar Material

Nylon

TPU

Nylon

Water Capabilities

Waterproof

Rainproof Remote & Waterproof Collar

Rainproof Remote & Waterproof Collar

Separate-Mode Button

✓

Level Adjustment Tool

Button

Up-down button

Dial

Remote Range

330 Yards

330 Yards
---