Features
DOCTOR FORMULATED: Advanced D was designed by Dr. John Cannell, physician and Executive Director of the Vitamin D Council, to give your body maximum Vitamin D benefits by teaming this essential nutrient with key support co-factors.*
THE ACTIVE FORM OF VITAMIN D: A serving of Advanced D provides 5,000 IU (125 mcg) of Vitamin D3 – cholecalciferol – the same form made by your body when exposed to sunlight. Research shows that this form is effective at raising blood levels of Vitamin D.*
THE DYNAMIC BENEFITS OF ADVANCED D: Vitamin D is known for bone health, but by combining it with the co-factors in Advanced D, Dr. Cannell has created a formula for immune system function & response, heart health, bone & muscle health, and more.*
GO BEYOND ORDINARY VITAMIN D: Advanced D is formulated to get the most out of Vitamin D3 by adding meaningful doses of Magnesium Citrate, Zinc, Quercetin, Vitamin K2, and more to provide vital support for a variety of health systems within the body.*
JOIN THE VITAMIN D REVOLUTION: Studies show that an average of 41% of adults are Vitamin D deficient. Few foods contain Vitamin D, and many people do not get enough sun exposure to produce their own, making Advanced D the right choice for daily health.
Product Images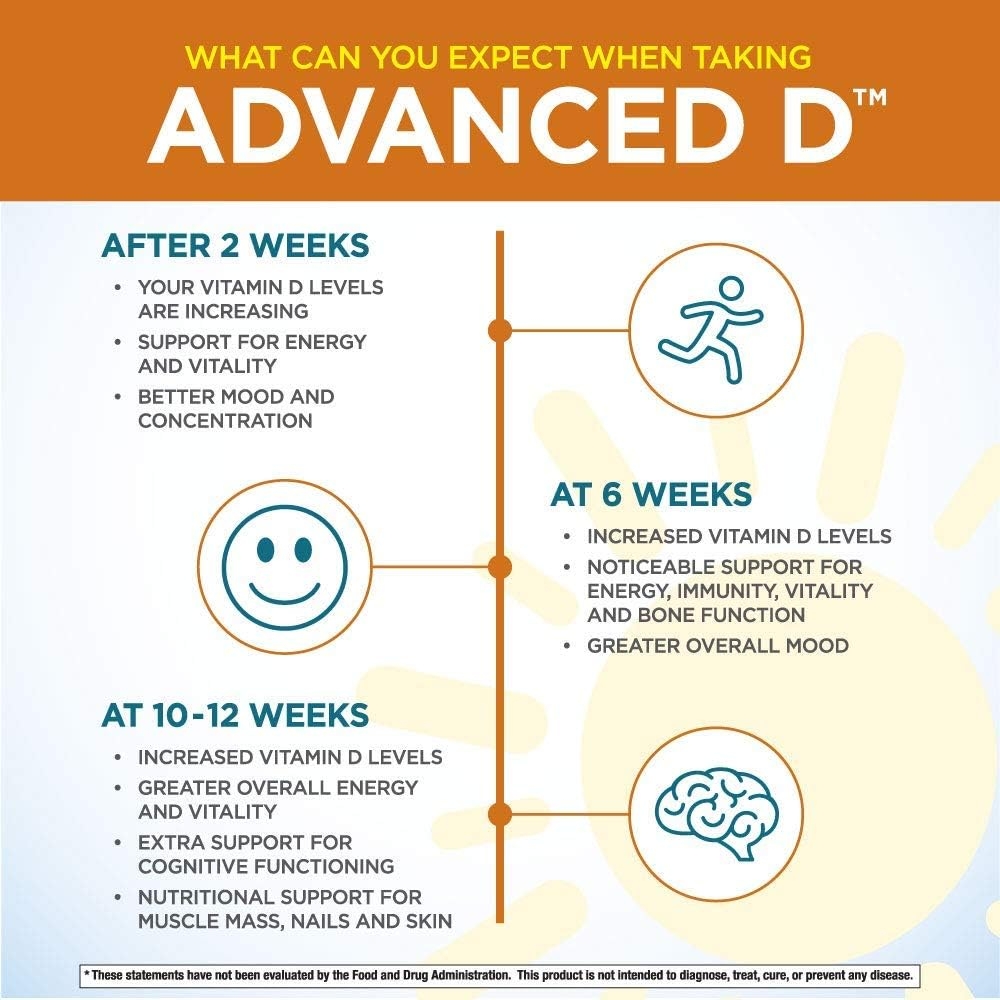 Product description
The Importance of Getting Enough Vitamin D3 Every Day Cannot Be Understated
The Importance of Getting Enough Vitamin D3 Every Day Cannot Be Understated
Current research shows the vital importance Vitamin D plays in maintaining the health of multiple systems within the body: your heart, your brain, your skeletal system, and immune system.* Unfortunately, that same research reveals that a majority of people run a Vitamin D deficit, making supplementation a critical solution to daily and long-term health. But just taking Vitamin D alone will not provide your body with the balance it needs. That's why Dr. John J. Cannell, head of the Vitamin D Council, formulated Purity's Advanced D with 5,000 IU of active D3 and surrounded it with key co-factors to help your body better utilize this essential nutrient.
Purity's Advanced D — Where the "D" Stands For DIFFERENCE
While most Vitamin D brands will tell you it's all about piling on the IUs, just looking at the total Vitamin D content does not reveal the whole story when it comes to the quality of the product. Yes, it is important to get an adequate amount of Vitamin D in every dose — and 5,000 IUs of Vitamin D3 per day is a great number to hit. However, Vitamin Do is a team player; it works best when it is helping other nutrients and being helped along by certain key nutrients.*
For instance, Magnesium is needed by the enzymes in your body that metabolize Vitamin D.* Unfortunately, Magnesium is another nutrient that may run low in your diet; while it is found in many leafy green vegetables, modern farming techniques have caused a depletion of magnesium in the soil. And low dietary Magnesium intake can contribute to lower levels of circulating Vitamin D.* That is the key thinking behind adding a meaningful dose of high-absorption Magnesium Citrate to the Advanced D formula.
In all, there are 6 key co-factors added to Advanced D to bring maximum benefits. In addition to Vitamin D3 and Magnesium Citrate, Advanced D contains the amino acid Taurine for advanced muscle function, 2 forms of Vitamin K2 for added arterial and cardiovascular support, the antioxidant power of Quercetin, and joint matrix support from clinically tested and patented FruiteX-B phytoBoron.* These co-factors take Advanced D — and your health — to the next level. Purity's Advanced D is your way to join the Vitamin D Revolution!
Vitamin D3

Dr. Cannel's Advanced D formula features 5,000 IU (125 mcg) of the active form of Vitamin D know as Vitamin D3 (Cholecalciferol). This is the same form of Vitamin D your body produces from your internal stores of cholesterol when your skin is exposed to the sun. But long days spent indoors working, short daylight hours in the winter, and the prodigious use of sunscreen during the summer all conspire to keep our sun exposure below needed levels. Furthermore, very few foods naturally contain vitamin D. This has led to a Vitamin D deficit that can no longer be ignored. That is why supplementing with Vitamin D every day is so important. Especially because Vitamin D supports your skeletal system, your heart and immune function, your energy levels, muscle strength, and your brain health, just to name a few things.*

Magnesium Citrate

Magnesium is a vital mineral involved in over 300 enzymatic processes — processes that impact heart health, bone density, muscle condition, mood, the ability to rest and sleep, glucose metabolism, and more.* It is also an essential partner to Vitamin D, with research showing that these two nutrients interact inside the body, and that deficiency in one can be related to a deficiency in the other.* However, most magnesium formulas utilize low-absorption magnesium oxide. Instead, our Advanced D formula packs in 125 mg of Magnesium Citrate, which is valued for its high rate of absorptionand solubility in the body.

Key Co-Factors (Zinc + Quercetin, Vitamin K2, Boron, Taurine)

While Vitamin D alone carries with it some great benefits, better health is achieved by combining this essential nutrient with other vitamins, minerals, and amino acids.* That's why Advanced D from Purity Products adds a wide variety of co-factors to maximize benefits:
· Zinc + Quercetin: This provides critical immune system and antioxidant support to complement Vitamin D3's role in immune cell response.* Advanced D uses OptiZinc, a patented form of zinc that combines the mineral with amino acids to enhance absorption by up to 24%.
· Vitamin K2: Most multivitamins overlook this important nutrient, but Vitamin K2 is essential to maintaining bone and cardiovascular health, just like Vitamin D and Magnesium.* Advanced D utilizes two forms of Vitamin K2—Menaquinone-4 (MK-4) and Menaquinone-7 (from patented vitaMK7).
· Boron: Advanced D contains clinically studied FruiteX-B phytoBoron to support joint health and aid in proper magnesium absorption.*
· L-Taurine: Taurine is an amino acid that supports in muscle function and cardiovascular health, making it the perfect complement to Vitamin D.*
Vegan Omega 3-6-9
Men's Perfect Multi – Vitamins, Minerals and Phytonutrients
Vegan Collagen Builder – Just Once A Day
MagBlue Magnesium Bisglycinate Buffered, Vitamin D3 + Organic Blueberries + more
H.A. Joint Formula – Hyaluronic Acid
Women's Perfect Multi – Supports Urinary Tract Health, Immune, Gut health & more

Discover More Purity Products Favorites!

100% VEGAN OMEGA FATTY ACIDS – Our Vegan Omega 3 6 9 features 500 mg of Omega-3, 180 mg of Omega-6, and 680 mg of Omega-9 from non-GMO plant and seed sources. Omega 3-6-9 is Non-GMO & Sustainably Sourced with broad spectrum benefits!

BUILT FOR A MAN'S UNIQUE NEEDS: Male biology requires extra nutritional support in several key areas including testosterone levels, prostate health, muscle recovery, and circulation.* Men's Perfect Multi addresses each of these needs and more!

THE VEGAN WAY TO BUILD COLLAGEN — Using key plant-based nutritional sources, Vegan Collagen Builder supports your own body's natural production of collagen and healthy connective tissue.* No Carbs or Sugar

MAKE THE RIGHT MAGNESIUM CHOICE: MagBlue's TRAACS Magnesium Bisglycinate Chelate Buffered formula delivers 4X the absorption power vs ordinary magnesium oxide! Higher Bioavailability means more Magnesium Power!

RESULTS YOU CAN FEEL: 1. Helps build collagen within joint structure.* 2. Promotes joint comfort and mobility.* 3. Supports healthy tendons and ligaments.* 4. Promotes joint lubrication.* 5. Supports the normal shock-absorbing capacity of joints.*

WOMEN-CENTRIC BENEFITS: Women's Perfect Multi features targeted support for urinary tract health, your digestive tract, minor gas and bloating, strong bones, healthy circulation, hormone balance, and beautiful hair, skin, and nails.*
About Purity Products
The Purity Principle

Our mission at Purity Products is to help you experience dynamic, vibrant health. Purity nutritional supplements blend premium ingredients into transformative nutraceuticals that go beyond ordinary single-ingredient/single-goal supplements. We don't sell "vitamins" — we craft intelligent nutritional solutions.

The Purity Promise

Our manufacturing facilities are in compliance with Good Manufacturing Practices (cGMPs). Everything from raw material handling to bottling, labeling and testing, is done in a clean environment free of anything that could compromise product quality.

The Purity Difference

Every one of our formulas is designed with a purpose: to enhance healthy living. We use ingredients that are backed by clinical research, blended together to create unique formulations you won't find anywhere else. That's why you will see patented forms of various ingredients in many of our products. If an ingredient is in a Purity Products supplement, it was chosen to give you the best nutritional experience possible.
---