Features
HIGH PROTEIN BROWNIE: Eat Me Guilt Free Brownies have 14 grams of protein with a fresh out-of-the-oven, delicious taste. The Galaxy Chocolate flavor is a rich chocolate brownie showered in rainbow sprinkles – a delicious, fun and healthy way to indulge.
LOW CALORIE BROWNIE: At just 200 calories, each brownie is a perfect low-calorie snack or low calorie dessert for the keto friendly or calorie conscious diet.
CLEAN INGREDIENTS: Simple ingredients for a simply delicious treat! With no artificial ingredients and no preservatives, the Eat Me Guilt Free brownies are the perfect sweet treat or dessert to satisfy your sweet tooth.
INDIVIDUALLY WRAPPED, HEALTHY SNACKS: Whether it's before a workout or a middle of the day sweet treat, these Protein Brownies are the perfect on-the-go snacks.
NUTRITIONIST APPROVED – Eat Me Guilt Free was founded by a registered nurse and certified sports nutritionist to create and revolutionize better-for-you foods. The brownies are always High Protein, Low Carb, Non-GMO and baked with the highest quality ingredients. Box contains 12 Galaxy Chocolate Protein Brownies, covered in colorful sprinkles.
Product Images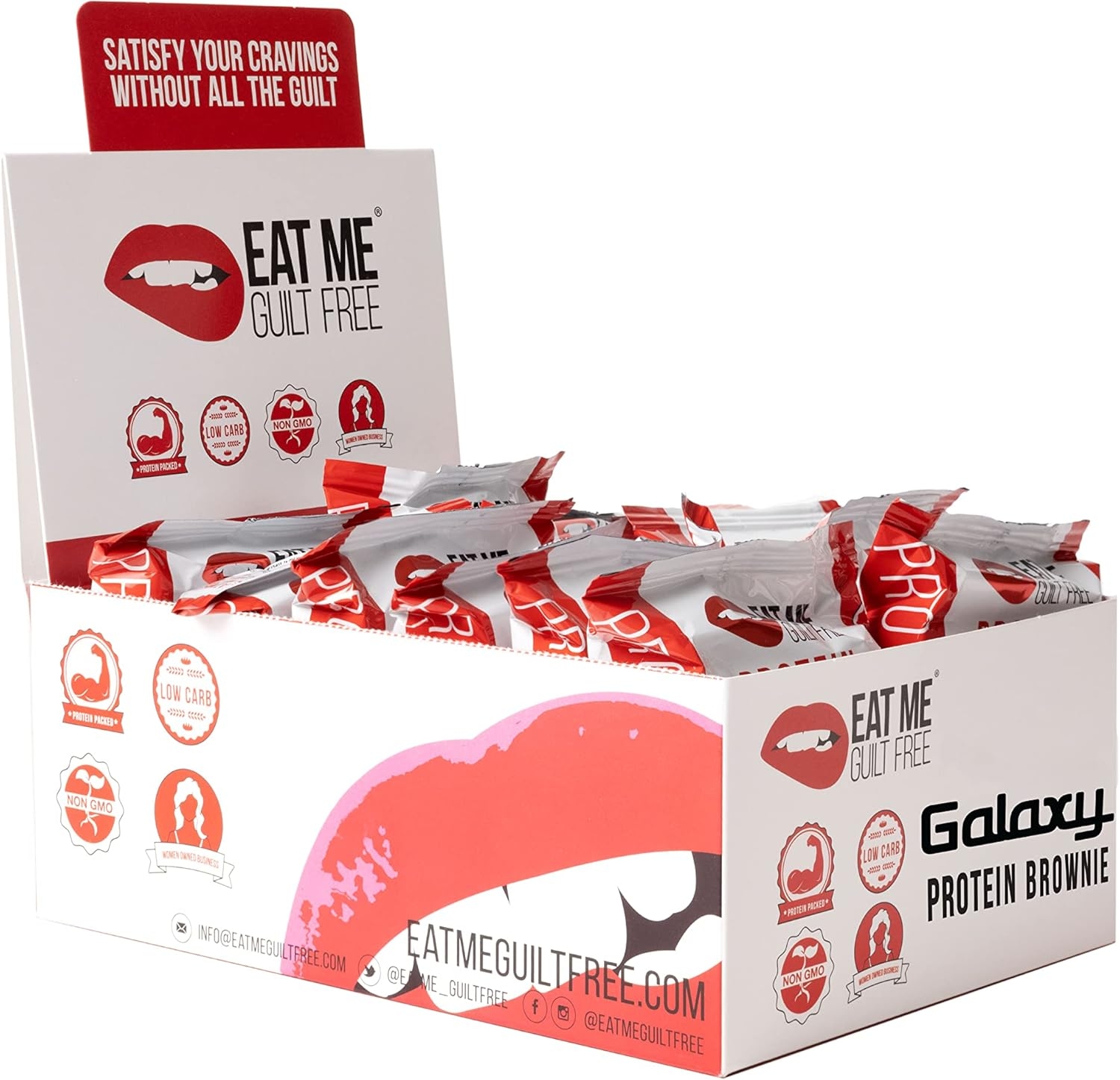 Product description
The Guilt Free Brownie
Free Delicious is our new brand platform. For years, the word "delicious" was used by large corporations to trick people into eating unhealthy, toxic foods. With Free Delicious, we are taking the word Delicious back. Free Delicious is more than just a statement – it symbolizes a new era – one in which the future of better-for-you, delicious foods has arrived at your door!
Galaxy Brownie
The Galaxy Brownie is simply out of this world! Take your tastebuds on a journey across the cosmos when star-like sprinkles and a delicious chocolate brownie collide against your tongue.
Better-for-you Alternative to America's Favorite Dessert

Packed Protein & Satiates Hunger (14g)

Only 12g of Carbs! Perfect for Late Afternoon and Night Time Sweet Cravings

Under 200 Calories per serving. Only 1 serving per Brownie.
Woman Owned

Founded by Cristie Besu, a Nurse and Sports Nutritionist. Eat Me Guilt Free was created as a response to client's struggles with late-night cravings for sweets. This need resulted in a brownie that is not only satisfying but also guilt free! Originally baked in the creator's kitchen, Eat Me Guilt Free now includes a team of highly skilled bakers.

Our Product

A delicious and sensible treat, expertly crafted by a team of bakers. Each low-carb brownie can be incorporated into your diet any time of the day. Eat Me Guilt free brownies include at least 114 grams of protein and the majority have a 2:1 protein to carb ratio.

Our Social Impact

A proud woman-owned business, Eat Me Guilt Free makes it our mission to give back to our local communities in the form of social and wellness assistance.
Galaxy Protein Brownie
Chocolate Protein Brownie
Red Velvet Protein Brownie
Tuxedo Protein Brownie
Birthday Cake Protein Brownie

Size

2 oz

2 oz

2 oz

2 oz

2 oz

Serving (per container)

1 Serving

1 Serving

1 Serving

1 Serving

1 Serving

Calories (per serving)

194

186

198

198

207

Protein (per serving)

14g

14g

14g

14g

14g

Fat (per serving)

11g

10g

10g

10g

11g

Sugar (per serving)

7g

10g

10g

9g

9g
---