Features
PREMIUM LIQUID BIOTIN & COLLAGEN DROPS – Specially formulated to restore health and beauty from the inside out by combining two powerful & effective nutrients in a highly concentrated form to enhance absorption and bioavailability. Our superior max absorption formula includes 20,000mcg liquid per serving – 10000mcg Collagen & 10000mcg Biotin to give you the results you deserve and make you feel amazing inside & out!
BIOTIN + COLLAGEN COMPLEX FOR FAST RESULTS & BENEFITS: Our All-Natural Biotin & Collagen 20,000mcg liquid formula includes scientific doses that actually produce real, fast, and noticeable results & support healthy hair growth, glowing skin, and stronger nails! 1 berry-flavored dropper under the tongue or added to a drink provides a concentrated dose of collagen & biotin to defend your body and mind from signs of aging.
PROMOTE HEALTHY HAIR GROWTH, VIBRANT SKIN, & STRONG NAILS: Research has shown that Biotin helps promote & support healthy hair, especially at higher dosages like ours. Collagen is an essential component of your skin structure, bone strength, hair, nails, ligaments, tendons, etc. and it declines as we get older. These two compounds help jumpstart your body for hair and skin regeneration as well as moisturize, hydrate, & balance oil levels for men & women of all skin types.
SUPERIOR ABSORPTION & BIOAVAILABILITY + GREAT TASTE: Liquid Biotin & Collagen is the #1 best bioavailable form resulting in extremely increased absorption when compared to pills, capsules, powders, or gummies. 60 highly dosed servings of 20,000mcg in just 1mL is easy to take and provides optimal absorption & efficiency levels to maximize health benefits. Mixed Berry Flavor goes down smooth, tastes great, and has no gluten, soy, sugar, milk, yeast, salt, wheat, GMOs, or any bad aftertaste.
MADE IN USA + 100% HASSLE FREE MONEY BACK GUARANTEE: Our Collagen Biotin Complex is 100% Natural, Safe, & Effective formulated by healthcare professionals in a state-of-the-art GMP certified facility in the USA. Every batch of liquid is tested by an independent third-party to ensure the top quality and safety. We are highly confident that you will absolutely love our biotin collagen drops but if you don't love it for any reason at all – we will refund you right away – just send us a message!
Product Images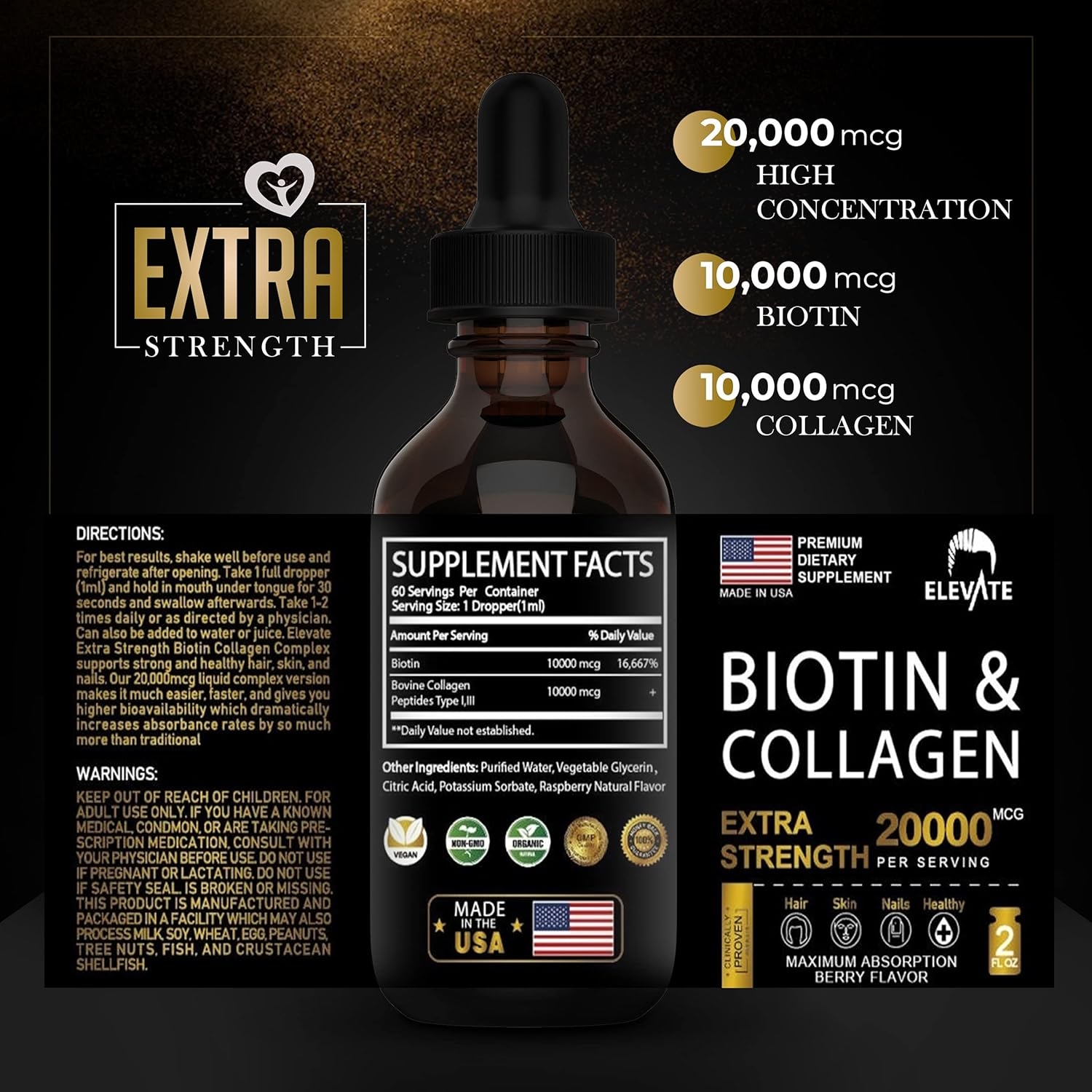 Product description
BIOTIN & COLLAGEN LIQUID DROPS
Elevate Biotin & Collagen Liquid Drops are produced from the highest quality ingredients with strict quality control measures. The berry-flavored drops are produced with 100% pure and vegan ingredients. As a result, users enjoy safe and healthy supplements to be included in their daily diet.
The restorative formula includes high concentrations of Biotin and Collagen: 10,000 mcg each. This gives the body adequate nutrients, resulting in healthier hair, skin, nails, and immune system. Furthermore, bones, ligaments, and tendons are also supported and strengthened. Once you start using it, you will feel confident about your appearance, diet, and health. The drops come in a glass bottle that's easy to handle, and the calibrated dropper makes administration a breeze.
---