Features
Make sure this fitsby entering your model number.
European Adapter Type C Plug – Compatible in most European countries such as Austria, Belarus, Belgium, Croatia, Denmark, Finland, Germany,Greece, Hungary,Portugal, Poland, Netherlands,Spain, Turkey, Iceland, Italy. More country list can be checked in description. ( NOTE: NOT WORK in UK/Ireland/Scotland, if need please choose our Type G adapter)
3 in 1 inputs Wall outlet adapter – This europe power adapter accepts the standard N American 2 or 3 prong flat pin Plug, Max Capacity Up to 2500 Watt (max 250 Volt, 10 A); Dual USB ports can charge up to 2.4A, ideal for Cell phone, Tablet, Power Bank & other electrical chargers; No need to carry extra adapter and power strip for your traveling, saving your suitcase space
Compact Size and Indicator – This international power adapter is mini and good for Travel; Led indicator can let you know the power of this european travel plug adapter is on/off
Certified by CE to ensure the safety, high quality Internal metal interfaces offer good conductivity and this european plug adapter has 18-month After-Customer Service
Note – This is NOT A VOLTAGE CONVERTER. This adapters for Europe are only compatible for 110V-240V wide voltage device, especially your hair dryer, straightener, electric toothbrush or razor MUST to support 110V-240V Dual Voltage, otherwise you may need a power voltage converter
Product Images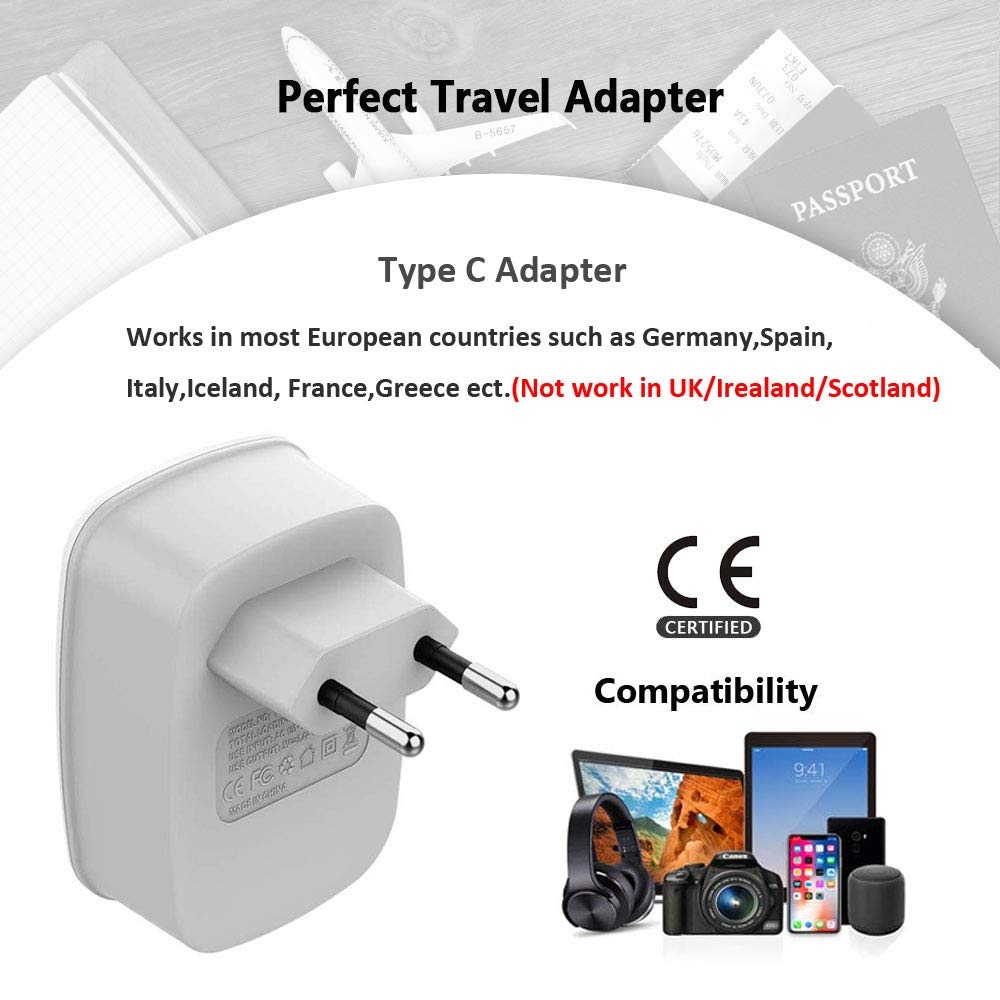 Product description
European Travel Plug Adapter with 1 outlet and 2 USB charging Ports 2Pack
Type C Plug Adapter – Europe, Asia, Central America
Compatible Countries: Armenia , Austria , Azerbaijan , the Azores, the Balearic Islands, Belarus, Belgium,Bosnia-Herzegovina,Bulgaria, Croatia ,the Czech Republic, Denmark, Estonia , Finland,France,Georgia , Greece, Hungary, Iceland, Italy,Kazakhstan ,Kyrgyzstan,Latvia ,Lithuania, Luxembourg, Macedonia, Moldova , Monaco, Montenegro, the Netherlands , Norway,Poland, Portugal ,Romania,Russia, Serbia,Slovakia, Slovenia and more.
The ultra compact size of this adapter makes it easy to carry for your travel.
3 in 1 TYPE C European charger adapter

3 in 1 Input: Accepts the standard N American 2 or 3 prong flat pin plug (including polarized). Dual USB charging port can charge up to 2.4A max for each Adapter.

Package Includes:

Travel Plug Adapter x 2

User Manual x 1

2 Pack for Europe Power Adapter

Specification

Product Dimension: 2.8*2.3*2.6 inch

Input Voltage: 100V-250V AC, 50/60Hz

Max load: 10A

Power rating: 2500W (Max 250V, 10A)

USB output: 5VDC/2.4A(Total)

Indicator: Soft LED

2 Pack with 2 AC Outlet, 4 USB Total.

Ideal For Travel

This European plug adapter is compatible for Smart phone, Tablet, Camera, Bluetooth Speaker and other USB charging electronics.

This europe adapter plug is suitable for overseas business and oversea students.
NOT work in the UK

This electric adapter for europe doesNOT work in the UK / Ireland / Scotland/ South Africa.

This is TYPE C plug which can work in most of Europe such as Germany, Italy, France, Iceland ect, but except for UK,For UK adapter please choose TYPE G plug adapter.

Slightly Bent Plug Designed for more compatibility

Sockets in European countries are different, Germany, France, Spain sockets are bigger, flat legs will be easy to fall off. This inner feet design makes it inserted into the sockets more firmly. This will improve the compatibility without effecting your using.

NOT A Power Converter for 110V only device

This is NOT A Power Converter. Because Europe is 220V voltage, please make sure your devices especially your hair dryer, straightener,hair curler, electric toothbrush or electric razorMUST to support110V-250V Dual Voltage, If your device are 110V or 125V only, you will need a voltage converter.
Most of Europe-Type C Adapter with USB-C Ports
Globel Travel Adapter Set
2 Pack Germany/France-Type E/F Adapter
2 Pack Italy-Type L Adapter
All Europe-Type C+Type G Adapter
Mini Most of Europe-Type C Adapter

Qty of AC Outlets

1 US Outlet*

1 US Outlet*

1 US Outlet*2

1 US Outlet*2

1 US Outlet*2

1 US Outlet*2

Qty of USB Ports

2*2

2*

2*2

2*2

2*2

–

USB Output(Total)

2.4A/3A

2.4A

2.4A

2.4A

2.4A

–

Item Size

2.8*2.3*2.6 in

2.1*2.9*2.6 in*2

2.1*2.9*2.7 in*2

2.8*2.3*2.6 in*2

2.3*2.6*2.8 in*2

Compatible Countries

Armenia, Austria, Azerbaijan, the Azores, the Balearic Islands, Belarus, Belgium, Bosnia-Herzegovina, Bulgaria, Croatia, the Czech Republic, Denmark, Estonia, Finland, France, Georgia, Germany, Greece, Hungary, Iceland, Italy, Kazakhstan, and more

More than 110+ countries

Albania, Austria, Belgium, Bosnia, Bulgaria, Croatia, Cyprus, the Czech Republic, Denmark, Finland, France, Germany, Greece, Hungary, Iceland, Lithuania, Luxembourg, Montenegro, Netherlands, Norway, Poland, Portugal, Romania, Spain, Sweden, Ukraine

Chile, Ethiopia, Italy, Lybia, Syria, Tunisia, Uruguay

Austria, Belarus, Belgium, Bosnia-Herzegovina, Bulgaria, Croatia, the Czech Republic, Estonia, Finland, France, Georgia, Germany, Greece, Hungary, Iceland, Italy,Cyprus,Dominica, Hong Kong, Kenya, Malaysia, UK(Ireland,Scotland,England)and more

Armenia, Austria, Azerbaijan, the Azores, the Balearic Islands, Belarus, Belgium, Bosnia-Herzegovina, Bulgaria, Croatia, the Czech Republic, Denmark, Estonia, Finland, France, Georgia, Germany, Greece, Hungary, Iceland, Italy, Kazakhstan, and more
Most of Europe-Type C Adapter
Germany/France-Type E/F Adapter
UK/HongKong-Type G Adapter
Italy-Type L Adapter
3 Pack Most of Europe-Type C Adapter
European UK Australia Adapter 3Pack Kit

Qty of AC Outlets

2 US Outlet

2 US Outlet

2 US Outlet

2 US Outlet

1 US Outlet*3

1 US Outlet*3

Qty of USB Ports

2

2

2

2

2*3

2*3

USB Output(Total)

2.4A

2.4A

2.4A

2.4A

2.4A

2.4A

Item Size

2.95*2.79*2.7 in

2.95*2.79*2.72 in

2.95*2.79*2.6 in

2.95*2.79*2.53 in

2.8*2.3*2.6 in*3

–

Main country

Armenia, Austria, Azerbaijan, the Azores, the Balearic Islands, Belarus, Belgium, Bosnia-Herzegovina, Bulgaria, Croatia, the Czech Republic, Denmark, Estonia, Finland, France, Georgia, Germany, Greece, Hungary, Iceland, Italy, Kazakhstan, and more

Albania, Austria, Belgium, Bosnia, Bulgaria, Croatia, Cyprus, the Czech Republic, Denmark, Finland, France, Germany, Greece, Hungary, Iceland, Lithuania, Luxembourg, Montenegro, Netherlands, Norway, Poland, Portugal, Romania, Spain, Sweden, Ukraine

Bahrain, Cyprus Dominica, England, Ghana, Grenada, Hong Kong, Iraq, Ireland, Kenya, Macau, Malaysia, Nigeria, Ireland, Oman, Qatar, Saint Lucia, Saudi Arabia, Scotland, Singapore, Sri Lanka, Tanzania, Uganda, United Arab Emirates Wales Yemen Zimbabwe

Australia,New Zealand,China,Fiji,Samoa,Argentina,Cook Islands,Kiribati,Nauru,Papua New Guinea,Saint Vincent and Grenadines,Samoa,Solomon,Tajikistan,Timor Leste,Tonga,Tuvalu,Uruguay,Uzbekistan,Vanuatu

Armenia, Austria, Azerbaijan, the Azores, the Balearic Islands, Belarus, Belgium, Bosnia-Herzegovina, Bulgaria, Croatia, the Czech Republic, Denmark, Estonia, Finland, France, Georgia, Germany, Greece, Hungary, Iceland, Italy, Kazakhstan, and more

Austria, Belarus, Belgium, Bulgaria, Croatia, the Czech Republic, Estonia, Finland, France, Georgia, Germany, Greece, Hungary, Iceland, Italy,Cyprus,Dominica, Hong Kong,UK(Ireland,Scotland,England),Australia,New Zealand,China,Fiji,Argentina and more
---