Features
Make sure this fitsby entering your model number.
EveryDrop Filter 2 is the only filter approved by: Whirlpool, Maytag, Amana, KitchenAid and JennAir brands
Certified to reduce 99% of lead, offering superior contaminant reduction for you and your family
Reduces 24 contaminants including including lead, pesticides, pharmaceuticals, and waterborne parasites (NSF 401, 53 and 42 certified)
Offers clean, fresh tasting water
Replaces 1500 water bottles
Used in bottom freezer refrigerators; filter compartment is in the top right corner
For the cleanest water, replace your filter every six months (to maximize contaminant reduction)
The only genuine replacement for model number w10413645a and asin B00ANL7Q6M, Packaging may vary
Certified to fit these leading refrigerator brands: Whirlpool, maytag, kitchenaid, jenn-air and amana
replaces model number w10413645a
Used in bottom freezer refrigerators; filter compartment is in the top right corner
Replace filter every 6 months or 200 gallons to maximize contaminant reduction
replaces asin b00anl7q6m
Product Images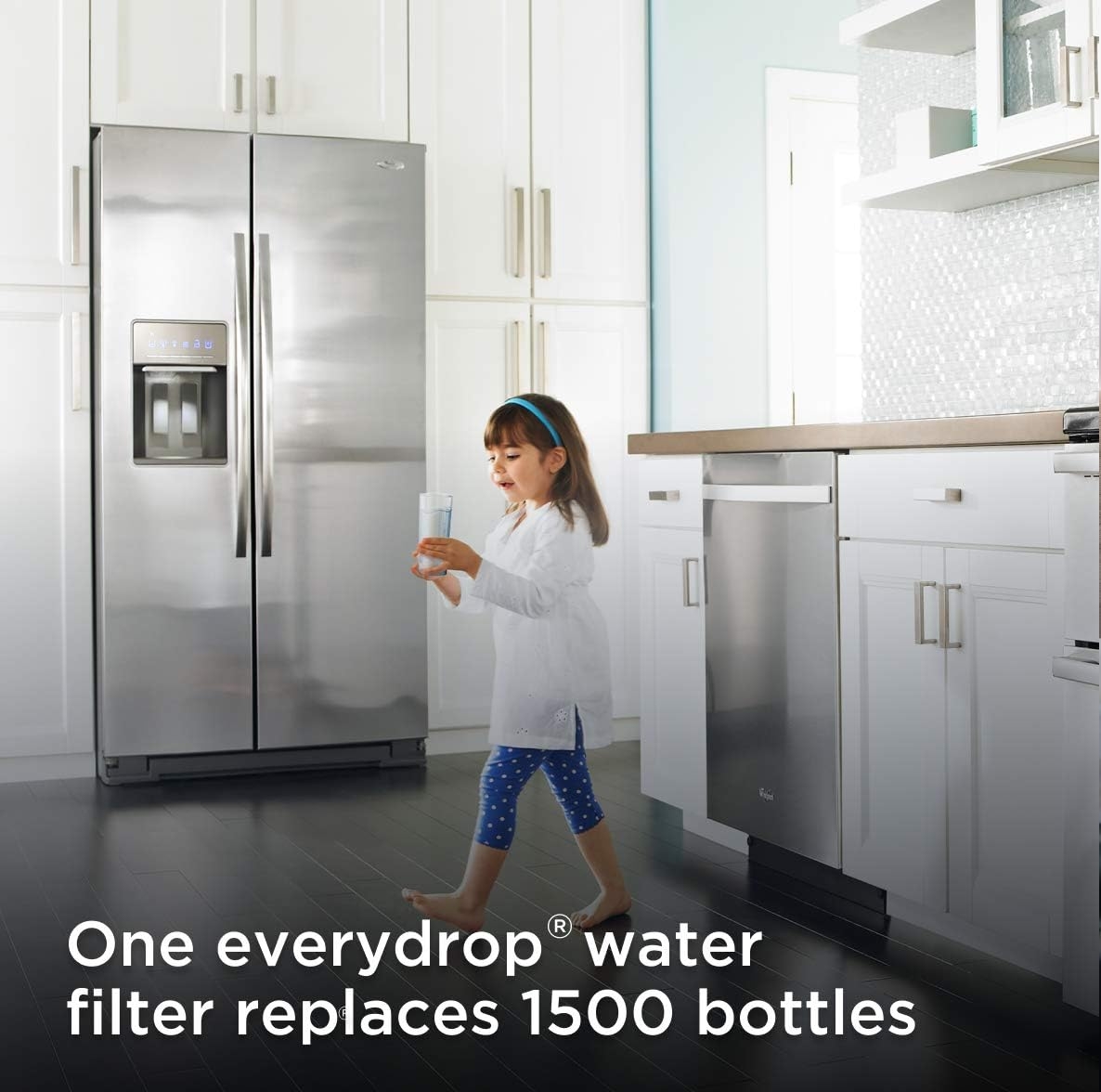 From the manufacturer
The Only Thing In Your Water Should Be Great Taste

Stay refreshed with convenient, on-demand water filtration from the only brand approved by¹ Whirlpool, Maytag, Amana, KitchenAid and JennAir. Certified by NSF International, everydrop Filter 2 reduces 28 potentially harmful contaminants² including lead.

Reduces Potentially Harmful Contaminants

everydrop refrigerator water filter #2 is certified to reduce 28 contaminants²including lead, pesticides and pharmaceuticals. For clean, fresh tasting water, replace your everydrop Water Filter every 6 months.

NSF Tested and Certified

everydrop water filters are independently certified against standards for look and taste, health concerns and emerging contaminants. While some filters are certified against one or two categories, everydrop filters 1-5 are certified against all three.

Clean, Filtered Water Goes a Long Way

Triple Filtration Technology removes contaminants in your ice and water to help a variety of foods and drinks taste like they should.
¹everydrop products and the recommending brands' products are all owned and distributed by Whirlpool Corporation.
²Contaminants reduced by this water filter are not necessarily in all users' water. Filters are tested and certified by NSF International against NSF/ANSI Standards 42, 53, and 401 for the reduction of the specific contaminants listed on each filter's Performance Data Sheet. NSF Certified on 25 May 2017.
Product description
Enjoy fresh, filtered water and ice from your refrigerator. Filter 2 from EveryDrop by Whirlpool Water Ice and Water is certified by NSF to reduce 24 contaminants – including pharmaceuticals, pesticides, waterborne parasites, lead, asbestos, and industrial chemicals in addition to providing great tasting water by reducing the presence of chlorine. Each filter provides 200 Gal. of filtered water and should be changed every 6 months to ensure proper contaminant removal and flow rate. EveryDrop by Whirlpool Water Ice and Water filters are the only filters guaranteed to work in Whirlpool, Maytag, KitchenAid, Jenn-Air, and Amana refrigerators.
---