Features
Innovative & versatile cleaning tool: carpets, rugs, tile, windows and more – the FURemover Broom gets your surfaces cleaner.
Fur Remover: the 100% natural rubber attracts pet hair like a magnet to easily remove fur from carpets, rugs, hardwood, and linoleum like regular brooms can never do.
Built-in squeegee edge: cleans windows, showers, and windshields with ease. Works great to wipe away liquid spills on tile, concrete, or any hardwood surface such as patio decks or interior flooring
Telescopic handle: easily adjust the handle length to suit any user. Handle extends from 36 inches to 60 inches
Super easy cleanup: simply wash away excess cat hair and Dog hair on the rubber Broom bristles by using soapy water to sanitize and renew. Natural rubber is easy to clean and requires little maintenance.
Product Images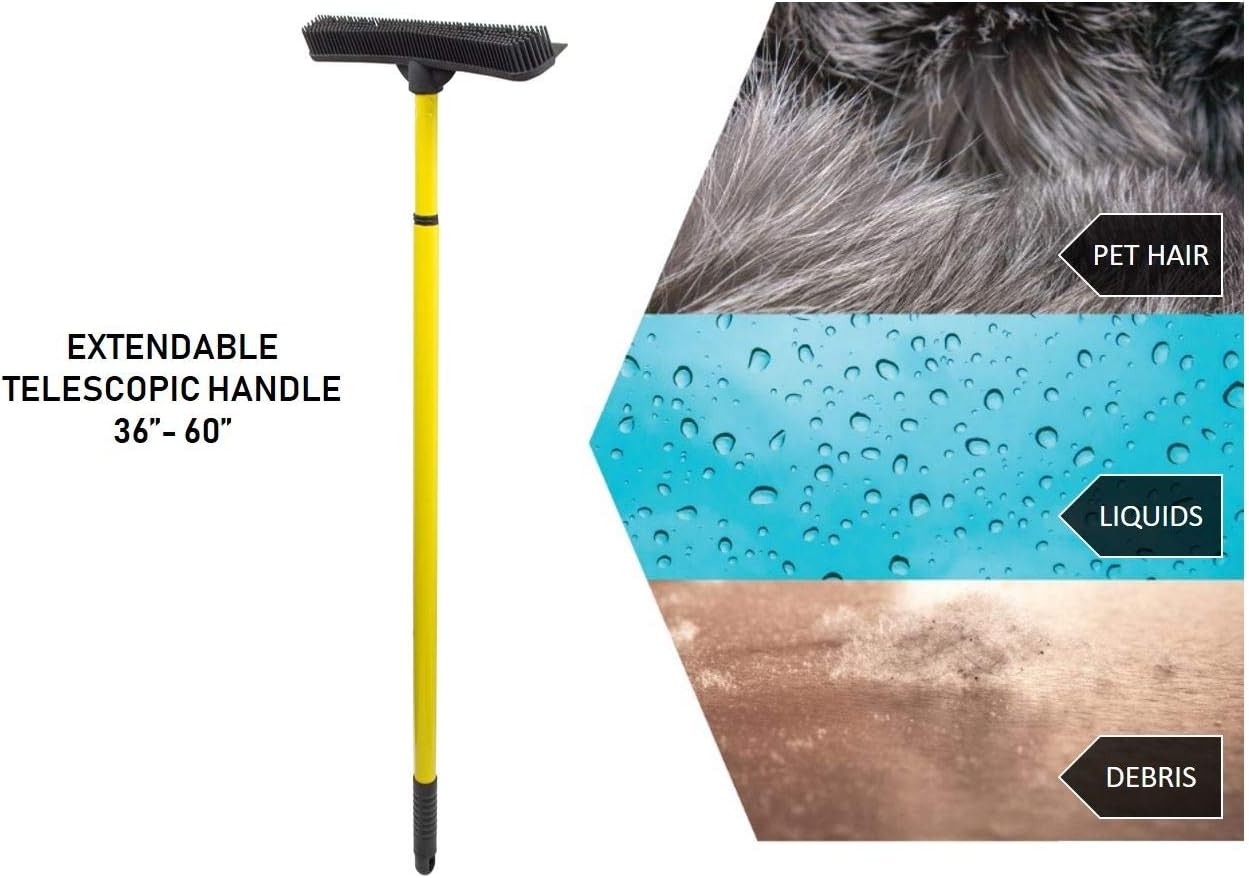 From the manufacturer
Natural Rubber Head
Rubber is know for its electro-static properties which draw certain materials to it, making it the perfect broom for sweeping up all.

Hair

Dirt

Debris

Fine Particles
FURemover Broom with Built-in Squeegee
Natural Rubber Brush for Quick Pet Hair Removal
Keep Hardwood Floors and Carpet Free of Debris.

Remove Hair from Hardwood Floors, Carpet, Tile and so much more!

Multi-Purpose Squeegee can be used on windows, cars and spills on floors.

Furemover Broom Extends from 3 ft. to 5 ft. in an instant, and locks firmly into place.

Sturdy and durable design is built to last.

Removable head for easy storage and cleaning.

Natural Rubber Bristles attract debris and hair. for easy cleanup anywhere.
Evriholder's FURemover Broom is the only Multi-Purpose Broom that Cleans Every Surface in your Home!
Carpet Pet Hair Remover

Natural rubber bristles grab dog and cat hair like a magnet.

Multi-Purpose Squeegee

Clean up messy spills with natural rubber squeegee.

Best Broom for Hardwood Floors

FURemover Broom is a lint roller for carpets and floors.
All-Purpose Flexible Rubber Squeegee
Quick Drying Action: With the blade measuring 12 inches, this big wiper squeegee dries a large area with every pull, allowing you to complete your cleaning fast. The high quality natural rubber blade also prevents spotting, saving you the hassle of additional drying using towels or mops.
High Reach Cleaning This large squeegee handle extends to 5 ft., which eliminates tedious bending while drying floors. The floor squeegee handle also allows you to safely reach high windows without the need for stools or step ladders.
Dries Numerous Surfaces This industrial quality rubber squeegee effectively dries both flat and curved surfaces. You can use it to dry concrete or tiled garage and bathroom floors, kitchen surfaces, windows, windowpanes, car windshields, glass shower doors, or a pool deck.
Easy To Clean Removable head for easy storage and clean up.
FURemover Broom & Lint Brush Combo
FURemover Lint Brush
FURemover DUO Brush
FURemover Oval Lint Brush

Grooming

✓

✓

✓

✓

Lint Removal

✓

✓

✓

✓

Floor Cleaning

✓

–

–

–

Upholestry

✓

✓

✓

✓
Product description
The innovative and unique multi-purpose FURemover Broom can be used indoors or outdoors to remove cat hair, dog fur, and dirt from practically any surface including hardwood floors, tile, carpet, rugs, linoleum, concrete, and upholstery. The soft head is made of natural rubber that acts like a pet hair magnet and won't scratch hardwood floors.
For carpet fur removal, pull the broom in short, sharp strokes to bring embedded hair to the surface of the carpet. Even expensive vacuums made specifically for pet hair can't compete with the FURemover Broom's ability to pick up embedded pet hair.
Flip it over and use the all-purpose rubber squeegee side to pick up dirt and dust on hardwood floors. It cleans up spills with ease. The natural rubber of the squeegee blade prevents water spots even on glass, which is great for wiping windows, glass shower doors, and car windshields.
---