Features
Make sure this fitsby entering your model number.
Contains Two (2) high-efficiency Dual Action True HEPA filtration system that includes a Activated Carbon Pre-filter and a H13 Grade True HEPA Filter
Activated Carbon Pre-filter traps larger particles in the air like dust, hairs, pet fur, lint and neutralizes household odors from pets, smoke, cooking, and harmful VOC's
H13 Grade True HEPA Filter captures 99.97% of airborne particles down to 0.3 microns in size
Easy to replace and disposable, no tools required. 100% Satisfaction Guarantee
Replace every 3-4 months depending on the use and environment
Product Images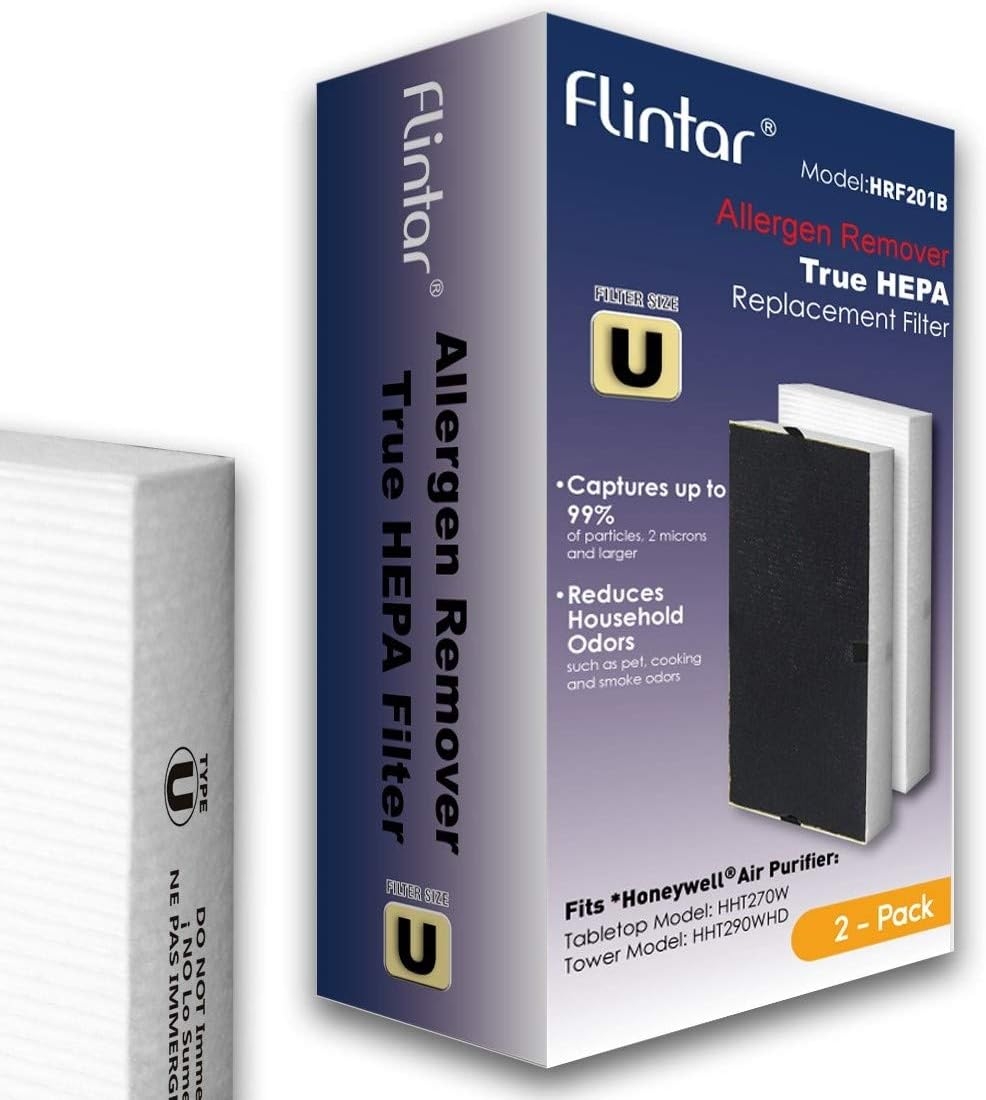 Product description
Flintar HRF201B (Filter U) Premium Dual Action H13 Grade True HEPA Replacement Filter is fully compatible with *Honeywell Air Purifiers HHT270W and HHT290 Series. This Dual Action True HEPA Filter system contains:
–Carbon Pre-Filter: Traps larger particles in the air like dust, hairs, pet fur, lint and absorbs household odors from pets, cooking, smoking and harmful VOC's
–H13 Grade True HEPA Filter: Captures 99.97% of airborne particles down to 0.3 microns in size
Using Flintar premium high-efficiency filters and replacing the filters regularly will help optimize air cleaning performance. Replace your Dual Action True HEPA Filter System every 3-4 months for optimal performance.
Fully compatible with the following Honeywell Air Purifier:
Tabletop Model: HHT270W, HHT270WHD
Tower Model: HHT290W, HHT290WHD
Disclaimer:
* Honeywell is a registered trademark of the original manufacturers. Any use of Honeywell brand name and model designation is made solely for the purposes of demonstrating compatibility.
---