Features
Packaging may vary. Furminator deShedding Ultra Premium Shampoo
Works to reduce shedding
Promotes healthy skin and coat
Enriched with Omega 3 and 6 Fatty Acids, Calendula Extract, and Papaya Leaf Extract
Use monthly as part of the Furminator at-home professional grooming regiment
Product Images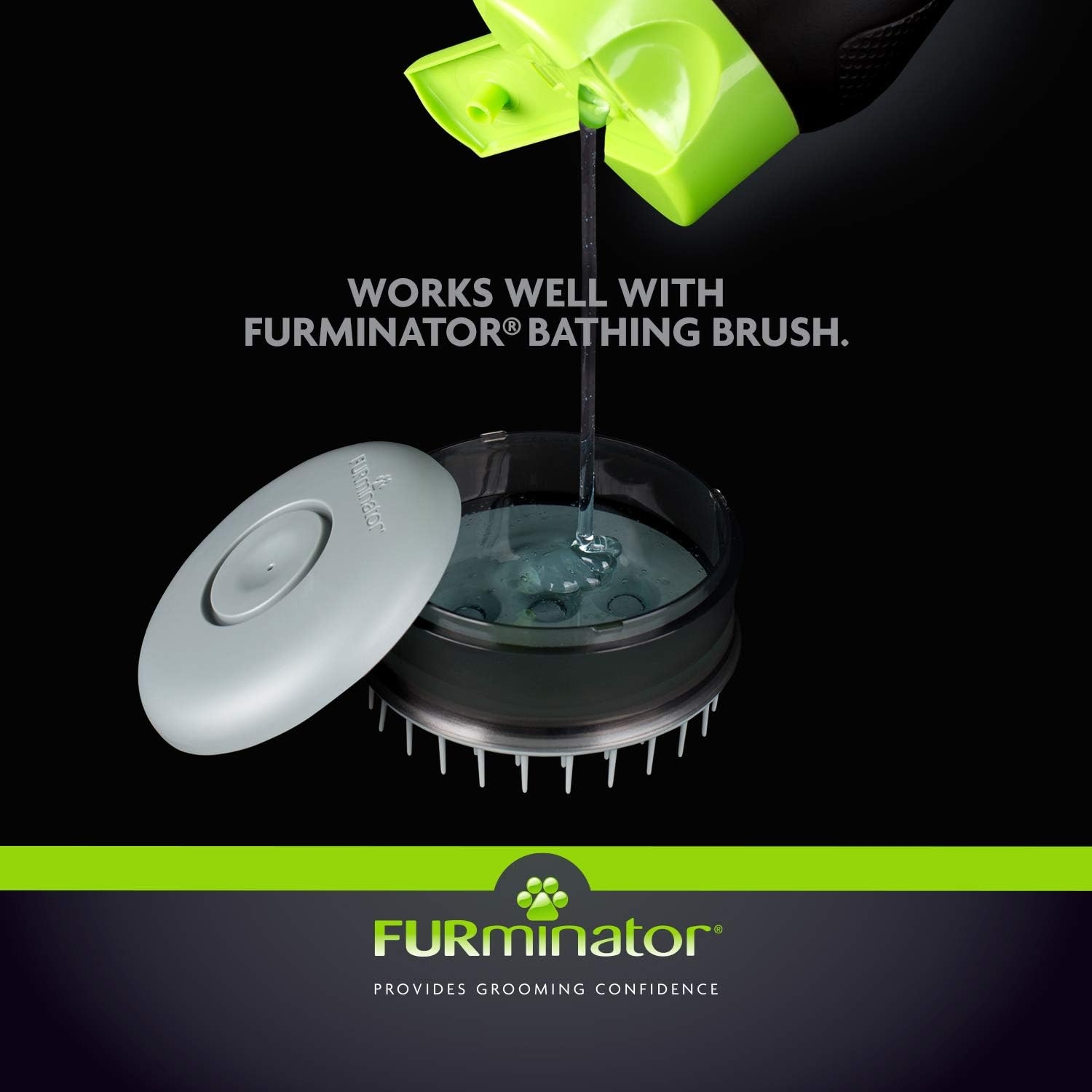 From the manufacturer
How to Use
| | | | |
| --- | --- | --- | --- |
| Shake well before use and wet coat | Apply and lather shampoo over entire body | Allow 5-10 minutes of contact | |
The FURminator(R) Ultimate Hair Reduction System
Brush: Daily combing keeps the coat clean of debris, free of tangles and looking nice by removing loose surface and topcoat hair.
deShed: Unlike brushing and combing, deShedding is done to remove the loose dead undercoat from the pet without cutting or damaging the topcoat, when used as directed.
Bathe: Regular shampooing and conditioning promotes a healthy skin and coat while reducing loose hair from shedding.
Discard: Easily dispose of excess pet hair collected by the tools for clean-up any time that takes minutes to complete.
Product description
As creators of the FURminator deShedding Tool, FURminator continues to raise the bar with innovative, proprietary shedding solutions. The FURminator lineup of deShedding tools, grooming tools, hair care products, bathing and hygiene solutions broadens and enhances the FURminator deShedding experience for pet parents and their pets. Simply put, there is no pet care solution on the market like the FURminator product line. FURminator deShedding Ultra Premium Shampoo reduces excessive shedding by reducing the undercoat during the bath. This shampoo contains no parabens or chemical dyes. Enriched with Omega 3 & 6 Fatty Acids, Calendula extract and Papaya Leaf Extract, you and your pup will both appreciate this shampoo. Bathing is an important part of your dog's grooming routine by helping to promote healthy skin and coat. Use monthly as part of the FURminator at home grooming regimen. For best results use in conjunction with a FURminator conditioner. Check out the rest of the FURminator line today!
---