Features
Make sure this fitsby entering your model number.
Lightweight, frameless impact protection safety Glasses and safety goggles
Superior comfort and fit
Scratch resistant polycarbonate lens provides 99% UVA/B/C sun protection and impact protection
Clear lens is great for general purposes and indoor applications that require impact protection
Includes: 6 assorted temple colors: pink, blue, green, purple, orange and black (1 of each color)
Product Images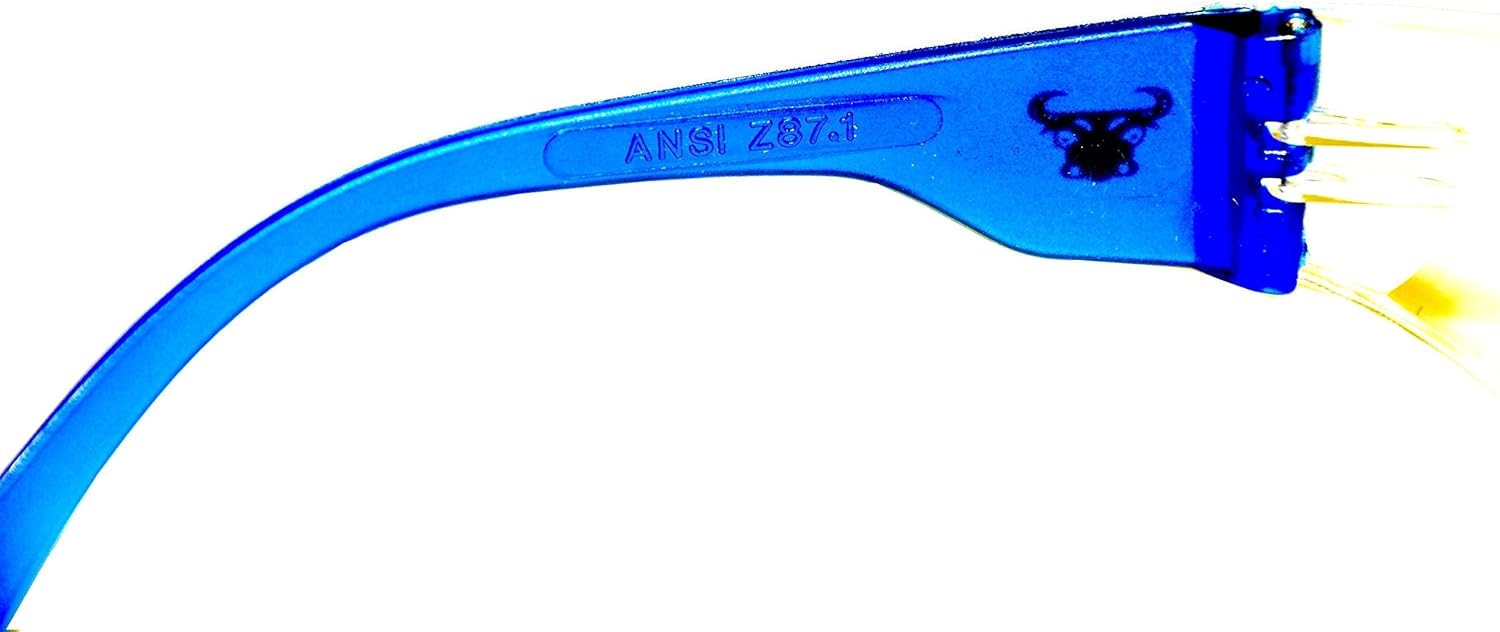 From the manufacturer
Adult Privacy Safety Glasses Goggles
Adult Clear Lens Safety Glasses Goggles
Kid/Youth Clear Lens Safety Glasses Goggles

Size

Adult Size

Adult Size

Kids Size

Packing

6 or 12 Pack

6 or 12 Pack

6 Pack Only

Rating

ANSI Z87.1 EN166

ANSI Z87.1 EN166

ANSI Z87.1 EN166

Anti Glare

✓

✓

✓

Scratch Resistant

✓

✓

✓

Impact Resistant

✓

✓

✓

Ballistic Resistant

✓

✓

✓
Safety Glasses assorted frame color
Front view – Clear lens Both Kids and Adult size available, Privacy lens only available on Adult size
Safety Glasses assorted frame color
side view – Clear lens Both Kids and Adult size available, Privacy lens only available on Adult size
Safety Glasses assorted frame color
Inner view – Clear lens Both Kids and Adult size available, Privacy lens only available on Adult size
Safety Glasses assorted frame color
Helicopter View – Clear lens Both Kids and Adult size available, Privacy lens only available on Adult size

Front view

Side view

Inner view

Helicopter View
Kids Size Safety Glasses and Goggles, also available on adult size
Why we need safety glasses
You should wear safety eyewear because they are the best defense against eye injuries. They protect your eyes from a myriad of potential hazards at work, home and outdoors. Comprehensively, safety eyewear saves businesses and workers a tremendous amount of time and money. Also, wearing safety eyewear can have a significant impact on overall, long-term eye health.
How our goggles are made
All of our goggles passed impact, scratch, Ballistic Resistant test as well as Anti-glare test. We made our goggles base on ANSI Z87.1 and EN166 to satisfy our client's certification needs.
Disclaimer:
Test Standard: ANSI Z87.1 and EN166
Test Agency: SGS
Date: 2018
Test Result: Pass
Product description
Safety goggles and glasses securely and comfortably protect your eyes and are perfect for use during work and play. Ideal for indoor and outdoor use, these glasses meet the stringent ANSI Z87+ standards of eyewear protection (a more stringent version than the Z87 standard). UV 400 (UVA and UVB protection) and anti-scratch coated lenses.
---