Features
Make sure this fitsby entering your model number.
THE RIGHT CHOICE: You've found an inexpensive everyday food scale without compromise.
THE FEATURES YOU NEED: 1g resolution, 11lb capacity, easy to read. See Product Description for more.
BACKED BY REAL SUPPORT: The friendly team at our St. Louis headquarters is here for whatever you need.
MADE THE RIGHT WAY: Your purchase should have a positive impact on all the people involved.
PAY IT FORWARD: A piece of your purchase helps the Global Orphan Project care for children in need.
Product Images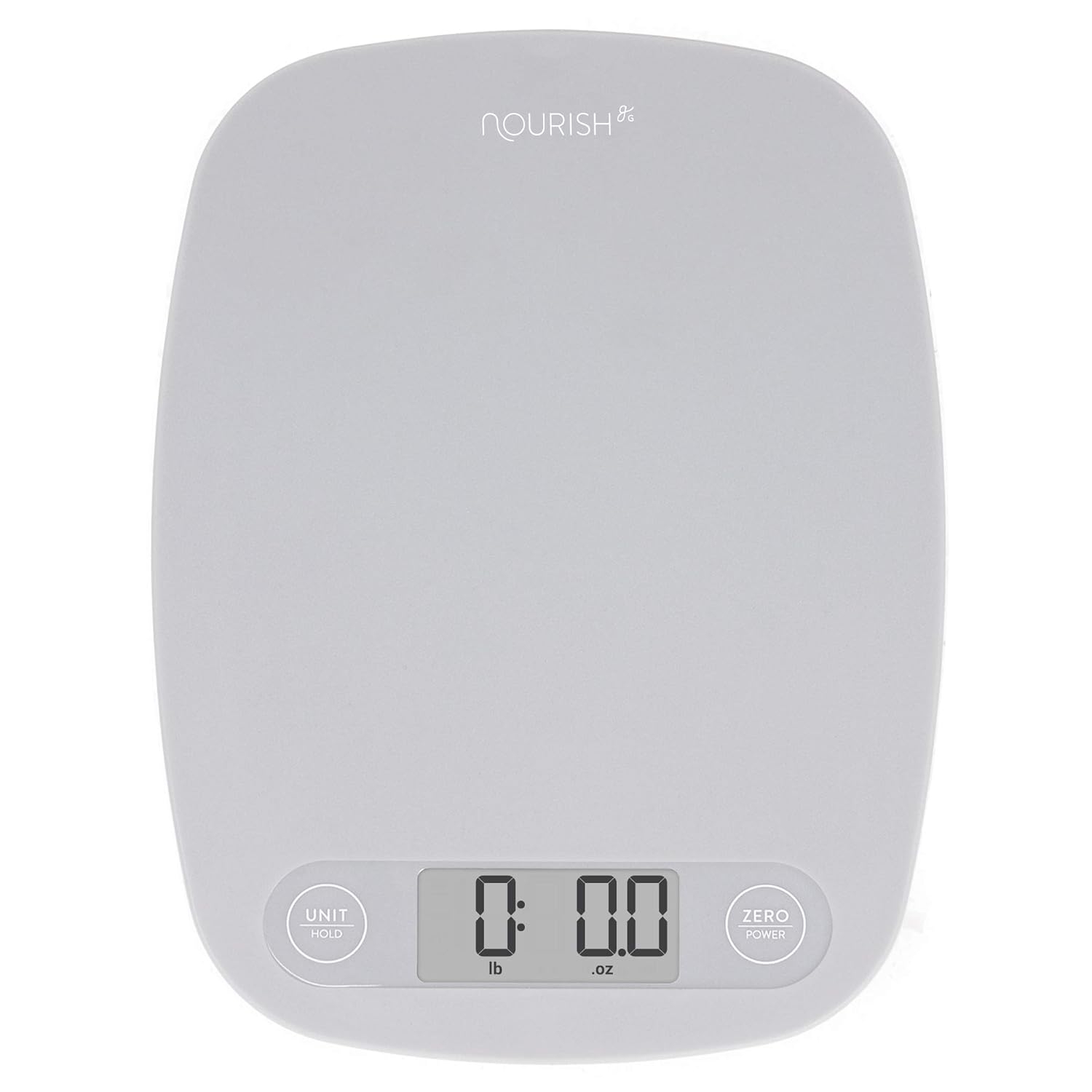 Product description
Shop Without Compromise
When you're shopping online, it's easy to get caught up comparing features and forget about the entire lifecycle of a product. Everything you buy is connected to hundreds of people who make, ship, and service it. When you purchase a product, you're supporting a company, which uses your dollars to make important decisions about how to treat all those people—and you. That's why who you buy from matters just as much as what you buy.
What Makes This a Great Food Scale?
As the reviews show, our customers love this scale because it combines high accuracy with a minimal design. It looks great on your counter, stores away easily, and tells you what you need to know to make better meals, whether you're trying to count macros or perfect your signature cookie recipe. A straightforward design focused around the essentials makes it easy to quickly weigh the ingredients you use every day.
FEATURES: 4 precision weighing sensors ensure accuracy within 1 gram or 0.1 ounce. High-contrast LCD screen. Scale shuts off and calibrates automatically. Smooth plastic surface and hygienic touch-sensitive buttons are easy to clean. Large weighing surface (6×6 inches) supports up to 11lb/5kg. Tare/Zero function allows you to measure messier ingredients in a container. Scratch-resistant feet. Switch between grams, pounds & ounces, fluid ounces, and milliliters. 2 CR2032 batteries included.
What Makes Us the No-Compromise Choice?
Well-Made Products

Greater Goods is built around quality products made the right way. When you treat people with respect, they create great things; that's why we only partner with skilled manufacturers who have chosen to uphold international standards protecting workers' rights and safety. Then, we set a value that's fair for everyone along the supply chain, including you—because a good deal doesn't have to be made at the expense of the people who create a product.

Backed by Great Service

From video tutorials to extended phone hours, our team in St. Louis wants to provide support in the way that works best for you. We love our products, so we love talking about them. We'll treat you like a friend, which means no scripts or loopholes—just genuine answers, and if something goes wrong, we'll make it right.

Paying it Forward

The impact of your purchase doesn't stop once your package arrives, because we collect a piece of each purchase to give to our charity partners. The nonprofits we work with are experts at what they do, but need a consistent source of funding to work, grow, and plan for the future. Our community brings together all our customers to create a steady stream of revenue our partners can count on. Like all Greater Goods purchases, your order helps the Global Orphan Project care for children in need.
---