Features
Hydration Plus Aminos – Hydramino's complete rapid hydration formula supplies all 6 electrolytes, plus key amino acids that boost fluids in the cells, along with hydrating coconut water, alkalizing greens, natural antioxidants and vitamins B and C to keep you going!
Stay Hydrated – Hydramino optimally hydrates during intense exercise or daily activity, multiplying the hydration effects vs. plain water or sports drinks 2-3x to keep you performing at your best.
Use Anytime – Evlution Nutrition Hydramino is caffeine free for use any time, day or night, as a clean, stimulant free hydration support supplement. Our unique formula contains only 15 calories, is Vegan and also Gluten-Free.
All-In-One Formula – Hydramino is the complete hydration multiplier containing all 6 Electrolytes, fluid boosting Aminos, Vitamins C & B, Coconut Water, Organic Superfoods, and Potent Antioxidant blend all added to help you rehydrate and recover from exercise and daily dehydration quickly!
Reliable Performance – Each bottle of Hydramino is proudly made in the USA at a GMP-certified facility ensuring you're getting the very best. No compromise is what our company is founded on. That means we're committed to creating supplements made with the best possible ingredients and manufacturing to produce the highest quality products period!
Product Images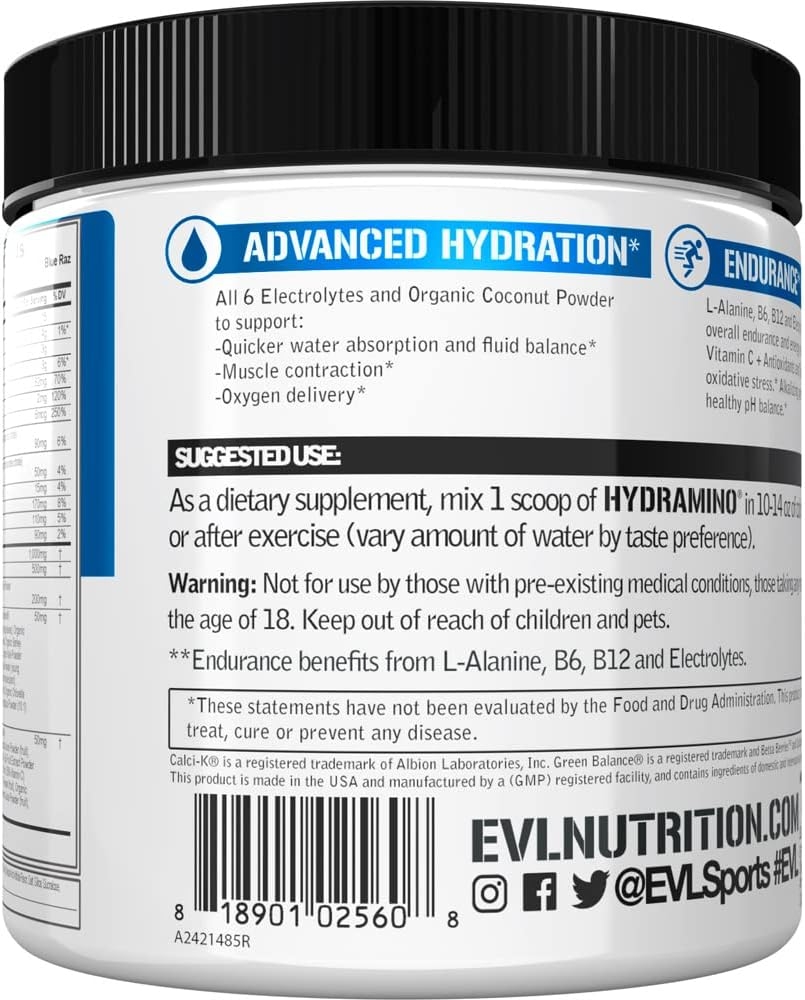 ---