Features
FITS ALL CUISINART MACHINES – These Cuisinart compatible filters made by K&J will fit all Cuisinart coffee makers, both newer machines and older machines. See below for full list.
MICROMESH MATERIAL – Ensures the charcoal stays in the filter and does not clog up your Cuisinart coffee maker. K&J is the highest quality of any filter currently sold!
IMPROVES BEVERAGE FLAVOR – Removing impurities, calcium, chlorine, and odors with activated charcoal filters creates the best-tasting beverages.
ECO-FRIENDLY PACKAGING – We ship your Cuisinart filter replacements not in a bulky box, but with minimal packaging.
ULTRA FINE-GRAIN CHARCOAL – Finer charcoal granules increase the surface area exposure to water and maximize the effective filtration. K&J makes the most effective Cuisinart compatible water filter on the market!
Product Images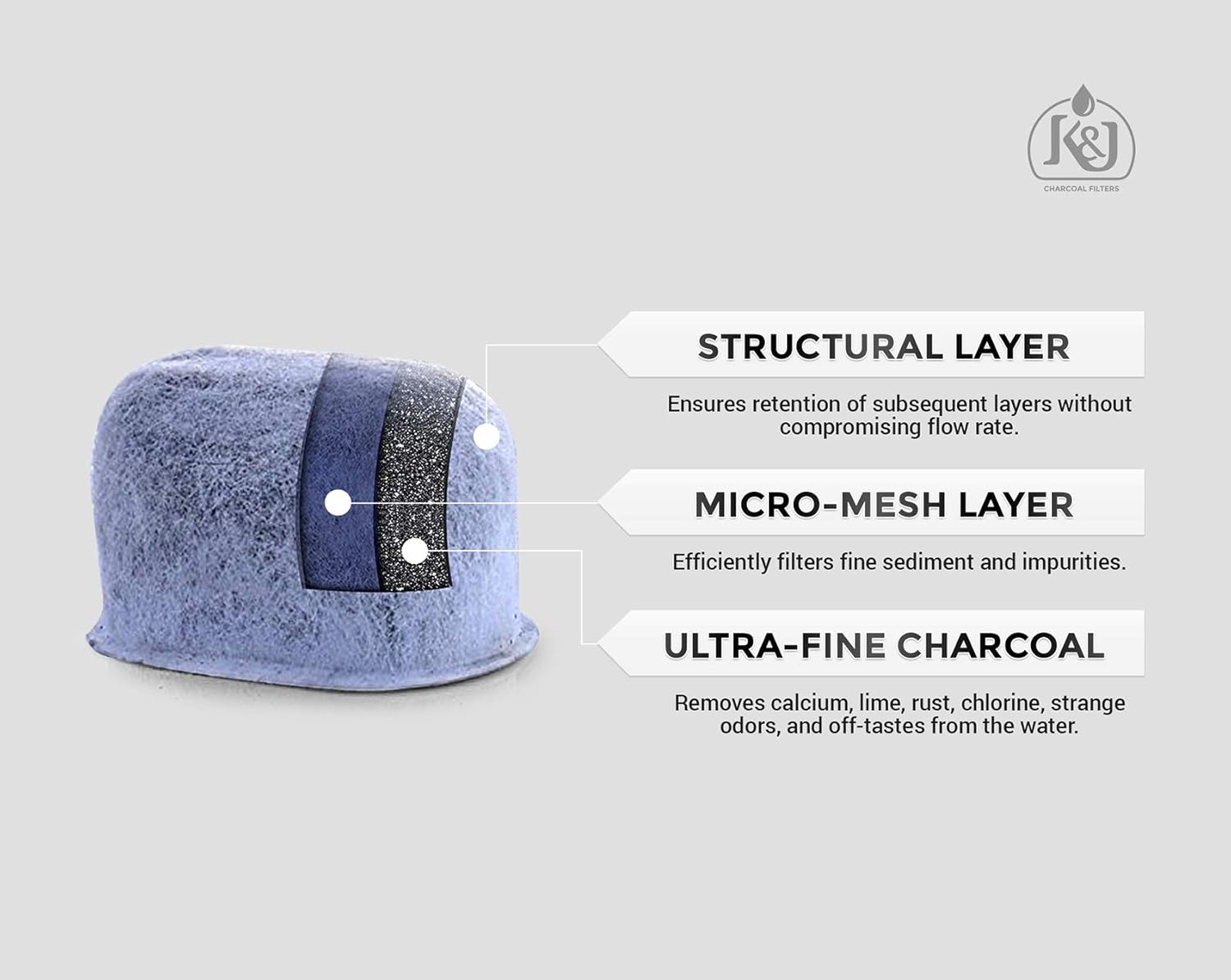 Product description
BENEFITS:
Using an activated charcoal water filter as a Cuisinart filter replacement when brewing your beverage is not only better for your machine, it's better for you! These Cuisinart compatible water filters remove both impurities in the water as well as off-flavors such as chlorine, creating a far more enjoyable beverage.
REPLACEMENT INTERVAL:
Remember to replace filter after 60 days or 60 tank refills for best results.
WHY COCONUT HUSKS?
The best, most effective activated charcoal is made from the husks of dried coconuts. The high density of their husks ensures a higher density of charcoal, which therefore means more absorptive material in a small package. Our Cuisinart compatible water filter replacements are filled only with coconut husk activated charcoal so that your beverage tastes exactly like it was meant to and is healthier as well!
UNIVERSAL FIT

These Cuisinart compatible water filters will fit in every Cuisinart coffee or espresso machine.

ADVANCED FILTRATION

Using our special micromesh skin enables us to utilize ultra fine-grain charcoal. Finer charcoal means more surface area exposure, resulting in more efficient filtration. This combination makes for a filter that is unmatched in performance.

IMPROVES DRINK FLAVOR

Impurities such as calcium, chlorine, and various odors interfere with the transfer of true coffee flavor to your taste buds. Using a K&J activated charcoal filter in your Keurig brewer ensures maximum filtration, bringing out the true beverage flavor that was intended.

INDIVIDUALLY SEALED

Your filters will each come individually sealed to ensure that every filter will be 100% fresh and new when you need it, down to the last one.
COMPATIBILITY:
These marvelous filters fit all Cuisinart machines, including the for the following Cuisinart brewers: DCC-900, DCC-1000, DCC-1200, DGB-500, DGB-600, DCC-1100, DCC-115O, DCC-2000, DCC-2200, DCC-2600, DCC-3200, DGB-500BK, DGB-550, DGB-700, DGB-900BC, DGB-475, CBC-00PC2, CBC-00WPC, DCC-1000BK, DCC-1400, CBC-001, CBC-002, CBC-00BKPC, CBC-SA002, CHW-12, DCC-1100 Series, DCC-1200 Series, DGB-600 Series, DCC-750/BK, DGB-700BC, DCC-2650, DCC-2750, DCC-3000, DCC-2800, DCC-2900, SS-300, SS-700, and more!
Note: your model may not be listed here. Check your owners manual to be sure.
---