Features
Make sure this fitsby entering your model number.
NOTE: Please tighten the lug nuts manually, DO NOT use electrical tools.
FITMENT – By matching this lug's specs (thread seating style hex etc.) to match both your vehicle and wheel requirements (Car Reference). Or contact our Customer Service Team to verify a safe and proper fitment.
HIGH QUALITY – Triple chrome plating with essential layers of copper nickel and chrome to provide exceptional strength beauty and corrosion resistance. Manufactured with cold forged and heat treated steel for dependable strength and durability, paint will not fall off easily.
INCLUDES – 20 Black Open End Bulge Acorn Spline Lug Nuts 12×1.5. Shipped in our signature premium special design packaging.
SPECS – Open End Bulge Acorn Spline Style Lug Nuts Black + 1 Lug Nut Tool Key Black – M12x1.50 Thread Size – Conical 60 Degree Seat – 19mm Hex (3/4" Hex) – 1.3" (33mm) – 8 Grade.
Product Images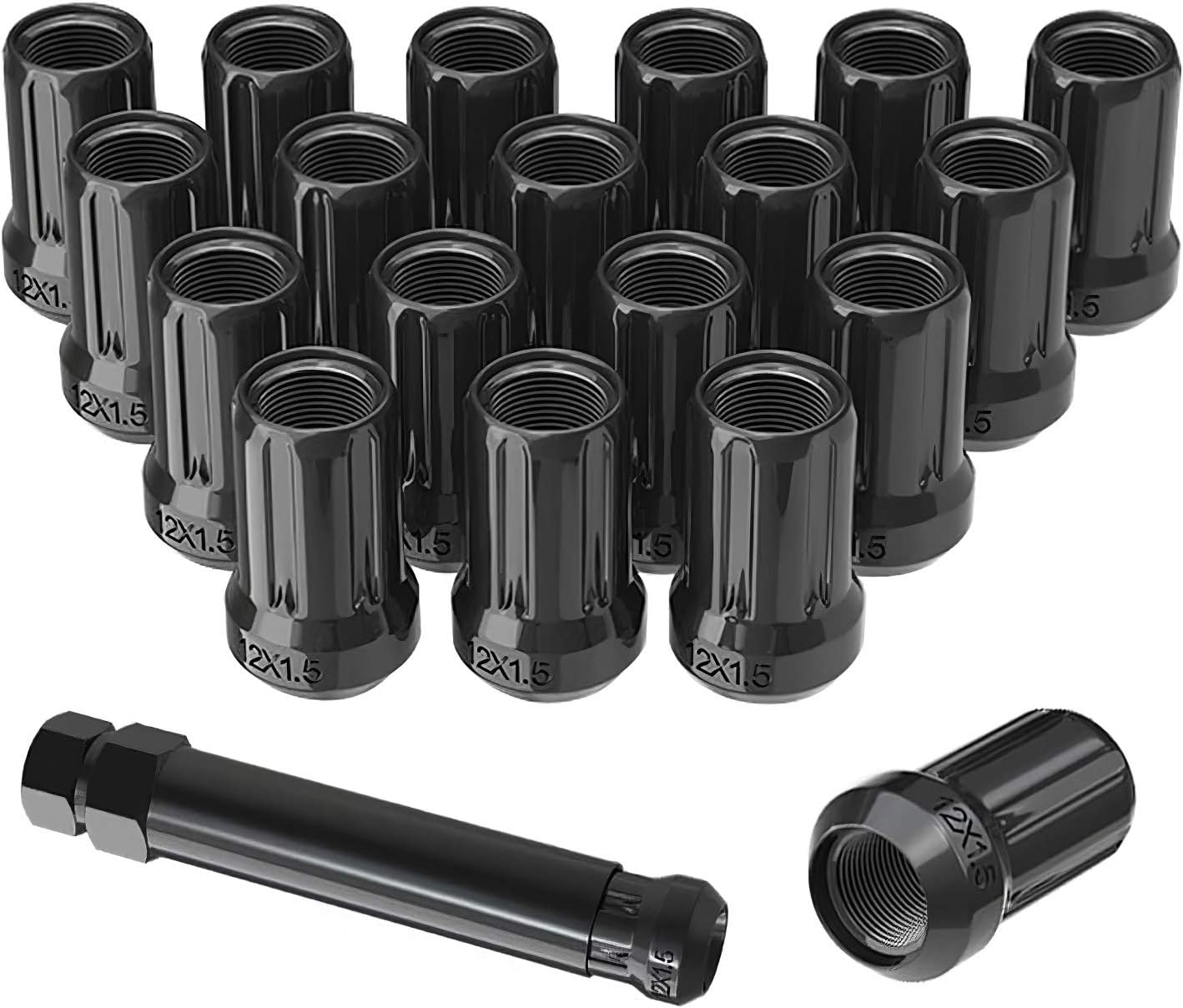 Product description
LED Kingdomus Brand aims to provide good quality products. We are specialized in auto accessories parts.
A vehicle owner may find necessary accessories of wheel parts like wheel spacers, lug nuts and Wheel Wrench etc.
Great for showing off your wheels and enhancing the overall look of your vehicle.
Great fitment for your vehicle of FORD and Dodge

Ford Explorer Base Sport Utility 4-Door

Ford EscapeTitanium Sport Utility 4-Door

Ford Police Interceptor UtilityBase Sport Utility 4-Door

FordFusionS Sedan 4-Door

DodgeGrand CaravanGT Mini Passenger Van 4-Door

DodgeJourneyCanada Value Package Sport Utility 4-Door

Great fitment for your vehicle of Acura Buick

AcuraTLXAdvance Sedan 4-Door
Buick CascadaBase Convertible 2-Door

Buick EncoreEssence Sport Utility 4-Door

Cadillac ATSBase Coupe 2-Door

12×1.5 Lug Nuts for Chevrolet

Chevrolet CruzeLT Hatchback 4-Door

Chevrolet MalibuHybrid Sedan 4-Door

Chevrolet SonicLS Sedan 4-Door
Chevrolet SparkACTIV Hatchback 4-Door
---