Features
BURN FAT 24/7: Our night time fat burner is carefully designed to keep your metabolism working throughout the night, while assisting in a full-night's rest. With specifically designed ingredients, this supplement will ensure you amazing results without shifting around your sleep schedule.*
SPECIAL NIGHTTIME FORMULA: This night shred fat burner plus sleep ingredients is designed to support recovery and promote a relaxing, no-interruption sleep experience. Ingredients include Green Coffee Bean to support metabolism, White Kidney Bean to block carbs, and Melatonin to help ease your body to sleep.*
SUPPORTS RESTFUL SLEEP: MAV Nutrition night time fat burner is formulated with L-Theanine, L-Tryptophan, and Melatonin, proven to promote relaxation and a deeper, more peaceful night's sleep.* This cutting edge fat burner also includes calming herbal ingredients like Lemon Balm and Passion Flower to help you relax before bed. Non-habit forming.
POST-WORKOUT RECOVERY: During sleep your body repairs and rebuilds muscle and bone tissue, carries out cellular regeneration, and restores balance to your metabolism. Our fat burner supplements include Melatonin, which is also an important precursor to other important hormones that regulate our metabolism and mood.*
SUPPORT METABOLISM: MAV Nutrition's Night Time Fat Burners for women and men support metabolism, enhancing your fat burn while you sleep.* With a nighttime fat burner, your body's rate of burning calories is maximized while you get those precious Z's.
Product Images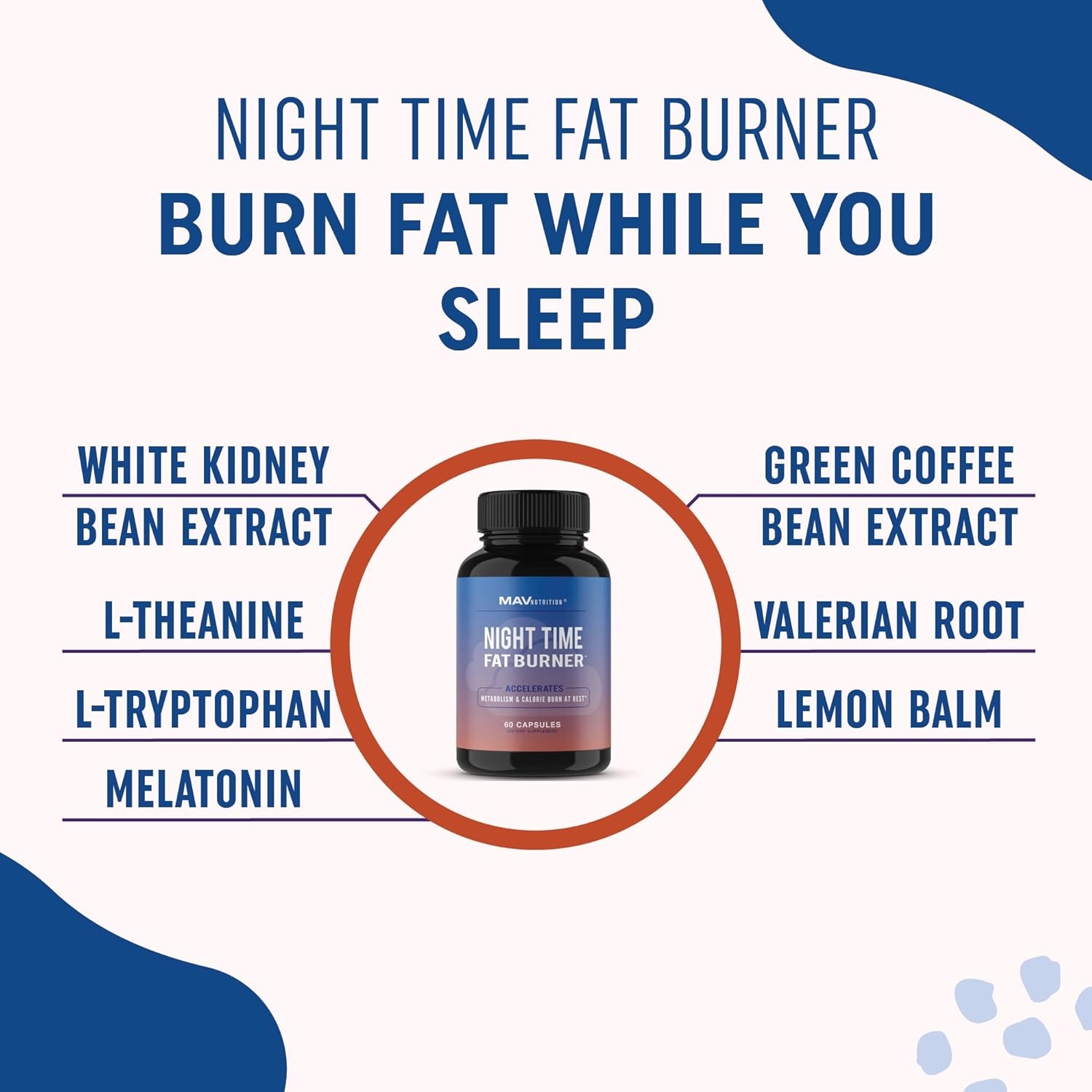 Product description
*These statements have not been evaluated by the FDA. This product is not intended to diagnose, treat, cure, or prevent any disease. MAV Nutrition recommends that you speak with your physician prior to starting any new supplement.
FAT BURN FOR WOMEN
BIOTIN FAT BURNER
DIGESTIVE ENZYMES
PRE-PRO CAPSULES
APPLE CIDER VINEGAR GUMMIES

Key Ingredients

500mg Garcinia Cambogia, Green Tea, Apple Cider Vinegar Powder

5000mcg Biotin, Apple Cider Vinegar, Green Tea Leaf Extract, White Kidney Bean Extract, Garcinia Fruit Extract

Makzyme-Pro Enzyme Blend with Bromelain,Papin, Frugal Lipase, Frugal Lactase and Alpha Galactosidase

20 Billion CFUs Proprietary Probiotic Blend

Vitamin B6, Vitamin B12, Iodine, Organic Apple Cider Vinegar, Pomegranate Juice and Beet Juice

Key Benefits

Support women's weight loss goals

Supports hair, skin and nail health

Supports gut health and promotes increased nutrient absorption

Helps relive gas, bloating, and digestive discomfort

Supports better digestion, reduces bloating, promotes healthy energy and assists your body detox & cleanse

Gluten Free

✓

✓

✓

✓

✓

Non-GMO

✓

✓

✓

✓

✓

GMP Facility Certified

✓

✓

✓

✓

✓

Made in the USA

✓

✓

✓

✓

✓
---