Features
Make sure this fitsby entering your model number.
Refillable k cup coffee filters for Keurig models: B10,B30,B31,B40, B44, B50, B55, B60, B66, B70, B77, B77, B79, B100,B130,B135,B140,B145,B150,B200,K10, K45, K65,K75, K145. DOES NOT WORK for Keurig Cuisinart version and K155, K250(After 2016).
Reusable k cup replaces Keurig My K-cup(tm), Solofill(tm), Ekobrew(tm) and all other reusable coffee filters for Keurig Home Single Cup Brewing Systems
Compatible Keurig 1.0 & 2.0, K200(Before 2016)K300, K350, K360, K450, K460, K500, K550, K560,K575(Does Not Work with Keurig Mini)
Use your own gourmet ground coffee in a Keurig brewer–Just fill the Reuseable filter with your favorite coffee and pop it into your brewer…..Just like a regular K cup
Simply fill with your favorite coffee or tea and brew. Rinse with water when finished
Product Images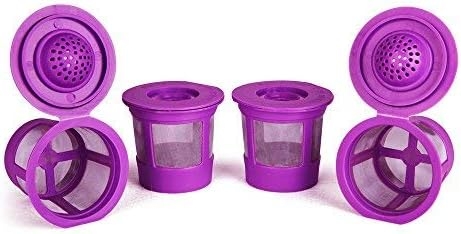 Product description
These k cup filters are working PERFECTLY in a Keurig coffee maker. They are much easier to use than the k-cup holder that requires you to take the widget out of the coffeemaker first. These are used just like a k-cup–fill and use, then rinse. They are easy to dump the used grounds out and rinse and you're ready for you're next cup. Having 4 is a plus so every one in the family can have theirs with out waiting on cleaning the previous one. It comes with four so you can have them at work, at home, for camping and a spare. 
Maxware Offers High Quality K Cup Filters
It makes a perfect cup of coffee with no grounds. Our K Cup Filters are easy to clean and refill, making the enviromental friendly. Enjoy a stronger cup of 12 oz than the prepackaged pods.
Works For Most Keurig Brewing Systems
Our k cup filter works for Keurig models including B10,B30,B31,B40, B44, B50, B55, B60, B66, B70, B77, B77, B79, B100,B130,B135,B140,B145,B150,B200,K10, K45, K65,K75, K145. DOES NOT WORK for Keurig Cuisinart version and K155, K250(After 2016).
Enjoy Your Own Favorite Coffee
For most small roasters, they don't offer their coffee in K-cups. So, our K cup filter is the altanitive way to enjoy your own favorite coffee.
---