Features
Make sure this fitsby entering your model number.
✅ NEW INNOVATIVE DESIGN for D-Ring Shackles on Recovery Kit: Two 3/4-Inches D Shackle with 7/8 Inch Pin and SAFETY CLIP to protect against LOSING AND ACCIDENTALLY UNSCREWING. Red Silicone Isolators to prevent scratching when mounted. Drop Forged Steel and plated with a zinc coating for corrosion resistance heavy duty d ring, rated at 9,500 lbs. Recommended loading capacity. Black d ring winch shackle recommended by professionals, built to resist any kind of harsh conditions.
✅ REINFORCED EYES & PROTECTIVE SLEEVES: Our large double-web-loop ends are well padded and reinforced; This allows our strap to withstand the high tension and wear that typically occurs. BUILT FOR THE MOST DEMANDING TOWING & RECOVERY TASKS: With a massive 41,455 lbs (20.7 Tons) Lab Tested Strength, our strap is ideal for towing large trucks, pulling heavy equipment; An essential tool for off-roaders, emergency personnel or anyone needing to haul heavy objects
✅ FOUR-IN-ONE: Use it as a Tow Strap for Recovery or Winch Extension, making it an extremely versatile product; The clevis shackle special safety ring prevents accidentally losing your shackles. HEAVY DUTY TOOL BAG – Carry Bag Strong Enough to Hold 15+ lbs for All Vehicle Accessories!
✅ SMART DESIGN HITCH RECEIVER WITH SAFETY LOCK PIN, PROTECTION ISOLATOR and 4 RUBBER WASHERS: for perfect installation, protection and a better grip. Designed to protect the hitch receiver from being stolen or lost. Only unlocks with provided keys
✅ FULL CUSTOMER SUPPORT : We are always ready to answer any question and solve any situation very fast to fulfill even the highest expectations. MOTORMIC, YOU CAN COUNT ON US!
Product Images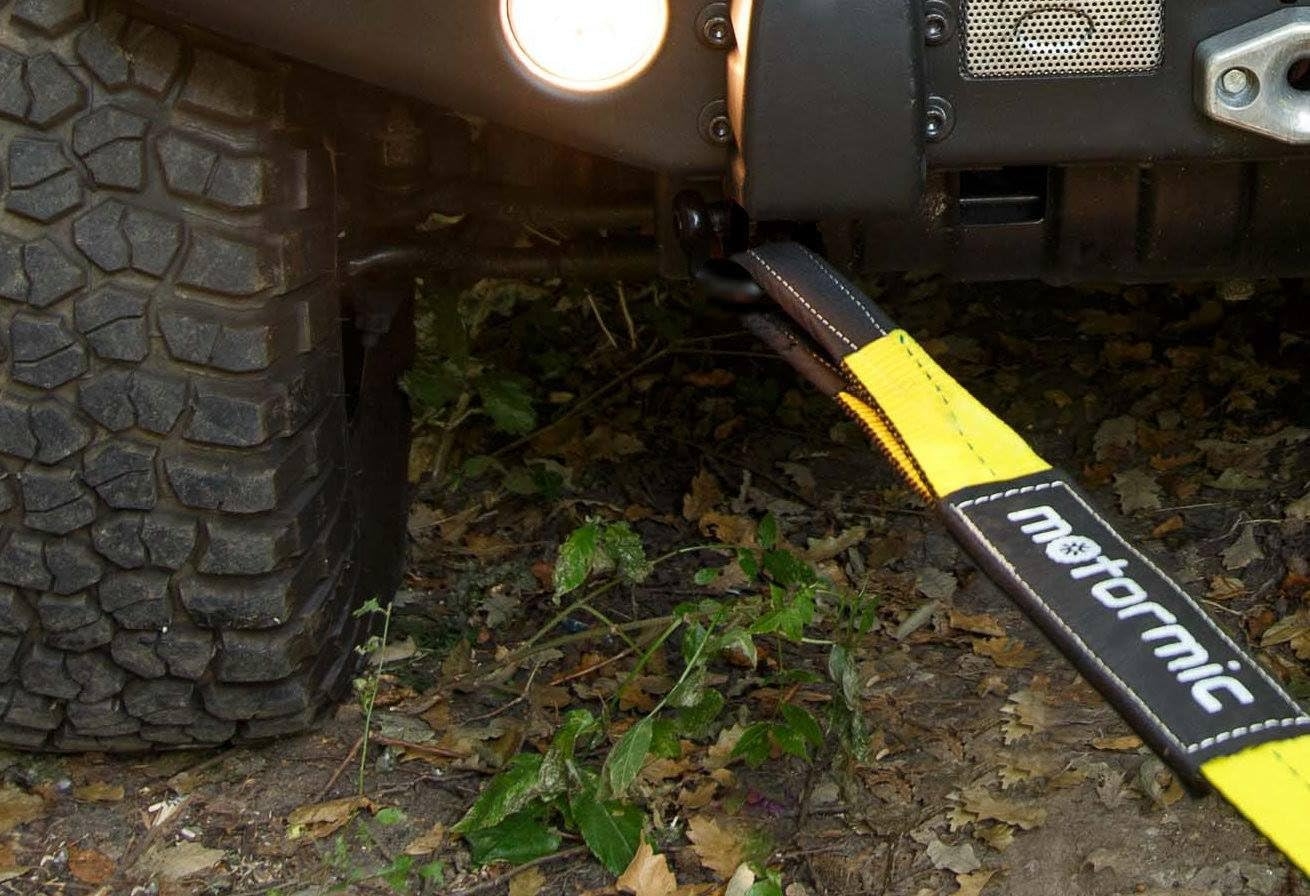 Product description
EMERGENCY HEAVY DUTY TOW STRAP COMPLETE KIT, don't let the road catch you unprepared.
This heavy-duty complete towing set was specially built to be practical and reliable:
TOW STRAP

rated 10,000 LBS Working load and 30,000 LBS Breaking Point. Extra padded reinforced end loops. Weather resistant fabric prevents frost damage as low as -40 °F and heat resistant up to 212 °F.

MULTI-MOUNT HITCH RECEIVER

for 2-Inch Receivers rated at 11,000 Pounds. Made from galvanized steel, covered in anti corrosive paint.

INNOVATIVE PIN LOCK

that fits ALL TYPE OF HITCH RECEIVERS with added hole & pin, for extra safety. Maximum active length of 3-3/4'' adjustable by a set of 5 silicone O-rings. Made from one piece, durable and sturdy.

NEW DESIGN D-RING SHACKLES

rated at 9,500 lbs. With Red Plastic Isolators to prevent rattling when mounted. Drop Forged Steel and coating for corrosion resistance. Added clip for the pin for extra safety.

Carry BAG

13.5 x 17 inches. Made from resistant canvas fabric.
INNOVATIVE D Ring Shackle – 3/4″ D Shackle with 7/8″ Pin Tow Shackles with safety clip – Recovery Shackle Heavy Duty – Black D Ring with Shackle Isolator
D RING HITCH comes with a red silicone isolator for rattling noise reduction and protecting your bumper finish from damage from the winch shackle.With a 9,500 lbs rating – more than double the weight of a normal pickup truck, you can tow any kind of vehicle safely. Added washers and isolators. Truck shackles made from hi-quality, heavy duty drop forged steel for increased durability. 100% protection against rust. INNOVATIVE DESIGN with safety clip for a more secure installation.
Shackle Hitch Receiver 2 inch – Heavy duty hitch 3/4″ D-Ring Shackle 30,000 lbs Max Capacity
2″ Hitch Shackle Receiver with 3/4″ D-Ring Shackle– heavy duty tow hitch and off road trailer hitch with shackle made of durable forged. Coated extra resistance against corrosion. The cast iron hitch receiver shackle is made of one-piece solid steel and unlike other similar products with a hollow interior, it's ultra-durable. Added 4 washers and isolators.
Tow Strap Heavy Duty – Tow Rope Recovery strap 30ft x 3in with 30,000 lbs (15 US Ton) Capacity tow straps – Towing strap for Winch
Heavy duty towing strapsdesigned with a higher polyester fabric density per square inch than other similar products.Can be used confidently in harsh weather conditions as it's built for use at temperatures as low -40F and up to 212F.Reinforced on both ends to protect from abrasion and extend durability for 3 inch tow strap. Made from hi-quality, heavy duty hi-density polyester. 30ft long – ideal length for rescuing and any towing situation. Rated 10,000 lbs. working load and 30,000 lbs. working capacity.
Added carry bag for easy storage and transportation.
Trailer Hitch Lock Pin – 5/8″ Extra long Pins – Receiver locking with safety clip locks and anti rattle O-rings
TOW HITCH LOCK with INNOVATIVE DESIGN – Extra Safety Clip & Hole for more reliable towing. Locking pin for trailer hitch with 5 silicone O-rings for a perfect fit. Extra-long hitch receiver lock pin works with all class I, II, III, IV, V receivers.
Pin lock comes with push-to-lock hitch lock pin + extra safety clip for added reliability.
For safe use, please consider the following:
adjust silicone O-Rings on your hitch lock pin for a perfect fit;

secure hitch lock pin by using the push-to-lock mechanism + extra safety clip as an added level of safety;

always remove isolator while towing;

always use isolators and washers when driving with your D-rings installed;

make sure all parts are properly installed before towing;
Package includes:
1 pc 2″ hitch receiver;

2 pc 3/4″ D-Ring shackle with 4 washers, safety clip and isolator;

1 pc 5/8″ Hitch lock pin with extra safety clip, 2 keys, rubber cap and 5 pcs O-rings for perfect adjustable fit;

1 pc 30ft Tow strap;

1 pc Storage Bag;

1 pc User manual.
---