Features
Multi-Purpose Nylon Zip Ties 100 Piece
Self-locking Fastener Design With Ultra Strong Plastic 8"
Locking teeth in the cable tie head secure cables or wires. Use Ties are rated with 18 lb tensile strength; Increase the tensile strength by using two or more together in a row
Widely Used: Designed for indoor use with small, medium or larger diameter wiring or cables. Cable ties can be used for tying cables, plants, packages, etc. It's a great tool in home, office, garden and workshop.Buy in bulk & save
Product Images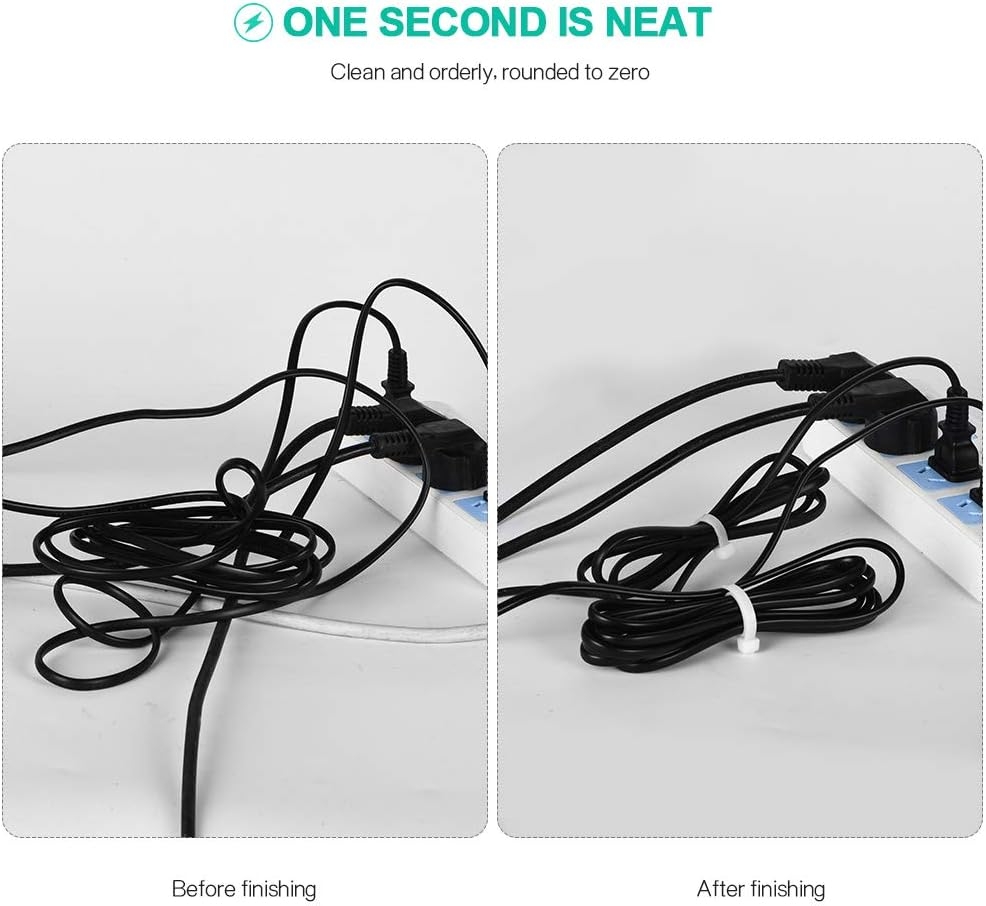 Product description
100 packs of nylon zip ties. The zip ties is 8 inches long. They can be used in a variety of applications without loosening.Safely secure your items.Made from 6/6 nylon for maximum durability
The tensile strength is 18 pounds. Used for lightweight bundling.
Self-locking Design and Fast Organization:Bent tip ensures easy insertion into the head. Smooth edges for a fast and smooth tightening. With cable zip, cables can be tied tightly. Wire ties designed for indoor use with rounded edges for easy handling and to prevent snagging.
Pure nylon material, chemical/acid resistant industry standard 18 lb. tensile strength
Durable Single : This flexible cable tie wraps easily around a cable jacket. Locking teeth stop the cable tie at the desired length.
Features of nylon zip ties:
– Single-use locking cable tie
– Ratcheting mechanism provide a secure connection
Nylon Zip Ties for multi-purpose applications
Organizing electrical wires & cords

– Often used for organizing electrical wires & cords, securing loose objects, cable management .

– Use Multi-Purpose Cable Ties to arrange messy cables around the computer desk and house.

Other DIY projects

Nylon zip ties are available in many applications in the entertainment center. Use your imagination and you'll find it great for home, business or office use

Made for contractors and professionals

– Enhanced strength and performance.

– Fast & Functional Organization

– Improve safety or appearance cable management wiring .

– Keep it clean and tidy everywhere.
Note
1. Please kindly note that cable ties should be kept out of reach of children.
2. Please kindly cut cable ties with scissors or knifes instead of pulling them with hands.
3. Please kindly note that cable ties should be used in proper temperature and tension.
Multi-Purpose Nylon Cable Ties – 4 Inch
Heavy Duty Nylon Cable Ties- 8 Inch White
Heavy Duty Nylon Cable Ties- 8 Inch Green
Heavy Duty Nylon Cable Ties- 8 Inch Red
Heavy Duty Nylon Cable Ties- 8 Inch Blue

Tensile Strength

18 lbs

50 lbs

50 lbs

50 lbs

50 lbs

Length

4″

8″

8″

8″

8″

Color

White

White

Green

Red

Blue

Units Per Bag

100

100

100

100

100

Enclosure Material

Nylon

Nylon

Nylon

Nylon

Nylon
---