Features
Everyday Gains Muscle Milk Gainer Is a Specialized Product Designed for Hard Gainers: Those of Us That More Easily Lose Than Gain Size and Strength
Key Features Muscle Milk Gainer Powder Contains 32 Grams of Protein, 3 Grams of Leucine From Milk Proteins, and 650 Calories in Every 4 Scoops (162g), the Recommended Usage for Individuals Looking to Build Size and Gain Muscle Mass
Usage Muscle Milk Gainer Powder Can Be Used Pre Workout, Post Workout or as an Anytime Protein Rich Meal Option or Snack
Great Tasting Shak Mix 4 scoops (162g) MUSCLE MILK Gainer Powder into 10 16 fluid ounces water for a Great Tasting Shak; You can also add it to pancakes, smoothies or other recipes to increase the protein content
Work Out; Refuel; Rebuild; Advance; Consuming Both Fast and Slow Release Proteins, Like Those Found in Muscle Milk Gainer, Helps Keep Your Body in Positive Protein Balance
Product Images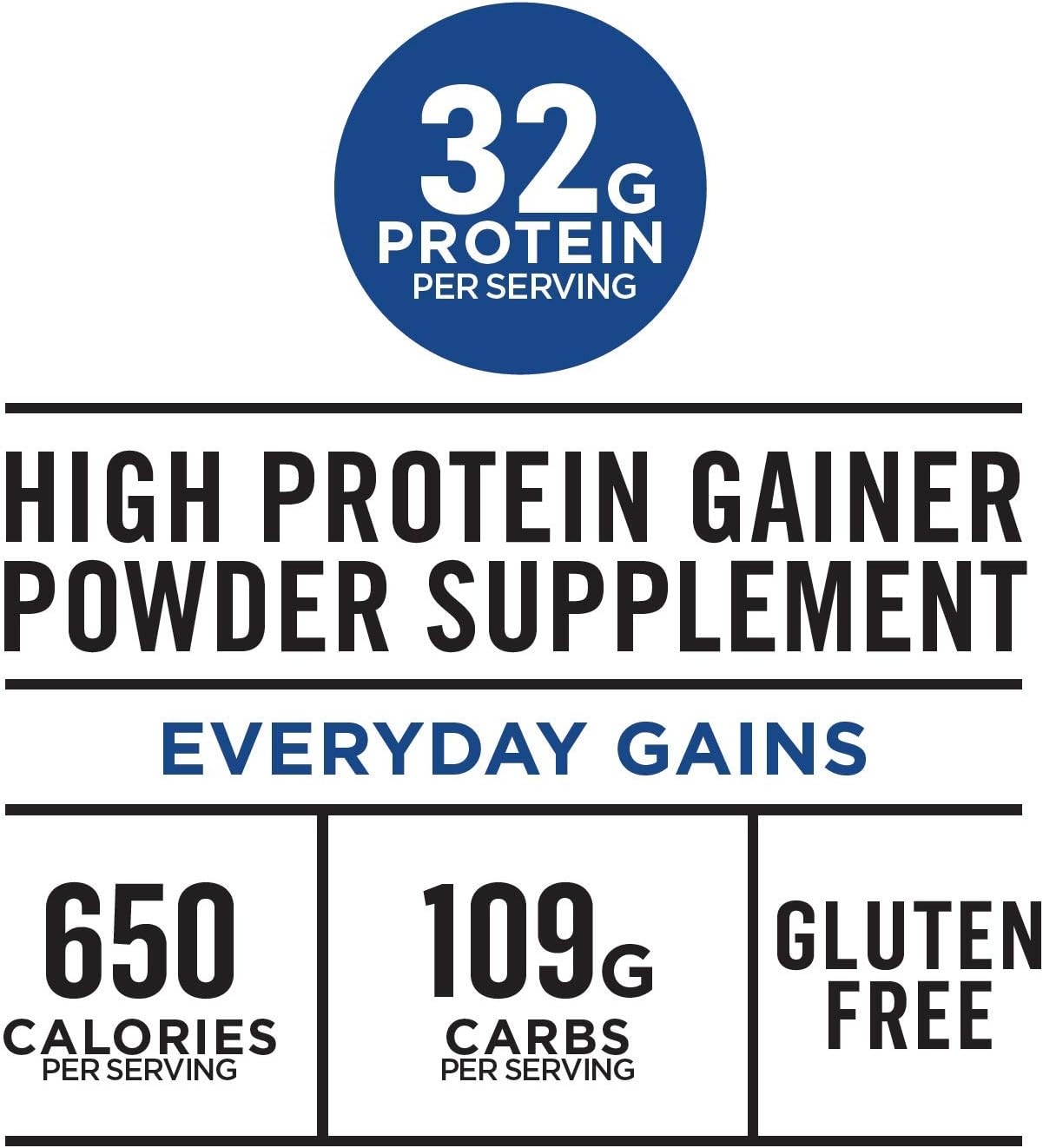 From the manufacturer
How to use
MUSCLE MILK Gainer can be used either before workouts, after workouts or prior to bedtime. The optimal timing for a serving of MUSCLE MILK Gainer is after a workout. This timing is crucial because this is when the body is optimally primed for replenishing fuel stores and building and repairing muscles
GROW STRONG
MUSCLE MILK Gainer is a specialized product designed for hard gainers: those of us that more easily lose than gain size and strength.
Size and strength are lost when fewer calories are consumed than expended. In order to facilitate muscle growth after exercise, you need to increase your overall calorie intake, and take in high quality proteins and key nutrients at specific times.†
Consuming both fast and slow release proteins, like those found in MUSCLE MILK Gainer, helps keep your body in positive protein balance.† Carbohydrates play a key role in replenishing muscle fuel stores and contributing calories to support gains in muscle strength and size, in conjunction with your training program.†
The milk derived proteins in MUSCLE MILK Gainer are considered a complete protein delivering 18 amino acids, including all of the essential ones in amounts required for human nutrition, and has a PDCAAS Score of 1.0. Attaining a PDCAAS Score of 1.0 it is the highest quality score a food protein can have.
——————
† These statements have not been evaluated by the Food and Drug Administration. These products are not intended to diagnose, treat, cure, or prevent any disease.
Quality

Our protein is expertly formulated with high quality ingredients and key nutrients. All MUSCLE MILK powder products are NSF Certified for sport ensuring that they are safe and free of banned substances.

Taste

We pioneered great tasting protein, and continue to offer a vast array of flavors. Need a cookie kick? Grab a cookies and cream flavored MUSCLE MILK shake. Craving chocolate? Of course we have that. We offer nearly 50 different flavors across our shakes and powders.

Credibility

We helped build the protein category and continue to remain a leader. We're a trusted partner with dozens of collegiate athletic programs, world-class professional athletes and elite training facilities. We work closely with sports scientists, sports dietitians, strength coaches and other experts to ensure we're producing the highest quality products.

Variety

Whether you're a high school athlete trying to get to the next level or a mother of two trying to get to yoga class, we offer a range of protein products that feature the nutrients your active lifestyle demands.
---