Features
CELLULAR ENERGY SUPPORT (1): Niacin, also known as Vitamin B3, is found naturally in foods such as beef, avocados and potatoes and aids in the conversion of food to cellular energy. (1) Nature's Bounty Niacin offers the energy cellular support you need to fuel your body (1)
FLUSH FREE FORMULA: Niacin not only has a wide range of health supporting benefits, but our flush free formula uses Inositol Hexanicotinate, a form of Niacin that is less likely to cause skin flushing
SUPPORTS NERVOUS SYSTEM HEALTH (1): Along with providing daily cellular energy support, Niacin supports nervous system health. (1) If you need a daily nervous system supplement, consider adding Nature's Bounty Niacin to your routine (1)
FROM THE TRUSTED WELLNESS EXPERTS: Nature's Bounty Niacin is a product of 50 years of dedication to quality, consistency and scientific research to make vitamins and nutritional supplements of unrivaled excellence
EXCELLENT VALUE COMPARED WITH OTHER TOP BRANDS: Compare Nature's Bounty products to Bixa Botanical, Na'trition, Women's Health Network, Organic India, Vimerson Health, Zhou, New Chapter, Baetea, Nature's Way, BioScience Nutrition, Nature's Secret, Bio Schwartz, Health Concerns, Nested, Havasu, and OHCO
Product Images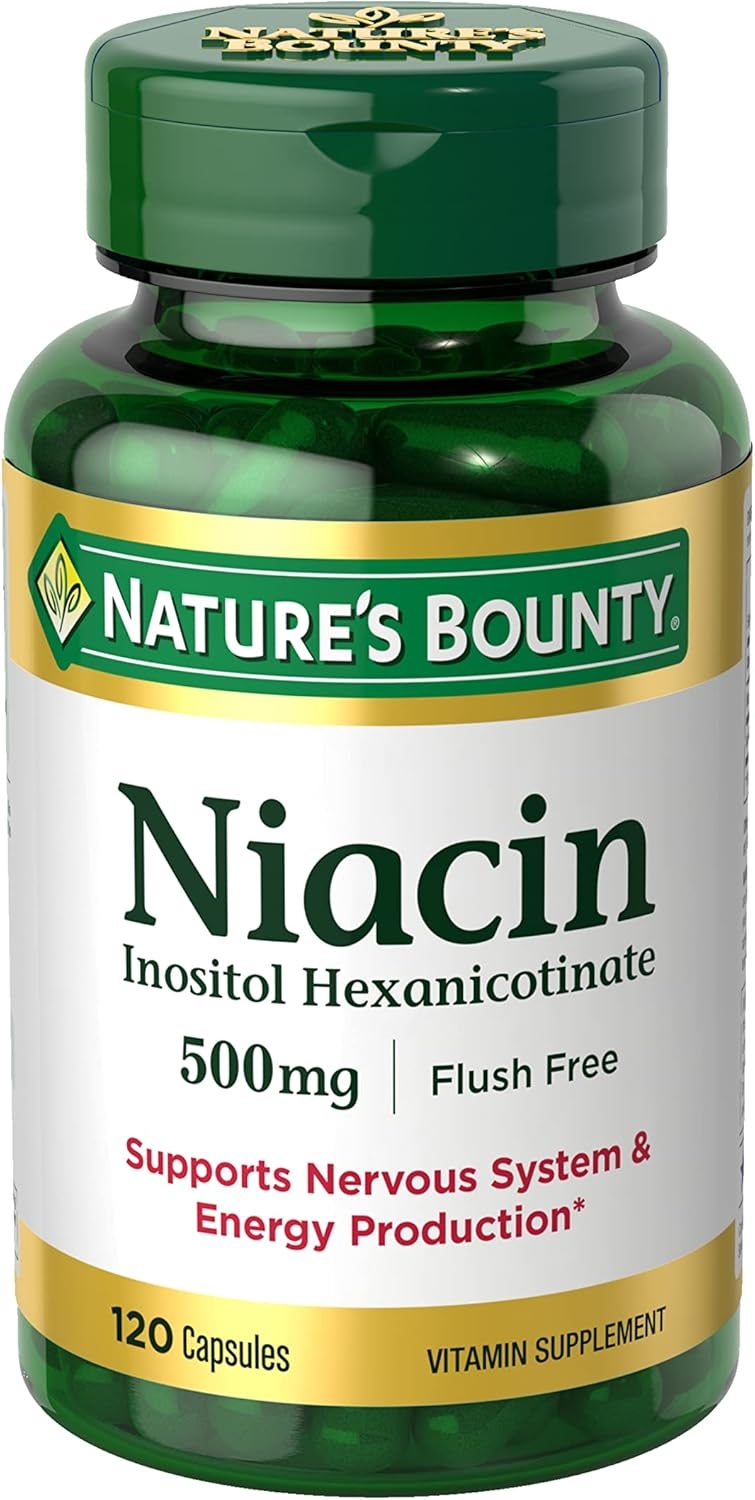 From the manufacturer
Wellness Support You Can Trust
For 50 years, Nature's Bounty has blended the best of nature with the latest in science and nutritional innovation. Living a healthier life means giving your body the nutritional support it needs to thrive. Nature's Bounty, the #1 Herbal Supplement Brand (2), offers a range of General Wellness supplements using only the purest, most trusted ingredients, including Biotin, Magnesium, Calcium & Vitamin D, Vitamin B Complex, and Vitamin B12. Biotin plays an important role in the health of your skin and hair. (1) Magnesium supports optimal bone and muscle health, while Calcium helps maintain bone strength and Vitamin D to support your immune system health. (1) And for optimal energy metabolism and support, there's a range of vitamin B supplements, including Vitamin B Complex and Vitamin B12. (1) At Nature's Bounty, innovation – plus the wellness support you need – live at the intersection of nature and science.
Driving Innovation Through Scientific Expertise

Our Scientific Advisory Council is made up of some of the most respected scientists and researchers in the field who play a key role in the Company's product innovation and scientific advancement.

Quality You Can Count On

Every Nature's Bounty Product is subjected to numerous quality tests and assays throughout the manufacturing process to verify purity and full potency.

Don't Just Take Our Word for It

We're proud that our products are manufactured in state-of-the-art facilities that meet FDA's current Good Manufacturing Practices. These facilities are also regularly audited to ensure that all policies, procedures, and documentation practices are followed to manufacture safe and effective products.
Product description
If you are looking for cellular energy supplements that offer whole-body benefits, consider Nature's Bounty Niacin 500mg capsules in our flush free formula. (1) Also called Vitamin B3 and found naturally in foods such as beef, chicken, tuna, peanuts, avocados and potatoes, Niacin aids in the conversion of food to cellular energy, helping to fuel your body. (1) Along with its involvement in cellular energy production, Niacin supports nervous system and is an important nutrient that helps support cell growth. (1) Plus, Nature's Bounty Niacin is in the form of Inositol Hexanicotinate, which is known as flush free Niacin because it is less likely to cause skin flushing. (1) Nature's Bounty Niacin is gluten free and contains no artificial flavors and colors. Adults should take one capsule one to two times daily, preferably with a meal. Each pack contains 120 capsules. (1)These statements have not been evaluated by the Food and Drug Administration. This product is not intended to diagnose, treat, cure or prevent any disease.
---