Features
Make sure this fitsby entering your model number.
TURKEY BRINING: If you boldly volunteered to roast the Thanksgiving, holiday, or dinner party turkey and want to make a delicious tasting bird, then brining is your answer! Turkey is a relatively lean bird, particularly the breast meat, meaning that it doesn't have a lot of fat to help keep the meat from becoming dry and tough. It needs some help to retain moisture and juiciness. This is where brining comes in, which is a very basic solution of water and salt.
PROVEN TECHNIQUE: Brining is your ticket to a juicy, full-flavored turkey, even if you have no prior experience with turkey roasting. During brining, the turkey absorbs extra moisture, which in turn helps it stay more moist and juicy both during and after cooking. Since the turkey absorbs salt along with the water, it also gets nicely seasoned from the inside out. Even better, the salt breaks down some of the turkey's muscle proteins, which helps with the overall moisture absorption.
HIGH QUALITY MATERIALS: These two, extra large turkey sized brining bags are built with heavy duty, BPA-free, food grade standard materials, ensuring safety in your cooking. They undergo an annual audit by a third party tester to ensure that they are consistently manufactured in accordance with FDA approved food guidelines. Not only this, but these bags also have large gusseted bottoms for extra volume and stability, as well as double track zippers with a removable zipper assist clip.
FREE FROM BREAKAGE: Don't risk your expensive bird with a flimsy bag, this bag has incredibly thick seams, which is especially important since a turkey and brine can easily weigh over 40 pounds! The worry-free thick seams completely protect against any potential leakage, tears, or rips, ensuring a mess free roasting experience.
MULTIPURPOSE: Not only are these 21.5" x 25.5" bags perfect for any large turkey, but they also work for many other types of meats, as well! The thick materials and durable seams make these bags also ideal for: wild game, ham, roast, deer, or even jerky! If you want an alternative to brining, you can also safely marinate your meat right in these bags, creating a flavor profile that is out of this world! When the meal is over, you can safely throw away bones and food waste into the bags.
Product Images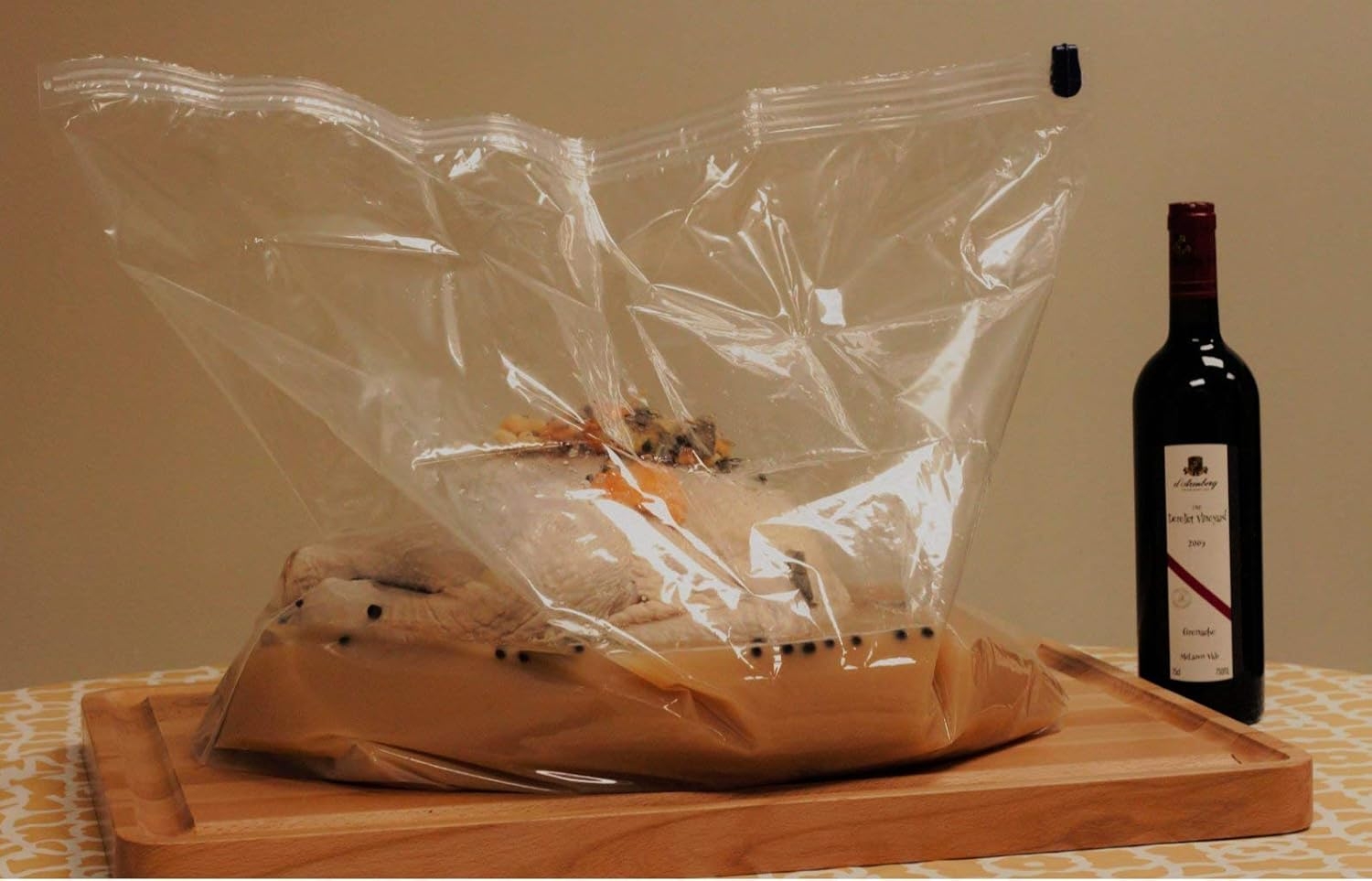 Product description
---