Features
【2022 Advanced Formula】High Purity 99% Trans-Resveratrol 600mg+ NMN 500mg + Black Pepper Extract 50mg, 60 capsules per bottle. NMN + Trans-Resveratrol — for Boost NAD+, Cellular Repair, Boost Energy & Immune support, Promote Overall health.
【3-IN-1 for Maximum Results】NMN + Trans-Resveratrol + Black pepper extract: As we age, NAD+ levels fall, NMN helps boost NAD+ levels to slow the aging process, repair DNA and generate cell energy. Trans-resveratrol is a proven antioxidant supplement that promotes overall health. Black pepper extract can greatly increase bioavailability and absorption of the ingredients. Stack 3 ingredients together for maximum results!
【99% Purity Trans-Resveratrol】Ascuoli Trans-Resveratrol is not a diluted plant extract found in other resveratrol products on the market. It increases the activity of the sirtuins–SIRT1 and SIRT3, in particular. In some study, Trans-Resveratrol was shown to be the most potent natural activator of the sirtuins proteins. It has a positive effect on all three major longevity pathways.
【A Simple & Healthy Routine from Ascuoli】Ascuoli NMN Resveratrol capsules are simple addition to your health routine. Easily to carry & swallow, Take two capsules daily, help you health sustains highest levels of NAD+, keep your body and your mind at PEAK condition. Ascuoli nmn Trans-Resveratrol provide you with the BEST supplement.
【100% Safe & Proven Ingredients】the quality, safety, and efficacy were tested and passed 3rd Party Lab Tests. And Ascuoli NMN Resveratrol comes in a completely shelf-stable non-refrigerated form, the unique enteric capsule to highly reduce unnecessary component loss and ensure maximum absorption of NMN and Resveratrol.
Product Images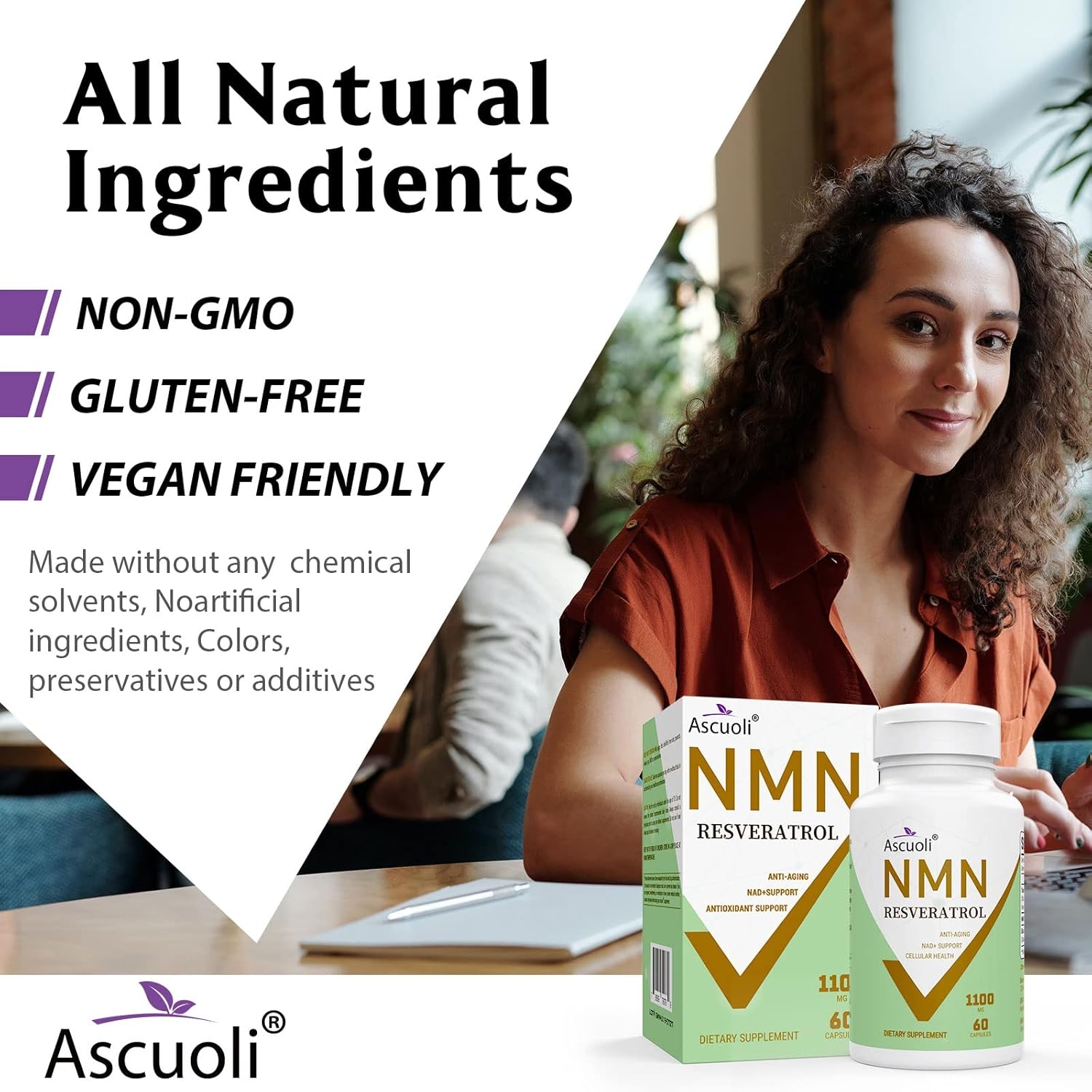 Product description
HOW IT WORKS:
NMN ( Nicotinamide Mononucleotide ) is a form of vitamin B3 naturally found in some foods like broccoli, cabbage, cucumber and avocados. NMN is a direct precursor to the anti-aging NAD+ molecule, needed by cells to regulate genes, repair DNA and create cellular energy. Resveratrol, a red wine polyphenol, is a stilbenoid and is traditionally known for its antioxidant properties. Resveratrol is a Sirtuin (longevity gene) activator and an NAD+ biosynthesis accelerator. Resveratrol exists as two isomers, namely, cis-resveratro and trans-resveratrol. The trans-resveratrol is the more biologically active isomer. Trans-resveratrol is a polyphenol found in a variety of plants, such as grapes, wine and peanuts.
Why Choose Ascuoli NMN Trans-Resveratrol?
Contains 3 Ingredients in 1 Capsule for Maximum Results!
* NMN & Resveratrol per Serving
* 60 Capsules Per Bottle
* 2 Capsules per Serving Daily
* 30 Days Supply per Bottle
EACH TWO Capsules 1100mg Contain:
* NMN (β-Nicotinamide Mononucleotide) 500mg
* Trans-Resveratrol 600mg
* Black Pepper Extract 50mg
100% Natural Ingredients
VEGAN Friendly

Gluten & Wheat Free

Wheat & Peanut Free

Egg & Milk Free

Shellfish Free

No Color Added

GMO Free

3rd Party Lab Tests
| | | | |
| --- | --- | --- | --- |
| Healthy Anti-aging | Cardiovascular Health | Keep Youthfully Alive | Immune System |
| | | | |
| --- | --- | --- | --- |
| Boost NAD+ Level | Boost Energy | Powerful Antioxidant | Energy Metabolism |
---