Features
WHY OMEGA-3S – Omega-3 EPA & DHA support healthy brain & nervous system development, learning, and immune function. These yummy omega-3 fish oil gummies are for kids ages 2+.
ON-THE-GO CONVENIENCE – Not every toddler will eat fish, which can make it hard for them to get the omega-3 EPA & DHA they need. Children's DHA Gummies come in individually sealed, easy-to-open foil packs—perfect for travel and on-the-go convenience.
BETTER ABSORPTION, BETTER TASTE – All Nordic Naturals fish oils are in the triglyceride form (the form naturally found in fish) for optimal absorption. Children's DHA Gummies have a great tropical punch taste.
PURITY GUARANTEED – Everything we make is third-party tested, surpassing the strictest international standards for purity & freshness. This product is non-GMO, gluten & dairy free, and contains no artificially derived colors or flavors.
ETHICAL INNOVATION – Nordic Naturals has always been at the forefront of sustainable & ethical practices in the natural products industry. Through science & innovation, we are committed to delivering safe, effective nutrients for optimal wellness.
Product Images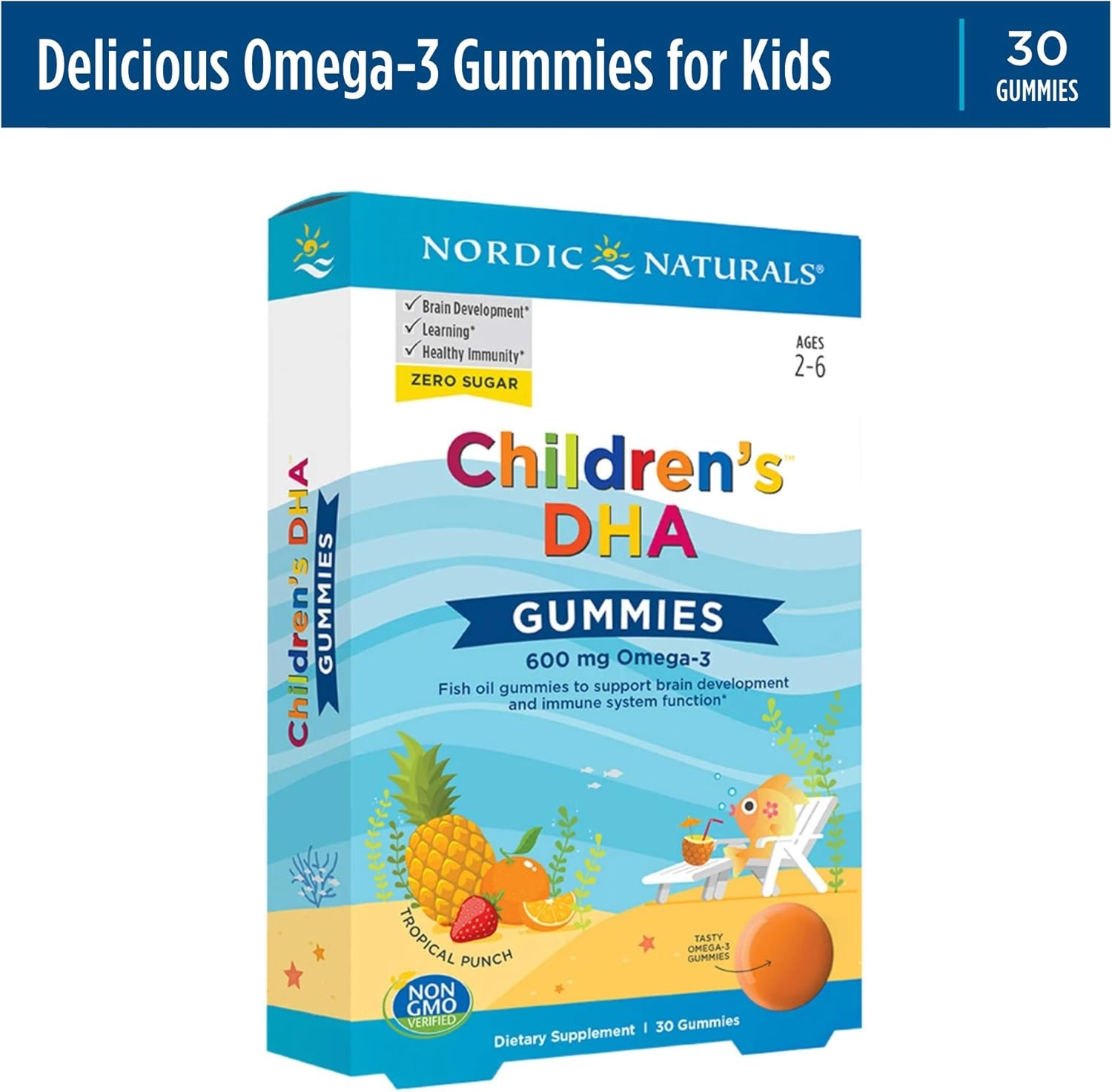 Product description
Healthy Brain Development

Our award-winning Children's DHA product line is known as the most kid-friendly source of brain-building omega-3 DHA available, and these delicious zero-sugar Children's DHA Gummies are no exception.*

About Nordic Naturals

Since 1995 Nordic Naturals has been committed to delivering the world's safest, most effective nutrients essential to health. Our award-winning omega-3 fish oil and other foundational nutrients are research supported, expertly formulated, rigorously tested, proven effective, and best of all, great tasting. With products for the whole family, we deliver the nutrients essential for healthy living.

Great Tropical Punch Taste

Kids enjoy the bright, clean, tropical punch taste, and parents love Children's DHA Gummies for their on-the-go convenience. 600 mg of delicious omega-3 nutrients, in a fun, easy to eat gummy—who can resist?
*These statements have not been evaluated by the Food and Drug Administration. This product is not intended to diagnose, treat, cure, or prevent any disease.
---