Features
Make sure this fitsby entering your model number.
【More Heavy Duty Hangers】:Our picture hangers kit contains more large load capacity hooks than others: Besides 50lb., 100lb., we specially offer unique 80lb. and 120lb.,they are stronger, you can even use just 2 hangers for heavy items
【Better Quality And More Stable】: Using thicker material, even small picture hangers are difficultly bent by hands, which ensures higher strength and security. And with better stability, they can hang heavy stuffs for a longer time
【Much More Wires And Useful Gradienter】:Total 3pcs durable 10ft steel wires to meet what you need. when using our picture hangers, the mini gradienter will perfectly level frames and pictures on wall
【Well Organized Picture Hangers Kit】:We've matched all of the correct hooks with their nails, and there are clear labels in each grid for easily selecting. And our firmer storage case makes sure picture hangers won't be scattered
【Refund Assurance】:We guarantee picture hangers kit quality. You'll love it. We offer no-risk, no-questions-asked money refund guarantee within 30 days. For any doubts, please feel free to contact us
Product Images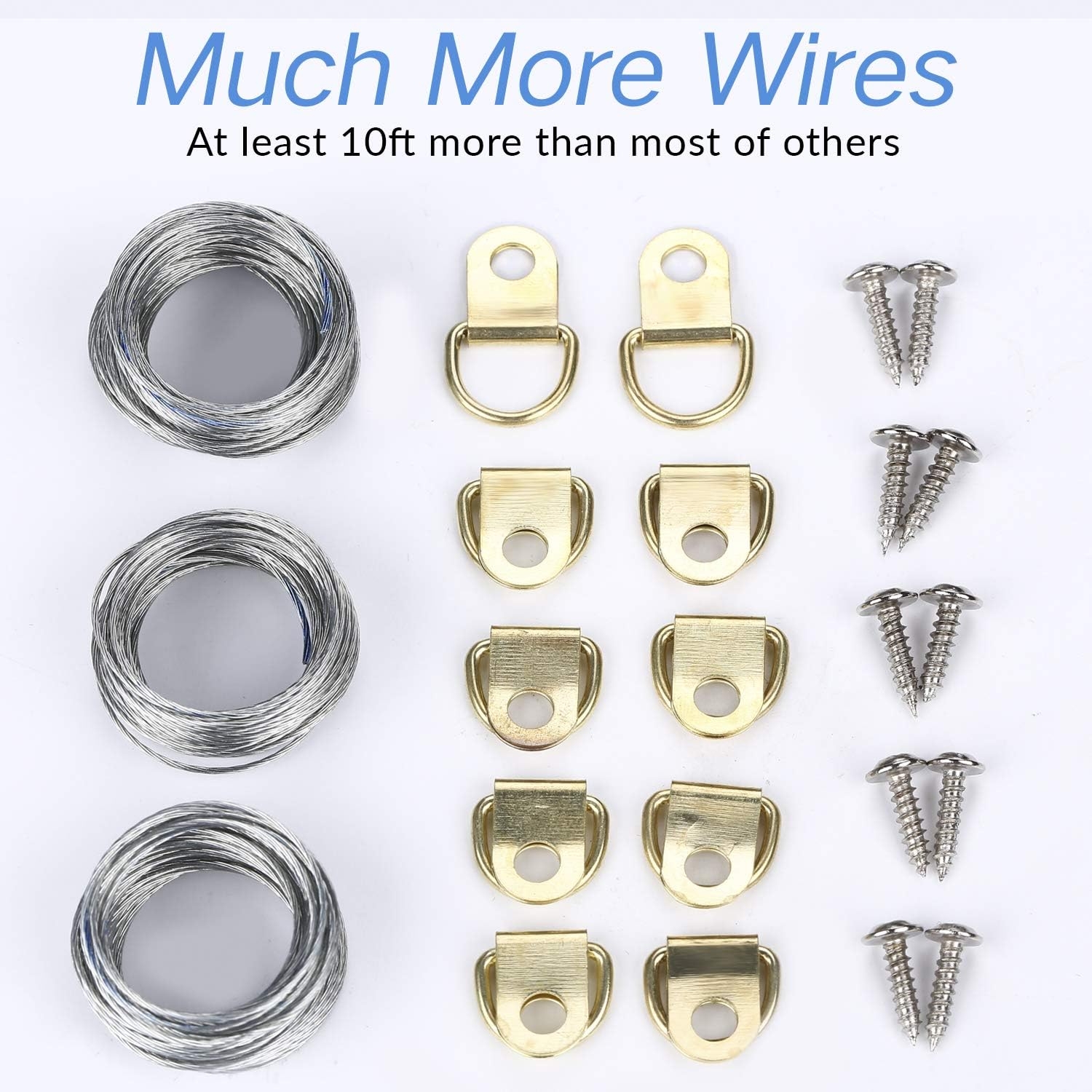 Product description
Stepcool picture hangers kit – 225PCS
The proportion is more reasonable, we have more spare parts:
* More and better quality heavy duty hangers
* Much More and stronger picture hanging wire
* Useful mini gradienter
* Clear labels help you select the picture hangers easily
* Firmer storage case prevents the picture hangers being scattered
* More Stable and Reusable
Specifications:
* Material: Brass plated stainless steel
* Finish: Punched integrally to fabricate
* Color: Gold, Silver, Black
* Load capacity weight: Max up to 120lbs
* Quantity: 225 piecesPackage includes:
* 26pcs x 10lb Hooks and 30pcs x 1″ Nails
* 20pcs x 30lb Hooks and 25pcs x 1″ Nails
* 4pcs x 50lb Hooks and 8pcs x 1.5″ Nails
* 3pcs x 100lb Hooks and 6pcs x 2″ Nails
* 2pcs x 80lb. Hooks (and 6pcs black nails)
* 2pcs x 120lb Hooks (and 4pcs black nails)
* 3pcs x10ft Steel wires
* 1pc x Mini Gradienter
* 10pcs x D-Ring and 10pcs x screws
* 15pcs x Sawtooth and 40pcs x 0.5″ Nails
* 10pcs x Screw eyes
* 1pc x Storage caseAll in one kit, our picture hangers kit suits for every household needs.
it can hang up to 100pcs stuffs on your walls:
can be used for wall hanging picture frames, artworks, kids paintings, canvas, gallery pictures, art display, clock, mirror and so on.Notice:
1.Because Nails and screws are small parts, please stay away from children and avoid swallowing.
2.The range of load weight are based on the type of wall and the size of attachment, which may reduce the holding capacity.
3.Don't put it with any corrosive things, which will reduce the service life of the picture hangers.Great after-sales service:
Any problems with our picture hangers kit, we offer an unconditional refund within 30 days and a free return service for 6 months.
---