Features
FEEL FULL LONGER: 20 grams of clean, pure plant based protein is rich in cruciferous greens like kale and watercress and contains over 20 different organic Superfoods, 4.4 grams of omega fats, and 6 grams of fiber to keep you satisfied!
BUILDS & REPAIRS MUSCLE: Helps build lean muscle and boost energy. Our amino acid infused protein blend promotes complete healthy balance. Plantfusion is the only plant protein that compares to animal proteins like whey.
VITAMINS AND MINERALS: This delicious drink is packed with 21 wholefood vitamins and minerals plus phytonutrients from fruits and vegetables to energize the body. Vitamin A, C, D, E, K, B12 & B11
EASY TO DIGEST – Fortified with digestive enzymes, dairy free, soy free, gluten free, and free of many other major allergens.
NATURALLY DELICIOUS – Our Flavor Pure blend contains no artificial flavors or sweeteners and consistently ranks as one of the best tasting protein shakes by consumers
Product Images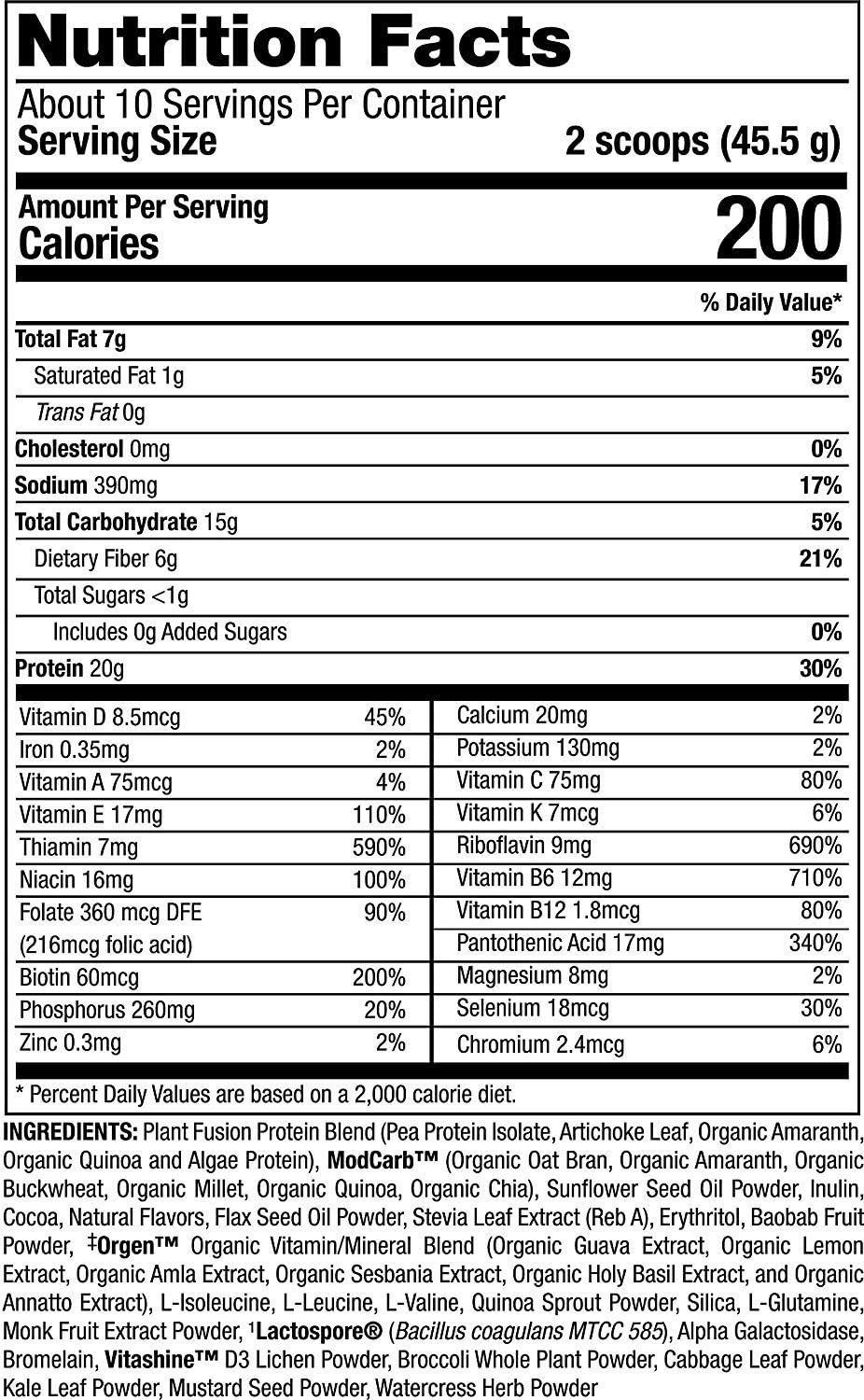 From the manufacturer
The PlantFusion Difference
Flavor Pure

We believe that you should not have to choose between better health and great taste. So we developed a unique method for blending natural wholefood ingredients for amazing taste and texture.

This confluence of natural organic sweeteners, flavors and texture enhancement is called 'Flavor Pure' and you will not find it in any other nutritional supplement.

Select Source

Frustrated by the endless parade of products all made from the same highly processed mass-produced ingredients like soy, wheat gluten, rice, and gelatin (collagen) which had been used as fillers by industrial food companies for years, we wanted something better.

This inspired us to create a process to systematically evaluate hundreds of plant species to bring you the most nutrient-dense garden fresh ingredients from around the world.

Purity Promise

Most nutritional supplements are not manufactured by the brands who sell them. The development and manufacturing is left to an anonymous 3rd party.

All PlantFusion products are produced at our own facility right here in the USA.

We are in the process of building a platform to share processes, standards, and even product and ingredient testing that we are excited to show you.
Complete Protein
Complete Lean
Complete Meal
KETO 1:1 Fats + Protein
Complete Plant Collagen Builder

Complete Plant Protein

✓

✓

✓

✓

✓

Grams of Protein

21

21

20

10

18

Vegan, Gluten Free, Dairy Free, Non-GMO

✓

✓

✓

✓

✓

No Rice / No Soy

✓

✓

✓

✓

Digestive Enzymes

✓

✓

✓

✓

✓

Sugar Free

✓

–

✓

✓

✓

Fermented Foods

–

✓

–

–

Cruciferous Greens

–

✓

✓

–

–

It's All About The Fusion

A fusion of the best protein sources that delivers uncompromising taste, texture, potency & digestibility.

–

–

–
---