Features
Conditioning Ingredients – Aloe Vera, Vitamin E, and Hawaiian Awapuhi help clean, freshen and condition while giving the coat a healthy shine. Perfect for wiping away dirt and odor from paws, bodies, and bums in between baths.
Large Pet Wipes (8 x 9 inches) – Our quilted dog wipes are made big enough for even the largest dogs, and thick enough for the heaviest coats.
Earth-Friendly – Made with 100% sustainably harvested bamboo fiber.
Hypoallergenic – Completely free of parabens, alcohol, and harsh chemicals.
Super Pack – 100 Green Tea Scented Fresh Wipes for Dogs – 1 Month Supply
Product Images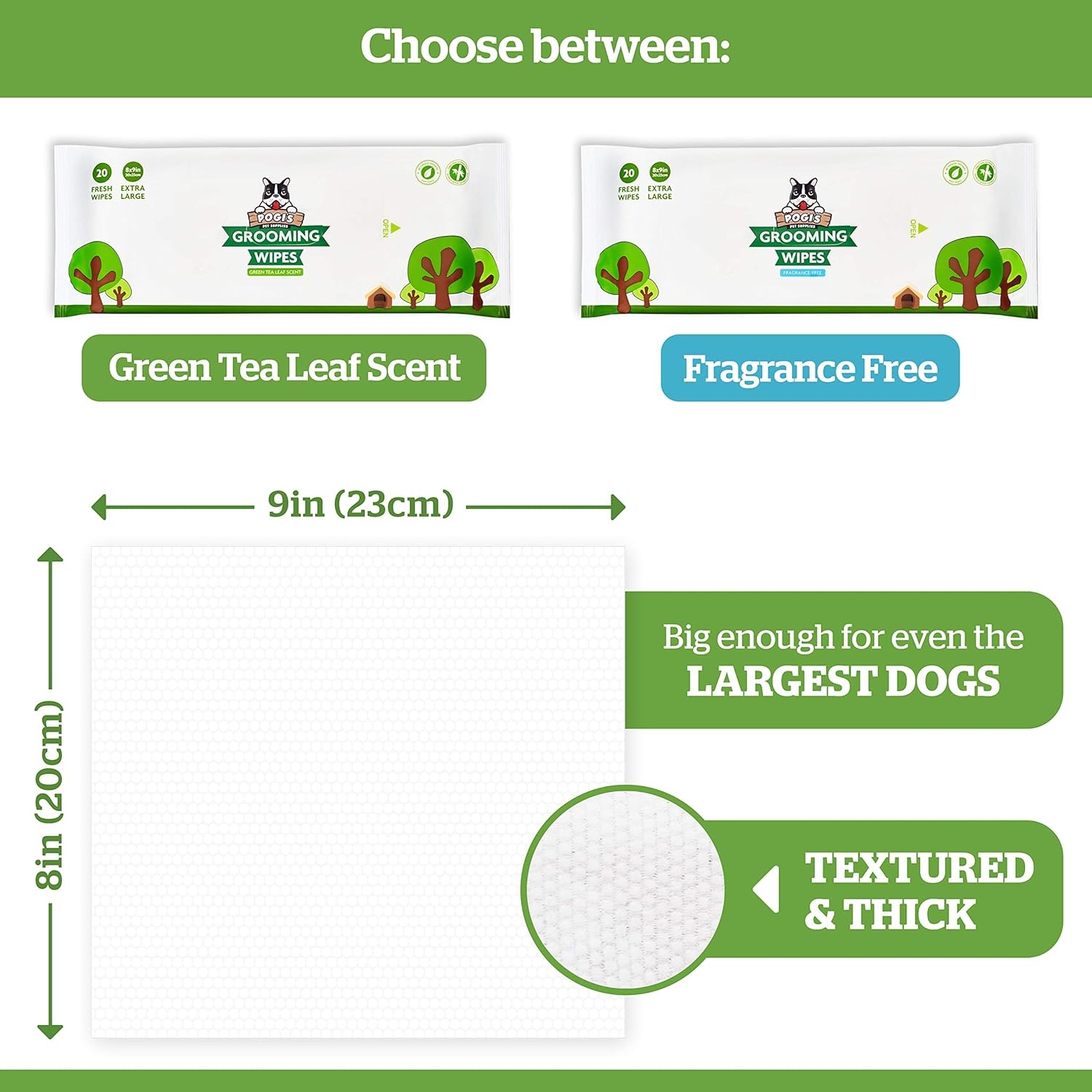 Product description
The freshest wipes for your pets.
Aloe Vera and Vitamin E help clean, freshen and condition.

Bamboo-based made from 100% renewable resources.

Fresh Green Tea Scent

Vegan Friendly

Cruelty Free / Not tested on animals.
Perfect between baths!
Great for cleaning coats, paws, and bums!

Helps to reduce dander and allergens on cats.
Only the very best for our furry family members.
Completely free of parabens, alcohol, chlorine, and harsh chemicals.

Lovingly crafted in a Nordic Swan, ISO 9001, GMPc, BRC, GMP, and EPA certified facility.
In The Pack

This Super Pack contains 100 green tea scented fresh wipes – a 1+ month supply.

Pure Bliss

Keep your furry family members smelling fresh and cuddle-friendly between baths.

Meet Pogi!

He's our lovable French Bulldog and the inspiration behind our company. Here at Pogi's, we make essentials that make it easy to care for your pet and the environment.
Pogi's Home Compostable Poop Bags
Pogi's Grooming Wipes
Pogi's Poop Bags
Pogi's Poop Bags w/ Handles
Pogi's Pee Pads
Pogi's Travel Pack Grooming Wipes

Scent

Fragrance-Free

Fragrance-Free / Green Tea Leaf Scented

Powder Fresh Scented

Powder Fresh Scented

Fragrance-Free

Fragrance-Free / Green Tea Leaf Scented

Features

Pogi's compostable poop bags are plant-based, contain zero plastic, and are home compostable.

Natural, strong, hypoallergenic wipes for pets.

Strong, reliable poop bags. A favorite among pet lovers.

Pogi's Easy-tie poop bags for tough situations.

Super-Absorbent, plant-based training pads for dogs.

Natural, strong, hypoallergenic wipes in a convenient travel pack.

Quantity

18 Rolls (270 Bags) / 9 Rolls (135 Bags)

100-Count

450-Count

300-Count

20-Count, 40-Count

240-Count (12 Resealable Packs of 20)

Size

9 x 13.5 in

8 x 9 in

9 x 13.5 in

7 x 14.5 in

24 x 24 in

8 x 9 in
---