Features
Highest potency CLA: This supplement contains 100% Pure, non-stimulating, non-GMO Safflower Oil, to form a highly concentrated supply of CLA. Softgels have no preservatives or artificial colors. Without wheat, dairy, soy, eggs, tree nuts, peanuts, fish, shellfish, and magnesium stearate. Gluten & GMO Free. No pork products. The gelatin capsule is vegetable-based, making this Vegan Friendly! No caffeine from java needed as an energy stimulator. No herbal extracts. No added protein.
Take with or without food: Dosing is simple–one capsule per day, for a maximum of three a day. These supplements can be taken without a meal, though it may be easier to remember if you take with breakfast. The softgel delivery system makes capsules easier to swallow than tablets, pills, or pastillas. They aren't designed to be opened and the contents mixed with food, like powder drink mix performance stackers. Works well with multivitamins, vitamins, minerals, and green superfoods.
Ultimate supplement for weight control: Conjugated Linoleic Acids help build lean muscle, jump start metabolism, and reduce body fat. Perfect addition to your diet and workout plan that won't bulk you up! You may experience a boost to your appetite, so ideally take an hour before your usual meal. Not a hunger suppressant, fat burner, strong slimming aid, or tummy / belly "buster". Helps elevate performance and building natural muscular strength. Not intended for use as part of an extreme fast.
Gentle on the system: This safflower oil supplement is formulated to be gentle on the system. The potential for nausea or lightheadedness may be associated with a boosted metabolism, but will vary from person to person, depending on their stomach. Can take during the nighttime, and act while you sleep. Ideal nutritional choice for bodybuilding, esp muscle building growth. Contains no animal products. Carb free, no gimmicky ingredients like ginger, saffron, or apple cider vinegar.
Scientifically formulated for max quality: At 1,500mg of active CLA per capsule, our CLA 4,500 is one of the strongest available. As a trusted source for sports nutrition and weight loss supplements, we never skimp! Purity Labs goes the extra mile to ensure our supplements have passed extensive third party testing before being bottle and sold. We use only GMP certified manufacturing facilities in the USA.
Product Images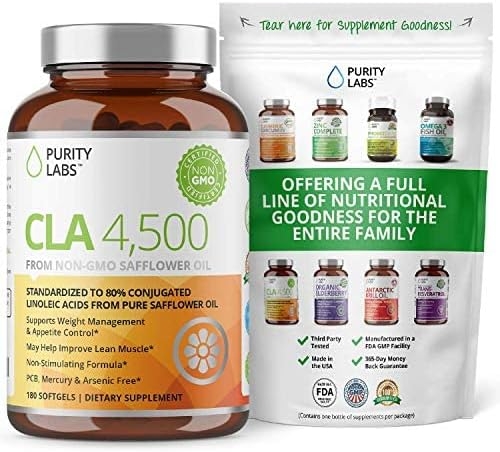 Product description
Well-designed clinical trials suggest that CLA may reduce body fat mass.*
WHAT IS CLA?
Conjugated Linoleic Acid or CLA is a type of polyunsaturated fat that is related to essential omega- 6 fatty acids, a vital part of our diet. A majority of the dietary sources of CLA are found in meat and dairy, but are not produced by the body naturally.
WHY IT WORKS:
CLA works best when combined with an eating plan and exercise to help increase the body's metabolic rates and endurance. It also works to change your body's composition by improving muscle mass and burning body fat. Get the abs you've been working hard for! This is not your typical weight loss supplement.
PURITY MATTERS:
With modern agriculture, there are so many added antibiotics and chemicals in our food that we suggest using pure, non-GMO form of CLA found in Safflower Oil. Our supplements are made from the most potent and premium ingredients.
LOOKING FOR A PURE CLA SUPPLEMENT YOU CAN TRUST?
CUSTOMIZABLE SUPPORT FOR YOUR WEIGHT LOSS JOURNEY
We include a large 180 capsule supply in every bottle and have formulated our serving sizes to allow an adjustable usage schedule. New to CLA? You have enough supply to ease yourself in, listen to your body's needs, and identify the regimen that is best for YOU.
You have a FULL month supply at an industry-leading 4,500MG daily!
Combined with diet and exercise, CLA can help you reach your goal weight sooner. Among weight supplements, Our CLA 4,500 is non-stimulating, and many customers actually say it has a mood-boosting effect, helping you keep the positive, motivated mindset you need during your weight loss journey!
At Purity Labs, we're dedicated to supporting you in your journey. We source only the highest quality ingredients and use stringent methods to ensure that only the purest, most potent formulations ever see the inside of our bottles. We promise that what you see on the label is exactly what you get inside each serving.
All of our supplements are produced in Good Manufacturing facilities in the USA and meet or exceed recommended standards for quality and safety.
YOU WILL NEVER FIND ANY OF THE FOLLOWING IN OUR CLA 4500 FORMULA
Because we want to provide you with only the very best, we choose partners who hold themselves to the highest standards in the industry.
You Will Never Find Any of the Following in our CLA:
Unnecessary Fillers

Trans Fats

Preservatives

Soy, Sugar, Dairy

Artificial Colors or Flavors

Wheat and Gluten FREE

Non-GMO
The name of our company is Purity Labs for a reason. We believe you deserve to know exactly what you are putting into your body.
---