Features
MUSHROOM & ADAPTOGEN POWDER: 500mg of 100% Wild Foraged Chaga, Organic Peruvian Cacao, Organic Sri Lankan Cinnamon, Organic Japanese Monk Fruit
HIGHEST QUALITY: Our Chaga is Wild-Foraged from sustainable farms in Canada and Siberia. We freeze dry our Chaga instead of chemical spraying to ensure the best quality product.
DIET FRIENDLY: The Chagaccino is vegan, keto, gluten-free, sugar-free and zero calories. We use internationally sourced ingredients to give you the best of the best. No solvents, fillers, or emulsifiers either!
EASY TO MAKE: Add a packet of Chagaccino to your favorite latte, smoothie, or matcha recipe to instantly transform your beverage into a superfood treat.
GREAT FOR WELL-BEING: Just 1 gram of wild-foraged Chaga has more antioxidants than 3 lbs of blueberries or 30 lbs of carrots! Chaga may be beneficial for immune support (antioxidants), beauty (due to the high melanin content), and help relieve stress (adaptogen) on top of many other benefits!
Product Images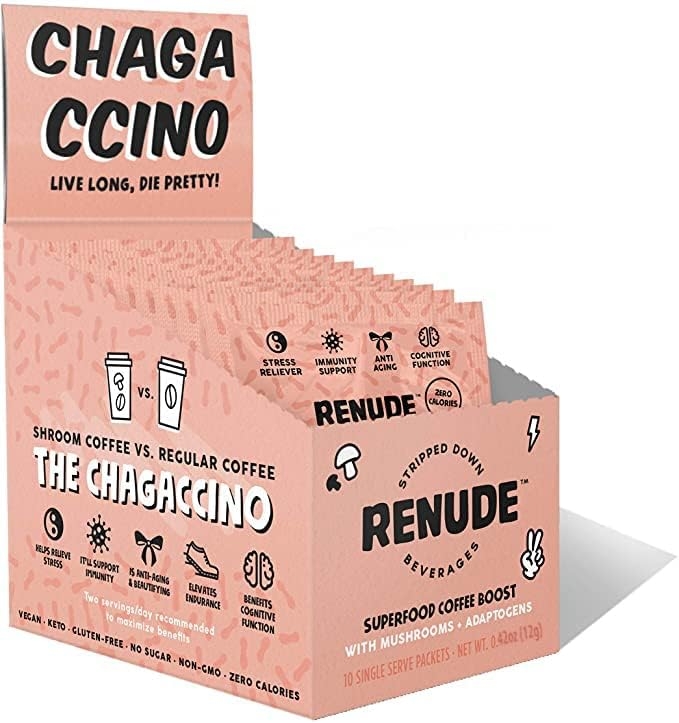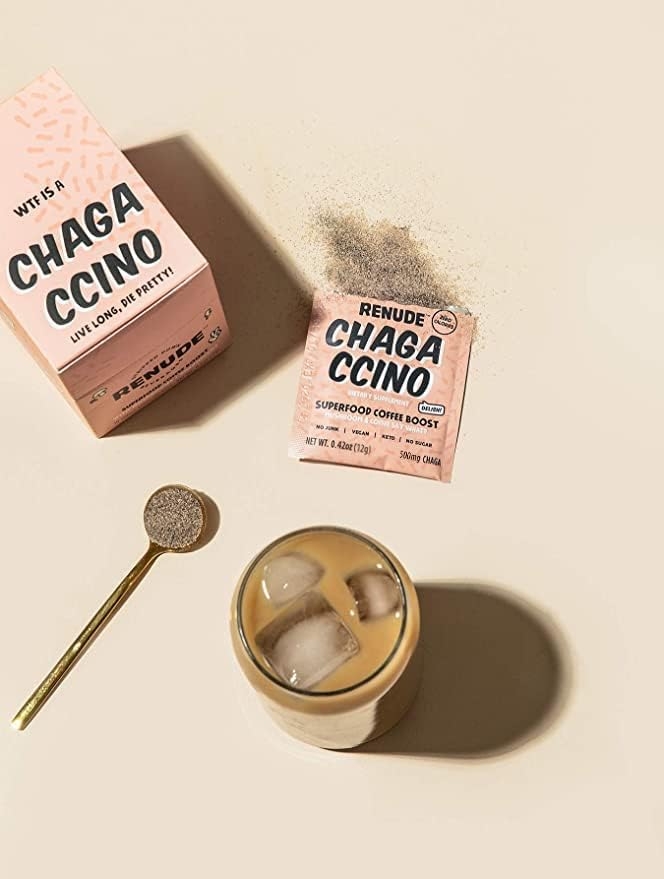 Product description
Chagaccino
Better Than A Multi-Vitamin
Wild Foraged Chaga is among the most antioxidant-rich and nutrient dense superfoods on the planet. Incredible for immune support & so much more. Also packed with major minerals, trace minerals, and over 215 phytonutrients.
Tastes Like A Mocha Frappuccino
The Chagaccino does not taste like mushrooms! It's sweet, light, and tastes like a mocha frap (but better). Try it iced and hot, either tastes delish!
No Sugar, No Added Fillers, and Zero Calories
The Chagaccino has top-tier taste and nourishment without the added junk. Every packet is sugar-free and calorie-free, without any solvents, binders, fillers, or emulsifiers!
Your Coffee's BFF with Benefits
Caffeine-free. Add to your favorite coffee, tea or just to plant-based milk!

500mg of 100% Wild-Foraged Chaga per serving. No microdosing here!

Easy to make. Add a packet into your latte, drip coffee, matcha latte, or smoothie

Pure ingredients only. No binders, fillers, or emulsifiers.
Premium Natural Ingredients
100% Wild Foraged Chaga

Sourced from Canada and Siberia. Wild foraged, not lab made. 500mg per pack to give you a full dose of its immune-supporting, anti-aging, stress-relieving, energy-boosting benefits.

Organic Cacao

Sourced from Peru. Cacao is the cleaner, better-tasting version of the more commonly found processed cocoa. Added to give the Chagaccino a delish mocha flavor.

Organic Ceylon Cinnamon

Sourced from Sri Lanka. Ceylon cinnamon is known as the "true" cinnamon, and is known for its anti-inflammatory properties and may have the ability to help fight bacteria.

Monk Fruit

Sourced from Japan. Monk Fruit is an antioxidant-rich sweetener that tastes just like sugar, without any of sugar's negative effects. In fact, it's calorie-free and beneficial on the immune system.
Immune Support
Boost longevity with the world's highest natural source of antioxidants — one gram of Chaga has more antioxidants than blueberries, pomegranates, and acai combined! Antioxidants are known to help prevent cell damage caused by free radicals or oxidants.
Anti-Aging and Beautifying
Chaga offers the highest source of melanin in the world. It may help protect the skin and hair from UV damage from the inside out, which can be hard to find naturally in many beauty products. Chaga is rich in vitamin D and melanin, two nutrients that are crucial for hair health, which may prevent age spots and increase overall radiance and glow.
Energy and Endurance
Studies show that Chaga can significantly elevate exercise tolerance and may have an anti-fatigue effect to help you perform your best. Chaga may have a positive effect on sports performance, helping to support stamina and endurance by supporting oxygen flow. Chaga may also help you perform better with long-lasting and sustained energy.
Helps Relieve Stress
Chaga mushrooms are potentially one of nature's most potent stress relievers. Chaga is one of the world's most popular adaptogens, helping the body and mind handle stress and return to homeostasis — the body's state of stable and calm equilibrium. Adaptogens also help develop enhanced attention and tolerance to mental exhaustion.
How to Make an Iced Chagaccino
Step 1

Pull a double shot of your favorite espresso

Step 2

Mix in a packet of Chagaccino powder with the espresso, and stir well. *Packets are generously portioned. You may only need a ½ packet depending on the size of your cup

Step 3

Combine the mixture with one cup of plant-based milk of your choice (we love oat milk), and stir well

Step 4

Add ice, give it one final stir, and enjoy!
Welcome to the Chagaccino Fam!
Our Story
Renude was born in sunny Los Angeles, California. We've created the healthiest, most delicious mushroom coffee found in local cafes, and it's now available for you to make at home!
We pride ourselves in offering 100% Wild Foraged Chaga — nothing lab-made here. Our signature recipe combines the highest quality mushroom and adaptogens to spike your daily coffee with the nourishing (+tasty) ingredients. 100% Clean, 100% Vegan, 100% Delish AF.
You do NOT want mushroom products that say "oat," "rice," or "mycelial biomass". Instead, look for brands that offer only "wild foraged" fruiting body mushrooms, like us!
What Makes Us Different?
The Chagaccino tastes delicious and is good for you!

Versatile! Can be added to espresso, drip, decaf, matcha and more

Full dose of Chaga mushroom in every serving

Clean, made with nutrient-dense ingredients, not processed
---