Features
Make sure this fitsby entering your model number.
▶ 【Strong Power With 2 Modes】 SEEKONE 1800W heat gun provides strong power quickly heat up to 1202℉(650℃) in seconds. Two modes: I: 50-450℃, 190-210L/min; II: 50-650℃, 250-500L/min
▶ 【Variable Temp Control & Overload Protection】 Unlike other dual temperature heat guns, our heat guns provide variable temperature control. The black dial provides rheostat-type heating, the high / low switch on its handle provides air flow control. Temperature range from 120℉ to 1200℉; Our heat gun also possess overload protector to avoid damaging your heat gun and circuit
▶ 【Scientific Ergonomic Design & Wide Applications】 Seekone heat gun has a scientific ergonomic design handle can prevent repetitive strain injuries and other musculoskeletal disorders; Ideal use for shrinking heat shrink tube, shrinking wrap, heating PVC, electronics, cell phone repairs, vinyl wrap, removing paint or floor tiles, loosening rusted bolts, and other heating or thawing purpose
▶ 【Four Nozzles Accessories】 Deflector nozzle directs a long, narrow heat pattern to the work surface; Two concentrator nozzles direct a concentrated heat flow to the work surface; Reflector nozzle disperses heat flow evenly around the whole work surface
▶ 【100% Satisfaction Guarantee】 Full refund or return guarantee with lifetime free warranty. Anything happened about the product, please feel free to contact us at any time, we will be always here for you.
Product Images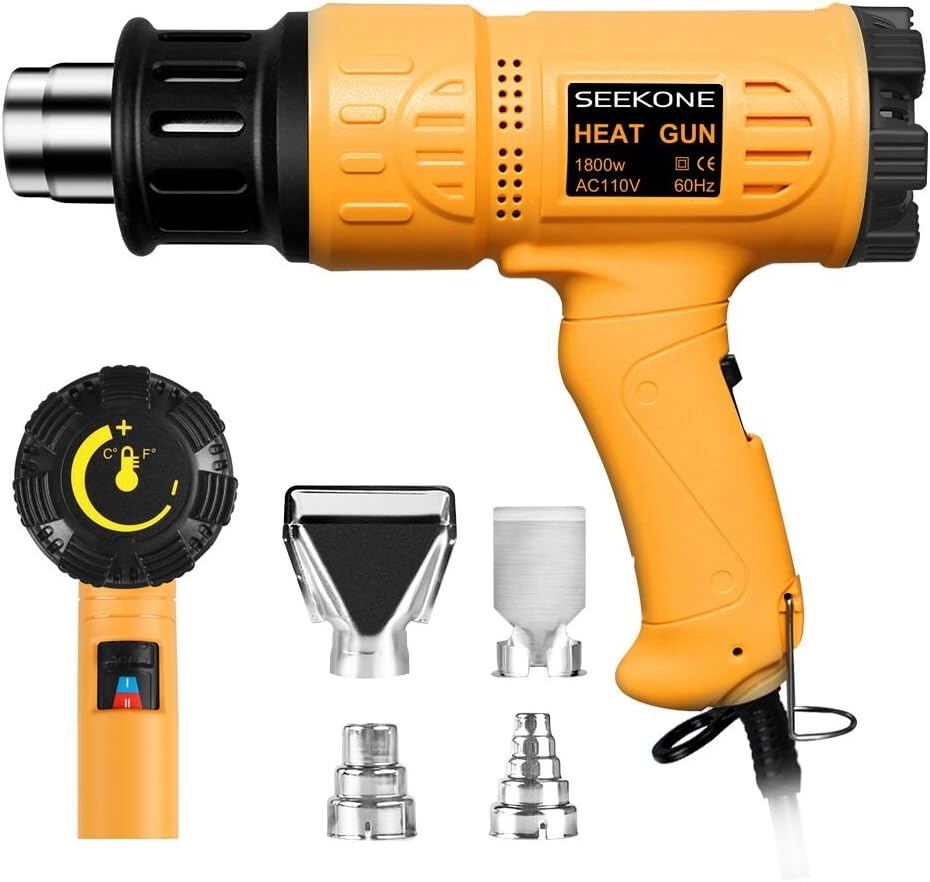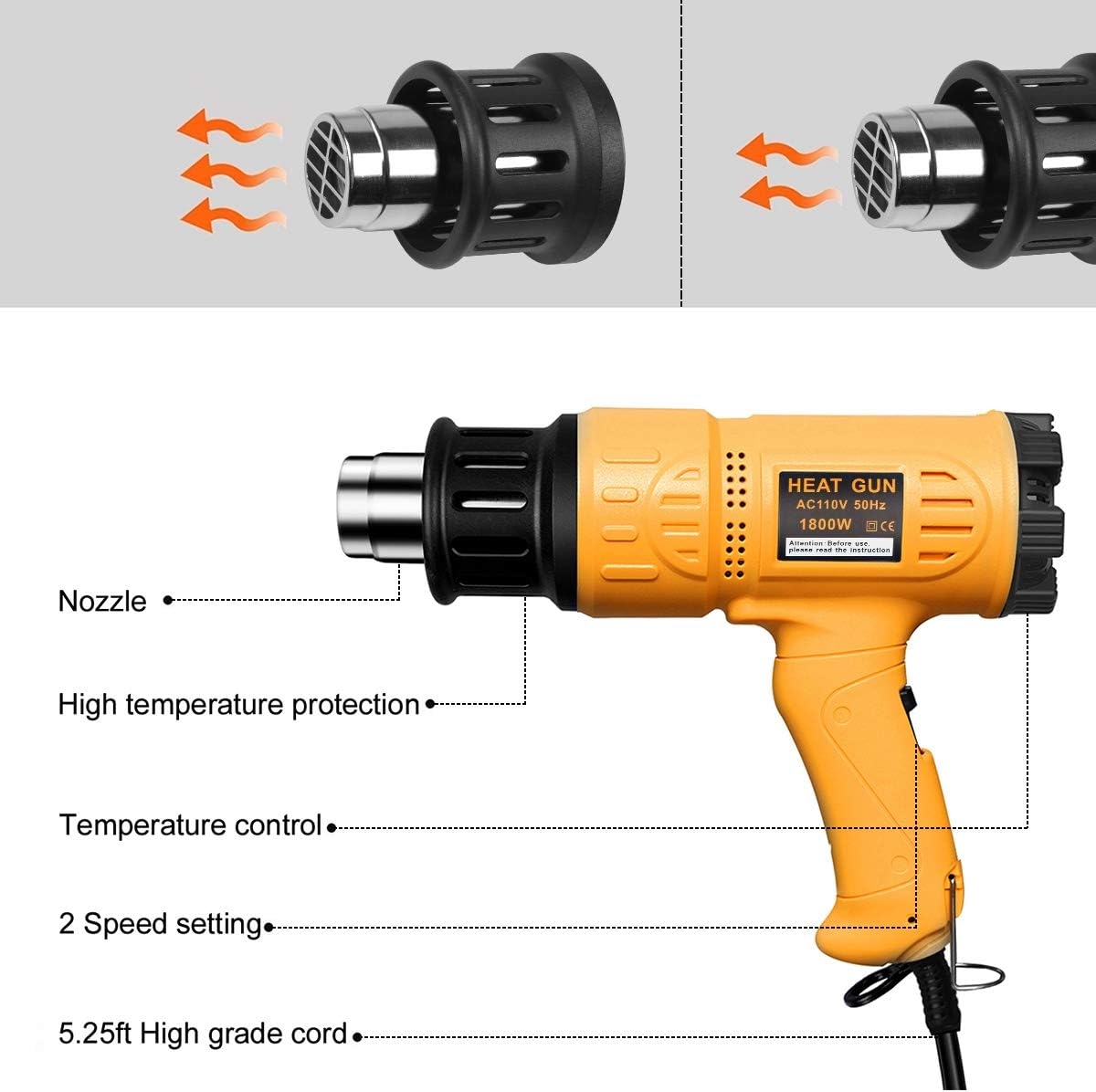 Product description
High impact, multi-use and undeniably versatile, theSEEKONE1800W Heat Gun is designed to take on a whole host of DIY tasks.
Ideal for varnish and paint removable, decorating, home improvement, upcycling, thawing frozen pipes, loosening rusted bolts, bending plastics and much more.
SEEKONE heat gun is ergonomically designed with a multi-grip handle and optimal weight distribution – minimising user fatigue over long periods of use. It has two heat and airflow settings (840℉and 1200℉) for more control depending on application. It built-in overheating protection design that makes your heat gun more safer, and more reliable.
Specification
Strong power: 1800W
Input: 110V, 50Hz
Size: 248mm*192mm (97.6″*75.5″)
Dual temperature setting :
Mini: 50℃(122℉)
Max: 650℃(1202℉)
Dual airflow setting:
Low: 190L-210L/min
High: 250L-500L/mini
Cable Length: 1.6m (5.25ft)
Weight: 0.9kg (1.984lb)
​Suitable Temperature Recommendations
Low
120-300℉ thaw frozen pipes
400-440℉ bend the plastics, or soften dry paint
440-550℉ soften the adhesive material
790-830℉ soften welding material
900-950℉ loosen rusted material
High
960-1000℉ remove paint
1000-1200℉ qualitative change
Car Wrapping

It's an practical garage tool that every mechanic should have in their tool box. It will give you the edge for carrying out tasks such as tinting car windows or wrapping your cars interior.

Removing rusted bolts

Heat the nut with a heat gun if it won't come off. This causes the steel to expand, which can break the rust seal. Apply heat for about a minute, then allow the nut to cool.

Shrinking PVC

Our heat guns are simple to use and have the power to efficiently shrink wrap products at the speed you need. With excellent air velocity settings, it quickly shrinks PVC and/or Polyolefin shrink film in just a few seconds

Bending pipes

Using the heat gun you can bend a piece of PVC pipe at just about any angle without using any adhesives or elbow joints. Not only convenient but also dramatically speeds up the job.
LCD Heat Gun 1800W
Heat Gun with carry case
Grey Heat Gun 1800W
Blue Heat Gun 1800W
Heat Gun Carrying Case
Heat Gun Attachments

Wattage

1800W

1800W

1800W

1800W

Max Temperature

1202℉

1202℉

1202℉

1202℉

Variable Temperature Control

✓

✓

✓

✓

Dual Temperature Setting

✓

✓

✓

✓

Temperature Ajustment Dial

✓

✓

✓

LCD Display

✓

Overload Protection

✓

✓

✓

✓

Color

Yellow

Yellow

Grey

Blue

Black

Stainless
---