Features
A Happy Period: SHORDY period cup is a reusable menstrual cup that collects your monthly blood flow. Inserted like a tampon, SHORDY Cup offers a complete protection and an odourless and sensation-free period. Join thousands of first-time menstruation cup users who say they will never go back to using pads for women and tampons super. Best Feminine Alternative Protection for reusable cotton pads.
Stay Active and Comfortable: Dance, run, swim and sleep with your SHORDY Cup – think of all the times your period held you back! Easy to insert and remove, SHORDY is ideal for menstruating users of all ages – you can wear your cup for up to 12 consecutive hours. Small Size – Suitable for miniature framed women who have not given birth, or who have had a C-section, or under 25 years old. Large Size Cup for larger framed women – Suitable for women post Child-birth or over 25 years.
Eco-Friendly: Here's a few numbers to boggle your mind. Each one of us end up being responsible for at-least 17,000 tampons and pads that eventually take 500-800 years to decompose. All of this waste ends up in landfills. Needless to point out, pads and tampons aren't re-usable. SHORDY Menstrual cups meanwhile are reusable and can simply be soaked in hot water to sterilize.
As Nature Intended: You read it right, menstrual cups are safer than both pads and tampons. The latter two are associated with cancer – cervical, breast, ovarian, bladder, uterine. Not to mention other side effects like rashes, infections and the ever-scary, Toxic Shock Syndrome. SHORDY Cups don't have any of these side effects. 100% Body-Safe Super Soft Medical Grade Silicone as used in Infant Pacifiers. Latex Free, Phlalate Free, Dioxin Free, BPA free.
They're Fuss-Free Imagine not having to head out the door every month to get your supply of menstrual essentials, not having to find space in your travel bag for these and not having to find ways to dispose your pad/tampon when you're on a trip or at a stranger's place. Better yet, imagine not having to change your tampon and pad every 5 hours. That's the luxury that a SHORDY cup provides to you.
Product Images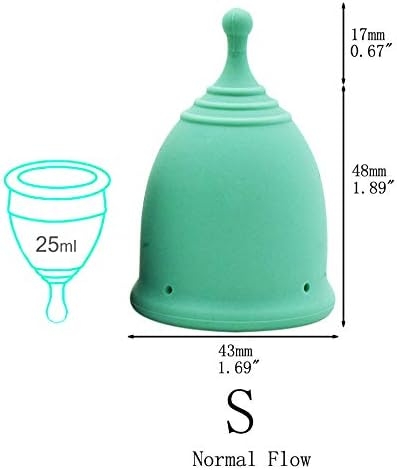 Product description
Q. How to clean your menstrual cup?
Ans: A few simple, handy techniques can prep you for using a menstrual cup perfectly- and maintaining its durability over time. It is best to use cold water to rinse your cup when you are cleaning it, as hot water can sometimes seal in scents and odors. Also, it is best to sanitize the cup before you start using it, and also after each period cycle is over. All you have to do is boil the cup in plain water for not more than 10 minutes and then dry it in the open air. Be sure to store the cup in a breathable bag and not in an air-tight container.
If you want to sterilize the cup monthly- you can do so by cleaning it with any gentle or mild, scent-free cleanser. Be sure to avoid any harsh chemicals or alcohol-based products when washing the cup. Regular and timely care will ensure your cup remains fresh as new and lasts you a very long time.
Q. Is a menstrual cup good as compared to tampons and sanitary pads?
Ans: Now, you don't need to spend a lot of your hard-earned money on tampons and sanitary pads. Buy Shordy menstrual Cup once, and you can use it for a long time.
Rather than buying pads and other menstrual products, you can use this cup as equal to 5000 pads. You can simply wash and reuse it. So, no more additional cost every month. Our cup is a little stuff, easy to carry anywhere. And, with our cup, you can easily do your day-to-day activities.
Q. Is it difficult to insert and remove a menstrual cup?
Ans: The Best Cup for beginners, for period pros, and for women who are tired of outdated menstrual care. Shordy Cup is designed in a way that it can be easily removed as easily as a tampon. Shordy Cup is super soft, flexible, and can adjust in length to fit your needs. It keeps you safe from leaks and mishaps for many hours, so you can spend your day sleeping in, staying up late, or doing whatever makes you happy.
Easy to Use
Q. Will a menstrual cup cause me discomfort?

We have ensured that we use the best material for our menstrual cups. These menstrual cups are made of medical-grade silica gel which is a non-irritant and absorption-free material. Our product contains no dioxins and allergic substances. You won't have to face a peculiar smell or wetness when you use these cups. Hence, no more restriction in daily activities during periods and you can get your jobs done with total ease and confidence.

Q. Can I wear a menstrual cup at night while I sleep?

Yes. Just make sure to empty the cup right before you go to bed. This will give you a fresh cup with full capacity at the start of your night. Remember that most menstrual cups hold a lot more capacity than regular absorbency tampon regular or reusable cotton pads. Many women use menstrual cups because they allow them a good night's rest.

If you're experiencing overflow during the night, you may want to consider using a higher-capacity cup while you're resting.

Q. Is it difficult to insert and remove a menstrual cup?

Menstrual cups have a learning curve just like everything else that's new to you. It may be difficult to insert and remove a menstrual cup when you're first starting out but with practice and patience, you'll become a pro in no time! A majority of the women who had issues when they first started using a cup say that they're so happy that they stuck with it and would never go back to disposables.

Since everyone is different, we'll all have varying experiences with any given cup. While someone may have an easy time inserting and removing one cup, the next person may find it

Q. I just started my period, can I use a menstrual cup?

Yes, if a teen is comfortable with the inserting process and it doesn't go against any of their religious beliefs, then there is no reason that someone who just started their first period can't use a menstrual cup.
Q. Can I wear a menstrual cup when I bathe and swim?
Yes. Menstrual cups can be worn while bathing, showering, and swimming without inconvenience. They offer the user discreet protection when partaking in activities that include water. No strings, no wings, and no more soggy tampons!
You may consider using a higher-capacity cup to prolong your activities. If you have a heavy period it will allow you more time to play, or if you have a light flow and would like to continue to wear the cup for the suggested maximum time (typically 8-12 hours maximum).
Q. How often do I empty my menstrual cup?
Ans. Menstrual cups hold a higher volume than disposable menstrual products. Someone who typically changes their organic tampon or pads for women every two hours may find that they can use their cup for 4-6 hours before needing to empty it. It all depends on how light or heavy your flow is. Because everyone has a different definition of light, moderate, and heavy, you will need to learn how long you are able to use the cup based on your own flow. A good idea would be to empty your cup when you would normally change out a tampon regular or reusable cotton pads. If there is still a lot of empty space in the cup, you can add a couple more hours to your next scheduled change. Over time, you will start to notice when your period lightens up and you can adjust your schedule to add even more time. If your period is light, you may only need to empty your cup every 12 hours or at least twice a day.
The average large-sized menstrual cup holds approximately 28-36 ml. However, there are some 'high-capacity cups that you can consider if you either have a very heavy flow or have a lighter flow and would like to prolong the use to the suggested maximum hours (maximum of 8-12 hours depending on the brand).
Here are some of the high capacity cups and capacity measurements to the rim:
Shordy Cup Large – 30 ml
Although the capacity measurements listed are of the larger sizes, some of them have a higher capacity small, as well.
Q. Can I use a menstrual cup if I am very active in sports and fitness activities?
Ans. Women who lead active lives love the freedom of using a menstrual cup while participating in sports and activities. They can be worn safely and comfortably during any activity.
Q. Should my menstrual cup be leaking?
Ans. Definitely not. If a menstrual cup is leaking, there's something wrong. Check that the cup unfolded completely. Make sure the rim of the cup is right below or right around the cervix. If the cervix is pushed to the side, the menstrual flow will not be collected. If your flow is heavy, you may need to schedule to empty it sooner or consider a higher-capacity cup. Some women notice that their cup is only half-filled when they remove it despite experiencing some leakage. It happens often that the cervix sits lower into a cup and compromises some of the capacity. A larger capacity cup or a different shape might suit you better.
Shordy Reusable Menstrual Cups Set of 2 with Travel Box
Shordy Reusable Menstrual Cups Set of 2 with Travel Box
Shordy Reusable Menstrual Cups Set of 2 with Travel Box
Shordy Menstrual Cup Sterilizer

Experience Level

Beginner/Experienced

Beginner

Experienced

NA

Flow Amount

Light/Regular/Heavy

Light/Regular

Regular/Heavy

NA

12 hrs Wear Time

✓

✓

✓

NA

Adult User

✓

✓

✓

✓

BPA Free

✓

✓

✓

✓

Microwavable

✓

✓

✓

✓

Foldable

NA

NA

NA

✓
---