Features
Make sure this fitsby entering your model number.
ACCURATE SCALE – The scale on the 7 inch framing square is accurate. You will not worry about the error when you use this framing square
CLEAR NUMBERS – The surface of the framing square uses laser engraving scale. The digit on the surface of the framing square is clear, wear-resistant and colorfast. Designed with double scale, it can read Angle reading or metric measuring scale.You can use it for a long time
HIGH QUALITY ALUMINUM ALLOY – Forged with excellent aluminum alloy material, the workmanship is exquisite and hard, and the toughness is strong and durable. The rafter square is smooth by special polishing. You can use the framing square with confidence
ANTI ABRASIVE – The edge of this aluminum framing square is a solid aluminum machining edge. It has flat edges that you will not worry your work
MULTIPURPOSE – It's a proper tool for framing work and machine work. You can use rafter square on many occasions, such as measuring, lineation, triangulation, angle measurement, architecture, decoration and any tasks you need. You can also give it as a gift to someone who needs it
Product Images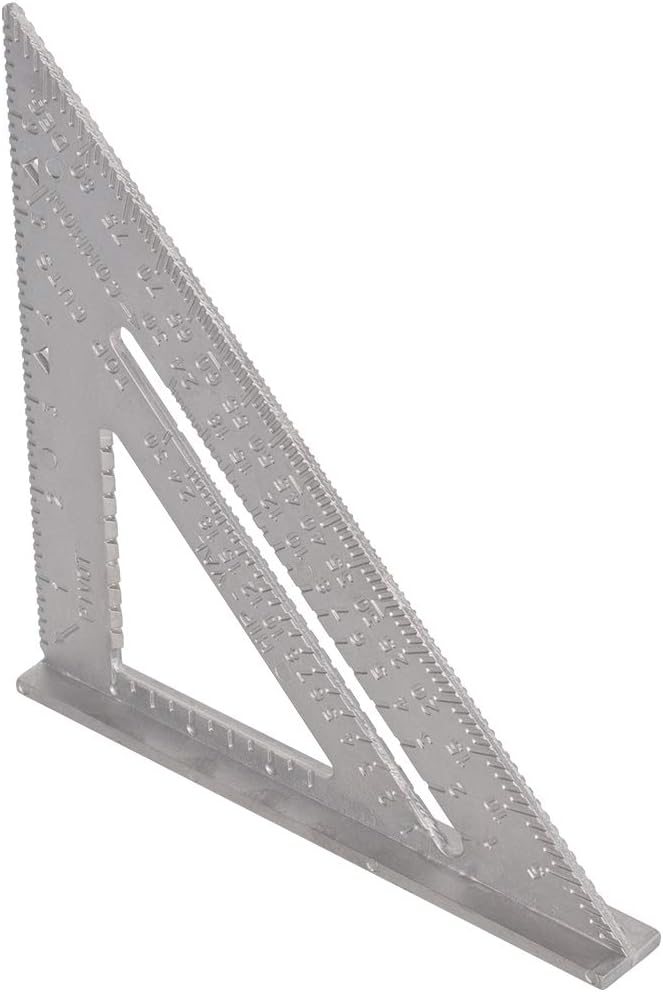 Product description
The professional 7 inch framing square is a triangular-shaped,
carpenter's layout tool which combines some of the most common functions.
It is used to make basic measurements and mark lines on dimensional lumber and may be used as a saw guide
for making short 45 and 90 degree cuts. The carpenter's square will help you get the job done accurately and easily.
Features:
1.ACCURATE SCALE
The scale on the layout tool is accurate.
You will not worry about the error when you use this rafter angle square.
2.CLEAR DIGIT
The surface of the framing square uses laser engraving scale, the number is clear.
Ruler of the surface after special processing, wear – resistant corrosion, beautiful generous.
3.HIGH QUALITY
7 inch carpenter's square overall use of high quality aluminum alloy material and thickening design,
special process, corrosion resistance, oxidation resistance, high hardness. You can use it for a long time.
4.ANTI ABRASIVE
The edge of this aluminum framing square is a solid aluminum machining edge.
It has flat edges that you will not worry your work.
5.HUMANIZED DESIGN
The ruler is designed in a humanized way, which pays more attention to your feeling of use.
The ruler body and every edge of the ruler base are polished by a special process.
The surface of the ruler is very smooth, and your hand will not be hurt.
6.DOUBLE SCALE
The surface of the framing square is designed with double scale, which can be read with double scale,
and can read Angle reading or metric measuring scale.
7.VERSATILITY
Perfect for framing work and machine work.
You can use rafter square on many occasions, such as measuring, lineation, triangulation,
angle measurement, architecture, decoration and any tasks you need.
---