Features
Make sure this fitsby entering your model number.
Double sided carpet tape uses the tape with the strongest adhesive on the marke.The rug tape excellent adhesion to smooth and rough surfaces,and its grip can fix your rugs,carpets and runners.
Rug tape is a strong and durable double sided tape on the market,which is incredibly easy to use.Our carpet tape is bonded to paper,making it easy to peel by hand without damaging the surface below.
YYXLIFE carpet tape,glass fiber reinforced,has higher durability.Provides utmost safety to kids and elderly by preventing your carpets from slipping suddenly.
We have carried out experimental tests on the tape,and it passed the rigorous test of the lowest temperature and of humidity to ensure that rug tape can work normally in any environment.
We are so confident in the extreme power of our carpet tape,until you want to remove it.Multi-purpose for any home use,not just rugs.If you are not satisfied with durability of tape,please contact us.
Product Images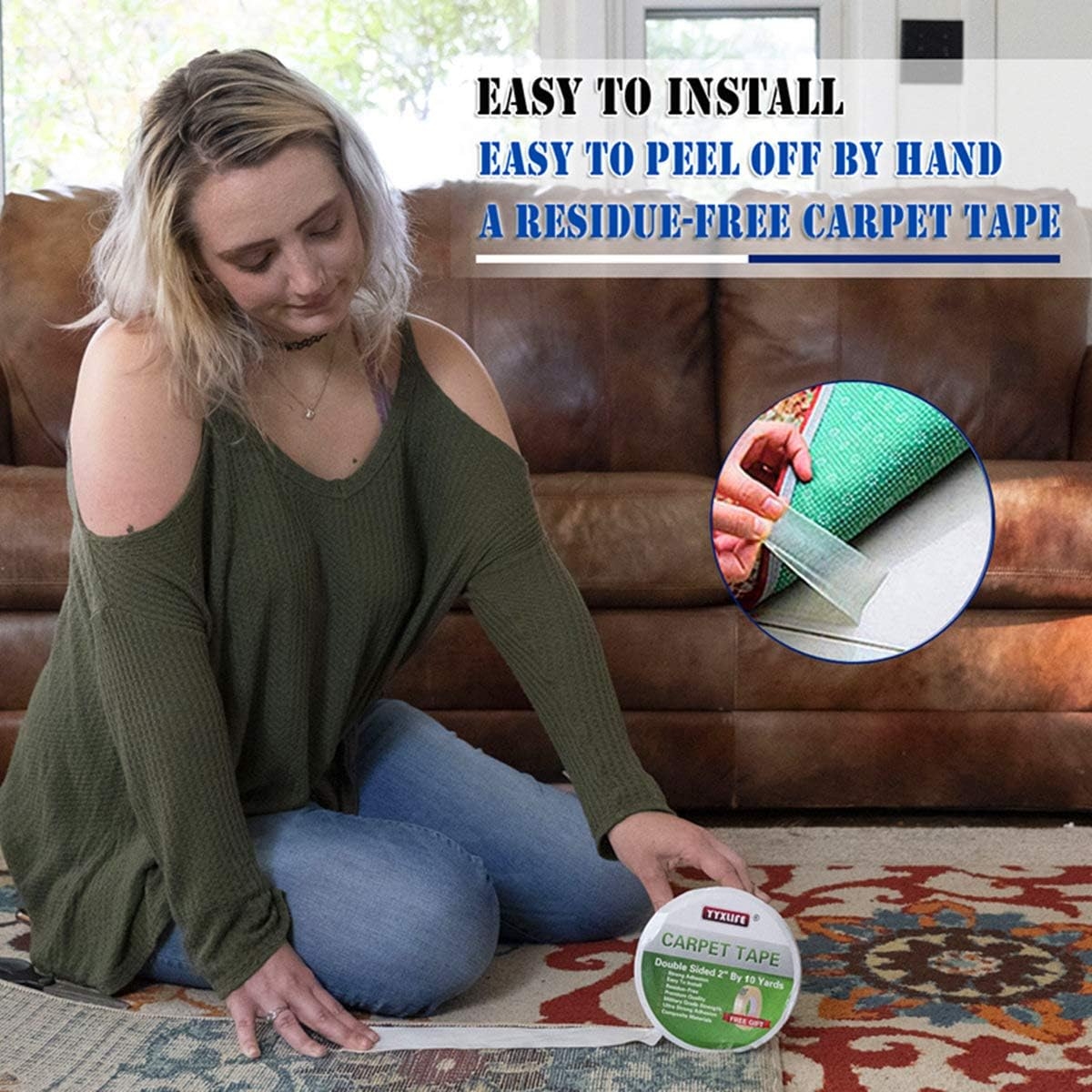 Product description
Double Sided Carpet Tape Heavy Duty!
YYXLIFE Carpet Tape is the most reliable, trade grade carpet tape on the market. More sizes choose, 2 "x 10 yards, 2" x 20 yards, 2 "x 30 yards. Rug tape is one of the pioneers in the world of double sided tape heavy duty bonding technology. Rug gripper is a durable and heavy duty tape that prevents the tape from curling, sliding or moving, double sided carpet tape heavy duty can be repositioned without damaging your flooring material or finish.
Where can you use the carpet tape?

1、Rug gripper for tile, marble, vinyl floor and any other indoor smooth surface.

2、Carpet tape protect your furniture from scratches.Rug tape connect curtains and other fabrics together.

3、Carpet tape for wood processing and other industrial applications.Rug tape for concrete, cement and any other outdoor texture and rough surface.

How to cut the carpet tape?

Be sure to use a knife to cut the tape from the paper side which faces up.Suggest cutting with a knife rather than scissors.

It takes about 3 or 4 good sized pieces on each end or side of the rug,you just have to apply it right! Rug will stop moving.

How to install the carpet tape?

1. Unroll your carpet tape and tape the sticky side to the floor surface on which your carpet or tile will be laid. Leave the paper side face up.

2. Peel off the paper side from each piece of tape after all the required tape pieces are in place.

3. Lay down your desired carpet, rug or tile on top of the exposed adhesive tape and press them firmly.

How to remove the carpet tape?

You can remove the carpet tape directly by hand.When removing this or any tape, you have to roll it like it's Elmer's glue on your hands. Pls don't pull it from corner or edge with too much force or tension, the wrong operation can easily damage the floor finish. Remember, gently roll from one end to another starting with a corner, or you can use a hair dryer to heat the carpet tape to soften it,and then you can remove the tape more easily and safely by hand.
YYXLIFE CARPET TAPE choose the anti slip rug gripper tape with the strong adhesive on the market! It is multipurpose tape, ensuring it grips every surface securely for a strong, long-lasting hold.
Recommended Uses :
Installing Carpets, Securing Rugs, Stair Treads, Pads, Mats & Runners, Repairs,Multipurpose, Home DIY, Craft Projects, Mounting . . .
Item Thickness:0.0078 inches (The thickness of carpet tape is like a piece of ordinary printing paper)
Hover over the image below for more size choices:
YYXLIFE Double sided Carpet tape 2″x30Yards
YYXLIFE Double sided Carpet tape 2″x20Yards
YYXLIFE Double sided Carpet tape 2″x10Yards
YYXLIFE Double sided Carpet tape 2″x10Yards

Colour

White

White

White

White

Size

2″x30Yards

2″x20Yards

2″x10Yards

2″x10Yards

Item Weight

20 ounces

12.8 ounces

7.5 ounces

7.5 ounces

Material Type

Reinforced Poly carbonate backing

Reinforced Poly carbonate backing

Reinforced Poly carbonate backing

Reinforced Poly carbonate backing

Recommended Uses

Installing Carpets, Securing Rugs, Stair Treads, Pads, Mats & Runners, Repairs,Multipurpose, Home DIY, Craft Projects, Mounting

Installing Carpets, Securing Rugs, Stair Treads, Pads, Mats & Runners, Repairs,Multipurpose, Home DIY, Craft Projects, Mounting

Installing Carpets, Securing Rugs, Stair Treads, Pads, Mats & Runners, Repairs,Multipurpose, Home DIY, Craft Projects, Mounting

Installing Carpets, Securing Rugs, Stair Treads, Pads, Mats & Runners, Repairs,Multipurpose, Home DIY, Craft Projects, Mounting

Item Thickness

0.0078 inches

0.0078 inches

0.0078 inches

0.0078 inches
---